Mon., Jan. 12, 2015
Otter: Decisions put off for too long, time to act – starting with schools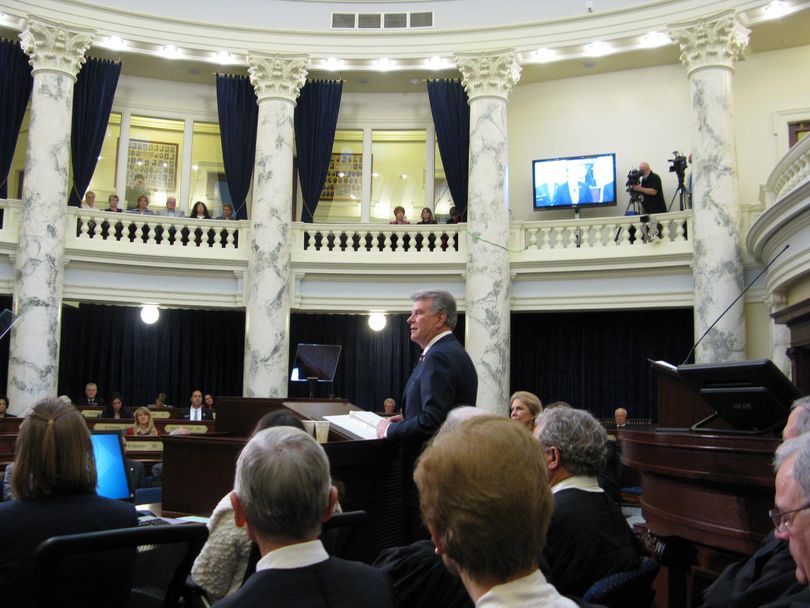 Idaho has "put off making some tough decisions for too long," Gov. Butch Otter told the Legislature in his State of the State message. "That cannot and must not continue." He said he'll outline issues today "on which I believe we must act, not in careless haste but with all appropriate dispatch." The list begins with education, he said - at which point lawmakers interrupted him with applause.
Otter today is unveiling a proposed budget for public schools for next year that has a 7.4 percent increase in state general funds – a $101,185,600 increase over this year's budget. That's enough to bring schools back up to $57.2 million over their 2009 budgeted level. But it's not enough to restore operational funding to 2009 levels; operational, or discretionary, funding to school districts would rise next year from the current $22,401 per classroom unit to $23,660, still well short of the 2009 level of $25,696. Otter said it's in line with his plan to restore operational funds over five years, with the first step restoring $35 million this year; his school budget for next year includes a $20 million restoration. That announcement also drew applause from lawmakers.
Otter also is prosing funding for recommendations of his school improvement task force, including $31.9 million for the first phase of a teacher "career ladder" that would boost teachers' pay. Next year, under Otter's proposal, Idaho's minimum teacher salary would rise from the current $31,750 to $32,800.
Otter noted that his total general fund budget proposal for next year reflects a 5.2 percent increase in spending, but the schools budget has a larger increase at 7.4 percent. His economists are predicting state revenue will grow by 5.5 percent, so the budget sticks to Otter's pledge to grow overall state spending at a slower rate than the growth in the economy.
---
---