Thu., Jan. 15, 2015
IEN service audit raises troubling questions for budget writers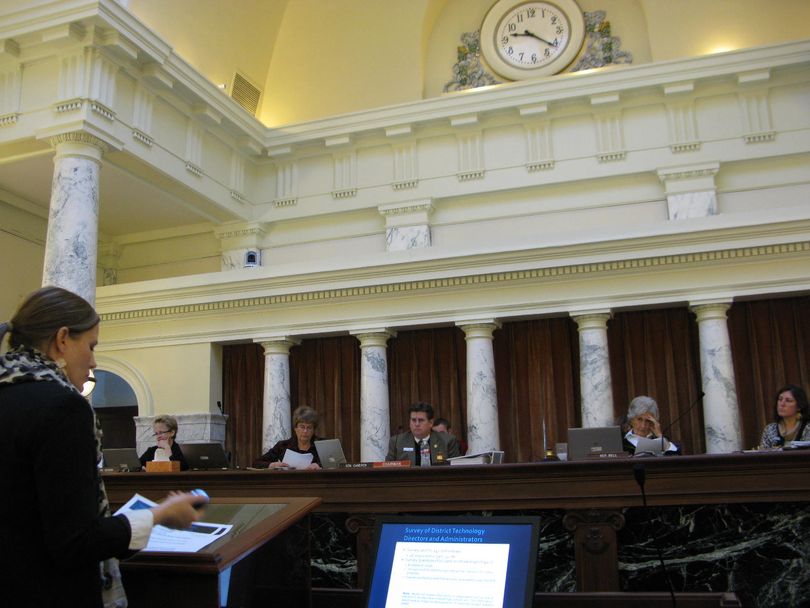 A service audit of the Idaho Education Network presented to legislative budget writers this morning is raising troubling questions about the pricey statewide broadband and videoconferencing network that links Idaho's high schools. Looking specifically at the videoconferencing piece, the audit found that $3.35 million was spent on the now state-owned equipment, but roughly 6 percent of it can't be located, and 53 percent of it isn't being used. When school districts are using the video conferencing equipment, they're mostly not using it for classes specifically provided over the IEN, and the number of those classes has been declining over recent years. Only 2 percent of student served by the IEN are taking classes that are broadcast specifically on the network.
However, growing numbers of students are taking Idaho Digital Learning Academy classes, and school districts are utilizing the broadband service that comes with the IEN for those, the report found. "I'm a little concerned about the equipment and the placement and the value of it," said JFAC Co-Chair Maxine Bell, R-Jerome. "Which gets to the point of what we learned, only 2 percent of the students, 1,500, are using it for IEN classes. … The other 85,000 are using it for other reasons. And I keep wondering where we were going with this to begin with and what the purpose was." She said, "It's certainly a question for this committee and some of the other people who are working on this."
Sen. Dean Cameron, R-Rupert, the other JFAC co-chair, said, "It should give us pause." Cameron said as the state considers re-bidding the voided contract for the IEN – which a court declared illegal – "one of the silver linings of this storm is that we get to re-evaluate the system. We have this opportunity and I'm hopeful the Legislature and the executive branch won't squander this opportunity. We have this opportunity to redefine this."
Former Sen. John Goedde, R-Coeur d'Alene, who is working on the IEN issue for Gov. Butch Otter this session, said, "Districts use this equipment in different ways. There are some districts it's absolutely vital that this equipment be there. Other districts, it's not as vital." He noted that a group of four districts in the Arco area and another group of five in eastern Idaho are using the IEN to share classes. "Even Clark Fork has video conferencing from Meridian for a class," he said. Later in the afternoon, Goedde issued a response to the service audit, noting among other points that six of the eight missing pieces of equipment have now been located; you can read it here.
Sen. Shawn Keough, R-Sandpoint, JFAC vice-chair, said, "For my district, the likelihood the broadband might have come absent the IEN is zero, particularly in Priest River, Bonners Ferry. Now we have broadband capacity at least into one point in our communities." That's allowing students there to take distance-learning classes through the IDLA and North Idaho College, she said. Keough said she thinks the network must be maintained, but said, "I think we ought to be looking at a different model."
Cameron said the audit showed that while some districts are using the IEN to broadcast advanced high school courses, others are offering things like music appreciation and rock-and-roll history. "I love rock and roll, but I'm not sure that's the purpose for which we intended, that we're spending millions and millions of dollars on," he said. He encouraged JFAC members to read the service audit closely; you can read it online here.
---
---