Fri., Jan. 16, 2015
Three competing motions pending on state worker pay…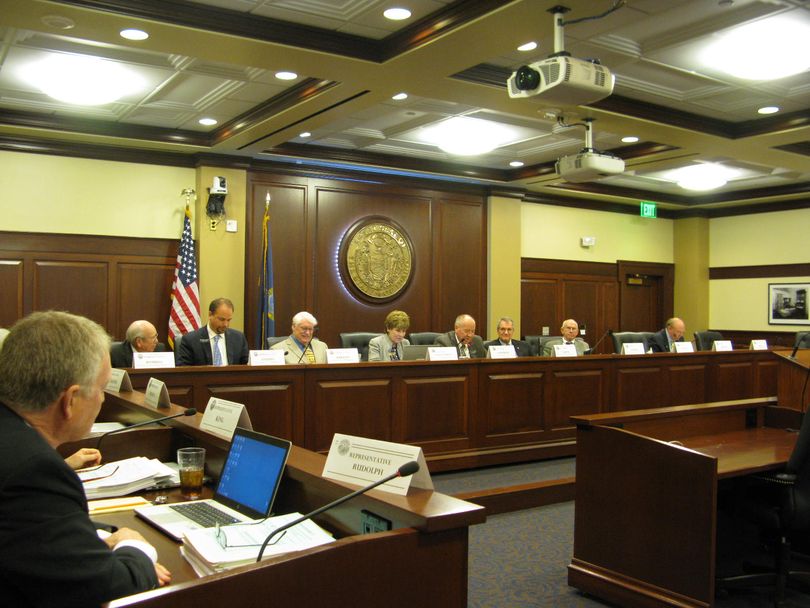 Three motions are pending at the joint Change in Employee Compensation Committee this afternoon on state worker pay:
Sen. Fred Martin, R-Boise, moved to grant 3 percent in merit-based raises to state workers, with discretion to agency directors.
Sen. Dan Schmidt, D-Moscow, offered a motion to both do the 3 percent merit-based raises, and also set a bottom-line minimum for state workers of $9.25 an hour. That would only cost $50,000, he said, and affect roughly 75 people. "That's it. We do not have many employees making that little … but we have some. And why don't we as policy leaders make a statement? Now, this isn't passing a bill that changes minimum wage in the state of Idaho. But it is recognizing that we have low wages. And we as leaders, an employer, want to do something about that."
Rep. Phylis King, D-Boise, offered a motion to grant 3 percent in raises, with 2 percent of that an across-the-board increase for all state employees, and 1 percent in merit raises with discretion to agency directors. In addition, she proposed that all employees who are now being paid just 68 percent of the policy rate for their position be brought up to 75 percent; about 1,700 now are at 68 percent. That move would cost an additional $2.2 million per year.
"I wanted to raise those lower-range folks up," she said. Of the 1,700 who are at 68 percent compared to policy now, she said, "145 are from Boise State, 847 from Corrections, 285 from Health & Welfare, those three agencies that have a lot of low-paid employees. I believe this will take a lot of people off the need for social services, and show that the state is taking the lead on trying to put more money into the pockets of hard-working Idaho citizens."
Sen. John Tippets, R-Montpelier, asked King whether her across-the-board raise would also go to workers who don't have satisfactory performance ratings. King said yes. "Salaries need to be competitive in order to attract qualified people," she said.
Tippets said, "My preference is that we give pay increases based on merit," so that supervisors can "use this as a motivational tool." He said, "I think those folks who are closest to the situation know which employees need the pay increases in order to attract and retain people in the right positions." Tippets said he would support moving those at 68 percent of policy up to 70 percent, and will offer a motion later on that.
---
---