Tue., Jan. 20, 2015
Session's first proposed specialty license plate: 'Friends of NRA,' after last NRA plate cut due to lack of sales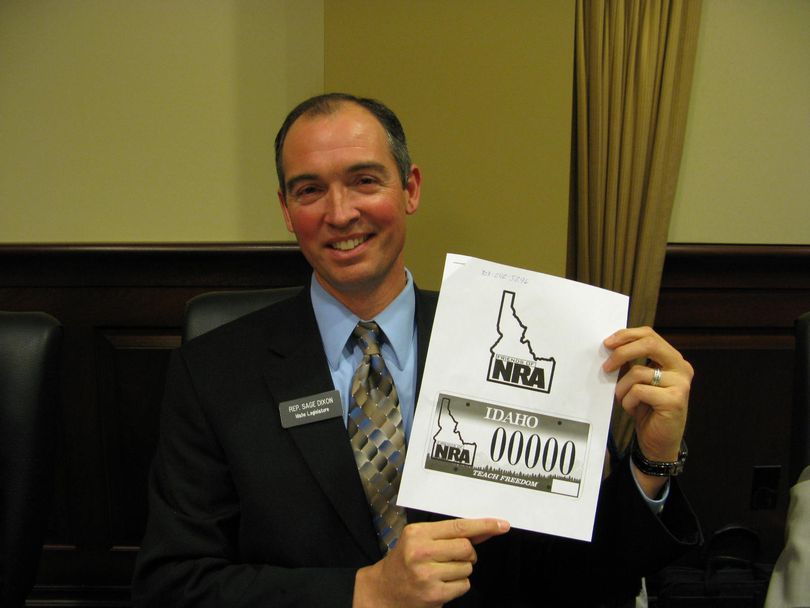 New North Idaho Rep. Sage Dixon introduced his first bill in the Legislature on Tuesday – to create a new specialty license plate to benefit the Friends of the NRA. The National Rifle Association actually already was the beneficiary of an Idaho specialty license plate, which state lawmakers approved in 2006, and which became available in September of 2007. But specialty license plates must sell at least 1,000 plates a year after their third year to continue being offered. Only 334 Idahoans bought the NRA plates in 2011, and just 219 in 2012, so it was discontinued.
"This one will hopefully get more interest from the folks involved," Dixon said. The Friends of the NRA is a non-profit arm of the gun-rights group, which raises funds for causes including gun safety training and shooting range improvements. Dixon said he's attended a couple of the group's fundraising banquets in North Idaho, where guns were raffled off as fundraisers.
Idaho currently has 38 specialty license plates, benefiting everything from 4H to the Idaho Forest Products Commission. Twelve specialty plates have been cut for lack of sales, including the NRA one. The first ones eliminated were a Boy Scouts of America plate and a motorcycle skills plate, both cut in 2009. You can read my full story here at spokesman.com.
---
---