Wed., Jan. 21, 2015
Little gave Obama letter, legislative resolution about Abedini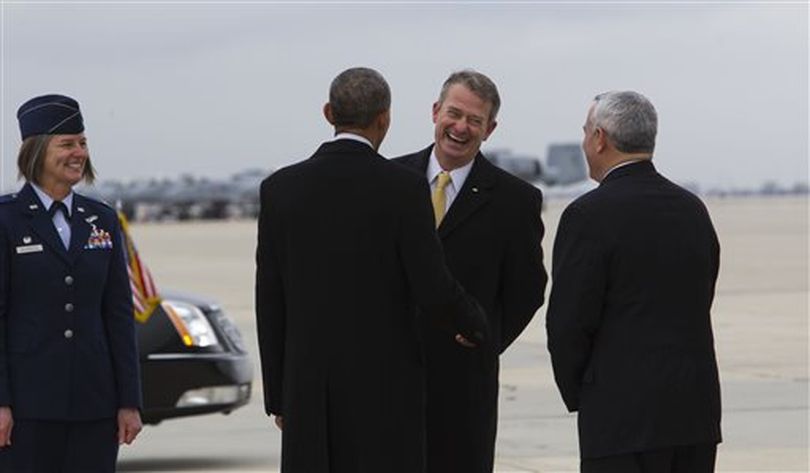 When Idaho Lt. Gov. Brad Little welcomed President Obama to Idaho this afternoon at the airport, he gave the president a copy of a resolution passed by last year's Legislature and a letter signed by legislative leaders calling for the freeing of the Rev. Saeed Abedini, a Boise pastor who's been imprisoned in Iran. "I welcomed him to Idaho and thanked him for coming," Little said, and immediately brought up Abedini. "I thanked him for meeting with Pastor Abedini's wife, that we deeply appreciated that, and he talked about the prisoner from Cuba that he talked about last night at the State of the Union," Little said.
"And then I mentioned something to him about a designation on the Boulder-White Clouds, and he in a very affable way pointed at Mayor Bieter and says, 'Well, you and he are going to have to get together on that.'" Little, who opposes a national monument designation for the Boulder-White Clouds, said, "Obviously Mayor Bieter and I have a different position … and that was where I was going. He cut me off at the pass, because Mayor Bieter had a little longer to talk to him than I did."
Bieter rode on Air Force One as a guest of the president from Washington, D.C. to Boise; he had been attending a conference in the nation's capitol, and planned to fly back on a commercial flight tonight for the rest of the conference.
Little said, "As soon as I said 'White Clouds,' he pointed at Mayor Bieter and shook my hand and walked off." Little said he appreciated the president coming to Idaho, but wished he'd had more chance to hear from Idahoans while he was here. In addition to his private meeting with Naghmeh Abedini, Obama toured an engineering lab at Boise State and spoke to a crowd of more than 6,000 at a sports complex on the campus, repeating themes from his State of the Union message last night and calling for American unity, saying, "We don't have to be divided as a people – we're on the same team."
---
---