Mon., Jan. 26, 2015
Testimony wraps up for the morning; hearing to resume at 5 pm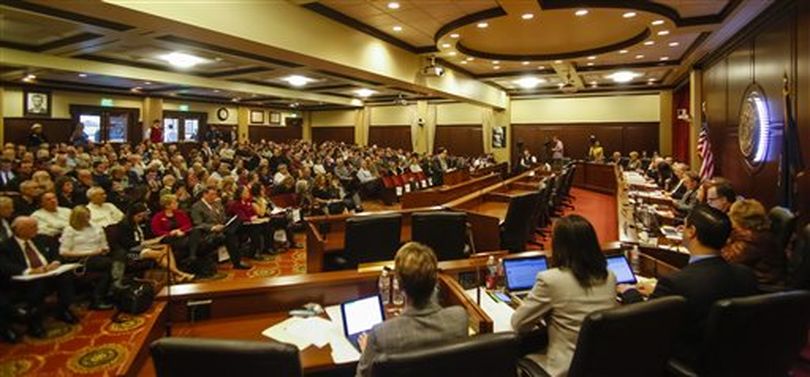 Testimony has wrapped up for the morning at today's public hearing on HB 2, the bill to add discrimination protections for gays and transgender people in housing, employment and public accommodations to Idaho law. So far, 30 people have testified, 13 in favor of the bill and 17 against. People from out of town are being called to testify first, and committee Chairman Tom Loertscher, R-Iona, said, he's been trying to "balance" the testimony, by selecting from both advocates and opponents.
Former congressional candidate Chick Heileson was among the last few testifying. "I have friends that don't like black people, that don't like other kinds of people, obese people," he said. "And you can pass a law and not change the heart of those people. ... I just believe that we have to learn to get along with each other, not by force. So I urge you to vote against this law, because those laws that I've seen against this have not stopped it completely, it goes underground."
Cammie Pavesic of Coeur d'Alene told the committee, "I have Idaho values in my bone and in my blood and in my genes. I work hard, I've pulled myself up by my bootstraps from feeding the cows on the farm to owning two businesses. … I am not a second-class citizen. I am also not special, but I am equal and I am valuable. I heard testimony today from some fancy Washington, D.C. attorneys about all the scary things that could happen if we pass HB 2." But she said none of those things have happened in the Idaho cities that have passed local non-discrimination ordinances. I live, work and love in this state. Please, Mr. Chairman and committee members, make my home state safe for me by passing HB 2."
As he adjourned the committee, Loertscher said, "We've made a dent in this, but a very small dent. We still have a very large number of people who desire to testify." The committee will reconvene at 5 p.m.
---
---