Thu., Jan. 29, 2015
Ybarra's first school budget pitch is brief, short on details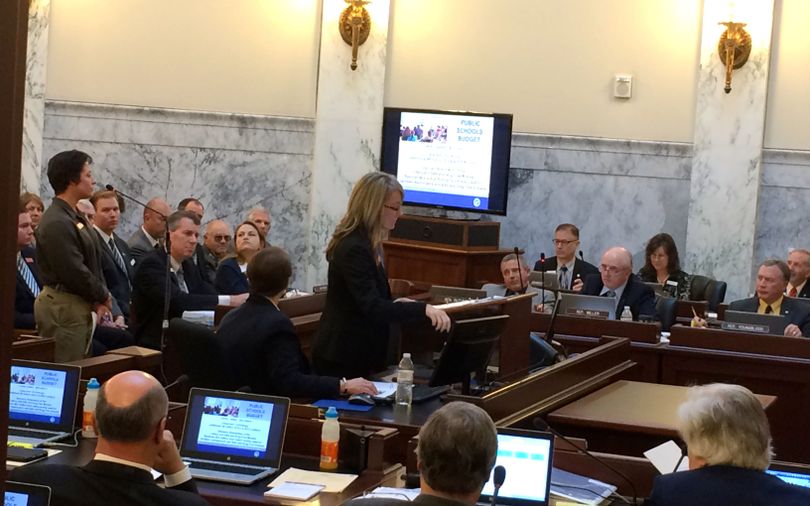 New state schools Superintendent Sherri Ybarra gave an unusually brief public school budget pitch to the Joint Finance-Appropriations Committee this morning, calling for a 6.4 percent increase in state funding for schools next year – well under Gov. Butch Otter's proposed 7.4 percent increase. "I am submitting to you a budget that represents my vision for college and career readiness in Idaho education, and indicates the direction I intend to take this department over the next four years," she told lawmakers. "I think we all agree that local control is how we can best serve Idaho's children." Idaho Education News has a full report here.
Toward that end, Ybarra called for shifting funds from teacher professional development and other budget line items to operational funds for school districts, which districts can decide how to spend, and which covers everything from utilities to textbooks. That would raise the per-classroom operational funding next year to $24,160, still short of the 2009 level but well above Otter's recommendation, but would reduce teacher professional development funding.
She also called for a statutory limit on class sizes in kindergarten through third grade. "We know that 30 children in a first-grade classroom results in more crowd control and decreased overall achievement," she told JFAC, "which does affect learning for the next 11 years, in which a child never gets that time back." Ybarra was a third-grade teacher before becoming a district administrator and then being elected state superintendent.
And she called for a "pilot project" approach to implementing a teacher career ladder pay plan, with nine school districts and one charter school to start it out; Otter and the state Board of Education have called for starting the first phase of the career ladder statewide next year. Still, Ybarra requested $25 million in funding next year for the plan. "I am asking for $25 million towards the career ladder -- stay tuned for the details," she said.
The first question came from Rep. Wendy Horman, R-Idaho Falls, who said, "I wonder if you could give us a little more detail" on that career ladder plan.
"The details are still being worked out on that, but it can look many different ways," Ybarra responded. "What I would like to do is build the policy around the funding. So with that, anything extra that we get could affect the way that that looks, the pilot program." She said, "With that, I would like to see an increase if possible to the base. … I'm just throwing numbers out there. ... Maybe 2 percent each year to the base over the next four years. … But again, it's not uncommon, I'd like to build the policy around the funding." She added, "Right now in the budget is the 1 percent," which she said is the amount plugged in to the numbers for pay raises.
Ybarra's actual budget presentation took less than 20 minutes, with most of the time devoted to the Department of Education's internal budget. After lawmakers had finished asking her questions, JFAC adjourned nearly an hour and a half earlier than planned today.
---
---