Fri., Jan. 30, 2015
Senate Ed chairman: 'This is the year for education'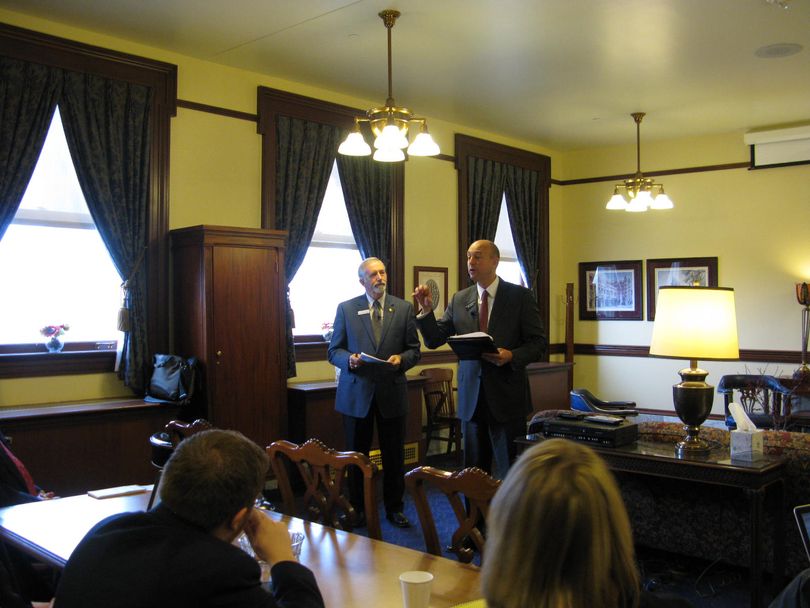 House Education Chairman Reed DeMordaunt, R-Eagle, and Senate Education Chairman Dean Mortimer, R-Idaho Falls, told reporters this morning that they're "excited" about where education is headed in Idaho. "I believe this is the year for education," Mortimer said. "We are excited about where we are after this week of hearings and initial looks at a budget," DeMordaunt said.
After presentations this week from new state schools Superintendent Sherri Ybarra, from the president of the state Board of Education, and from the presidents of Idaho's colleges and universities and its professional-technical education system, the two pointed to highlights including increasing numbers of Idaho high school students taking college classes and an agreement between the College of Western Idaho and Lewis-Clark State College that will allow CWI students to complete a four-year LCSC degree online, without ever leaving the Treasure Valley.
Mortimer said Idaho high school students applied for 61,938 college credits at state expense just in the fall semester of this year, after the state began offering to pay $200 for juniors and $400 for seniors for such courses. "It is achieving phenomenal success," he said.
Asked about Ybarra's deferral to lawmakers on how a career ladder for school teachers should be funded and structured, Mortimer said, "I think that's a great political move, because she's recognizing the necessity for the Legislature to do its business."
Mortimer also said he's planning to take up Gov. Butch Otter's challenge to create new community colleges in unserved parts of Idaho with an eye to conversion of Eastern Idaho Technical College to a full, property tax-supported community college. "It's my challenge back to my own community," he said. "We need to take that offer seriously."
---
---