Thu., July 9, 2015
New poll of Idahoans on GOP presidential choices: Jeb Bush in first place, Donald Trump second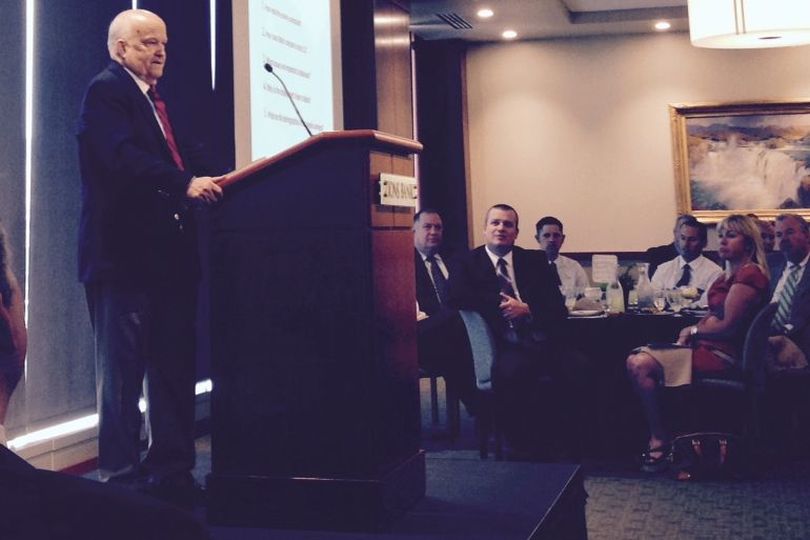 A new poll finds Jeb Bush running on top among GOP presidential hopefuls in Idaho, with Donald Trump – yes, Donald Trump – in second place. However, more than 20 percent remain undecided, and pollster Dan Jones concluded, "There is currently no clear favorite in the crowded field for the Republican presidential nomination."
His poll queried 610 Idahoans in June. Asked about a wide range of announced candidates seeking the GOP nomination for president next year – Scott Walker hadn't yet announced – Bush came out the highest, with 15 percent overall and 17 percent among respondents who identified themselves as Republicans. Trump had 12 percent overall, and 11 percent among self-identified R's. Third was Ben Carson, with 10 percent in both groups, and Marco Rubio drew 7 percent overall, but 11 percent among Republicans. "Watch out for Rubio," Jones told an audience of more than 100 at a Zions Bank speaker series in Boise today; Rubio recently campaigned in Idaho.
Rand Paul drew 10 percent overall, but just 6 percent among Republicans. And Mike Huckabee was the choice of 5 percent overall, 9 percent of Republicans. None of the other candidates topped 5 percent.
The biggest draw? "Don't know." That was the choice of 23 percent overall, 20 percent of Republicans.
Jones, co-director of Dan Jones & Associates, is a longtime Utah pollster who has recently begun doing regular polling on Idaho politics, through a partnership with Zions Bank and its online publication, "Idaho Politics Weekly." Jones has been conducting an Idaho poll each month; the June survey had a margin of error of plus or minus 4 percent.
Other highlights from the poll results he presented: Favorability ratings for a half-dozen Idaho politicians showed Attorney General Lawrence Wasden the most popular, with 39 percent viewing him favorably and just 16 percent unfavorably. The highest favorability rating went to Sen. Mike Crapo at 51 percent favorable, but he had higher unfavorables at 29 percent. He was closely followed by Rep. Mike Simpson, at 49 percent favorable, 33 percent unfavorable; and Rep. Raul Labrador, 46 percent favorable and 33 percent unfavorable. Sen. Jim Risch had 44 percent favorable and 29 percent unfavorable, and Gov. Butch Otter had 45 percent favorable and 42 percent unfavorable.
Jones said his poll confirmed a trend that's seen independents growing faster than Republicans in Idaho, with 38 percent of respondents saying they're independents; 32 percent Republicans; and 16 percent Democrats. "We have more independents than Republicans that have been in such control, and the Democrats have remained about the same," he said. His poll found while nearly half of Idahoans identify themselves as conservative, self-identified independents were more moderate than other voters. Thirty-one percent of independents identified their political views as "moderate," compared to 15 percent of Republicans and 15 percent of Democrats.
After his talk, Jones said issues he's likely to poll on later this summer include same-sex marriage.
---
---