Wed., July 29, 2015
Idaho National Guard troops head to major training exercise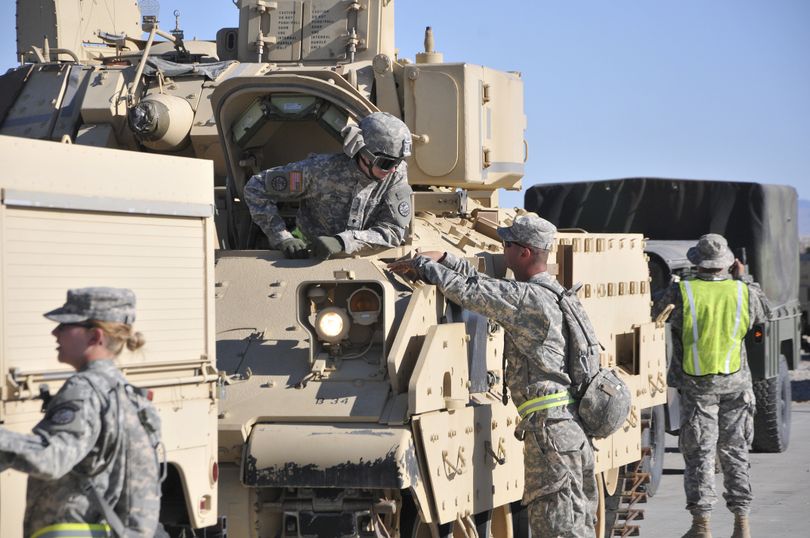 Idaho National Guard members are preparing to trek to Fort Irwin, Calif. for a large-scale training exercise at the National Training Center, a 20-day exercise in August that is the 116th Cavalry Brigade Combat Team's first since 1998 and the first of its kind for any National Guard unit since the early 2000s. "A National Training Center rotation is a unique opportunity for National Guard units," said Col. Russ Johnson, the 116th CBCT Commander. "A unit's performance can often have a significant impact on the overall force's future funding and equipment."
Large-scale exercises at the National Training Center allow large units to train simultaneously and simulate real-world battlefront experiences. Units from the Army Reserve and active-duty Army units also will participate in the exercise.
The Idaho National Guard said the 116th, which served year-long deployments to Iraq in both 2004 and 2011, has been preparing for the exercise since it returned from the 2011 deployment. The exercise is focused on "Decisive Action" operations, also known as "force-on-force," as opposed to earlier focuses on counter-insurgency fighting.
Johnson said in a news release that when the 116th CBCT last served a rotation at the National Training Center in 1998, its "stellar performance there shattered the active Army's expectations and many of the negative stereotypes associated with the abilities and readiness of National Guard units." This time, he said, "The soldiers of the brigade have worked hard for the last four years to prepare for this rotation, and I'm certain they will uphold the 116th's reputation as a premier Army National Guard unit."
The 116th consists of units from across the state of Idaho as well as the 3/116th Combined Arms Battalion in Oregon, and the 1/163rd Combined Arms Battalion in Montana.
---
---