Boise removes Mississippi flag from city hall due to use of confederate symbols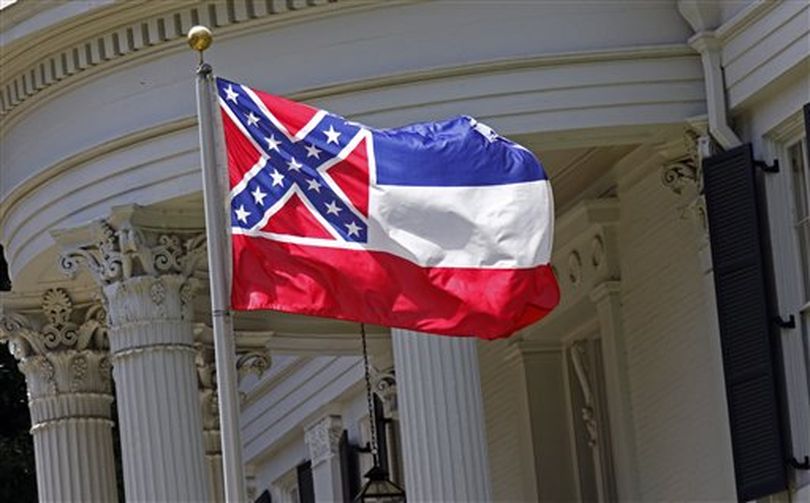 A Mississippi state flag was removed from a display of all 50 states' flags in front of Boise City Hall on Wednesday, after Boise Mayor David Bieter expressed concern that the Confederate battle flag logo that's part of Mississippi's official flag conflicts with Boise's commitment to be a welcoming city for people from diverse backgrounds. Bieter made the move in the wake of the church shooting in South Carolina and increasing attention being paid nationwide to displays of the Confederate flag; the city hall display now has 49 state flags.
"We work really hard to make sure that people feel welcome in the city and that they have an opportunity to thrive as part of the community," said Mike Journee, Bieter's spokesman. "And the mayor didn't feel that having that symbol in front of their city government building would make anyone feel very welcome." He called it "a symbol of repression and a symbol of hate, and a symbol of a very dark time in the history of our nation."
Journee noted that Boise recently was recognized by the White House for welcoming refugees from around the world.
Mississippi is the last state to include the Confederate battle flag in its state flag, after Georgia adopted a new state flag in 2003. The Mississippi Legislature first adopted the flag design in 1894; the state's voters opted overwhelmingly, in a 2001 referendum, to keep it, rather than replace the confederate battle flag portion with a circular grouping of stars.
Boise's flag display has two to three state flags on each pole. "The spot where the Mississippi flag was is now empty," Journee said.
---
---