Wed., March 11, 2015
'Instant racing' manufacturer says tracks that can't get slot machines all want instant racing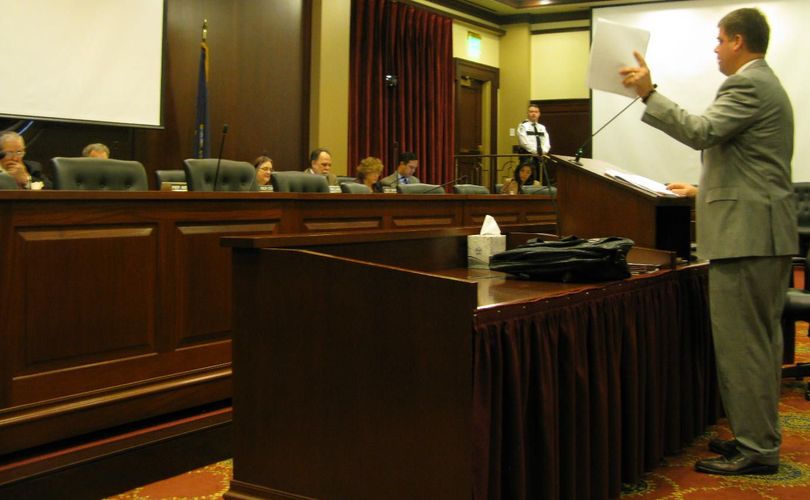 Louis Cella of Oaklawn Park in Arkansas and Race Tech LLC, the manufacturer of the "instant racing" machines now in use in Idaho, started off his testimony to the House State Affairs Committee today by assailing Helo Hancock, legislative liaison for the Coeur d'Alene Tribe, for "numerous false statements, reckless statements that have been made, not only on the Senate side … but before you today." He said, "We heard from Mr. Hancock that 'unrivaled expansion of casino gaming,' yet he says in the same sentence he's never been to a race track."
Committee Chairman Tom Loertscher, R-Iona, interrupted Cella. "We don't allow you to demean others or comment on their testimony in that fashion," he said. "Stick to the facts." Cella apologized.
He then distributed stacks of handouts to the committee, including a letter he sent to the Idaho Attorney General's office; the CV of an expert whose report was cited by the Coeur d'Alene Tribe at the earlier Senate hearing; copies of emails between himself and a Post Falls police detective; information about the betting machines, and more. Cella said when the gaming machine was invented, "I called it instant racing." The state of Kentucky didn't like that name, he said, and instead called it "historical horse racing," and, "Everyone continued to call it historical racing." He said, "There is no state oversight with the tribal casinos and gaming. There is no state oversight with employee working conditions. There is no audit and oversight. ... There is with the racing industry, and always has been since 1961." Actually, tribal gaming in Idaho has oversight from the Idaho Lottery Commission, which enforces compliance of the gaming compacts between tribes and the state and approves gaming machines; along with regulation from the National Indian Gaming Commission.
Cella said, "There is a reason there is not a single casino in the world, not one, that offers historical horse racing. They don't want it. It's not a slot machine. It doesn't pay off as well. There's also a reason why every horse race facility in the United States is trying to get historical horse racing if they cannot get slot machines – because it is the last opportunity to save horse racing in the United States."
Rep. Gayle Batt, R-Wilder, asked Cella about his involvement with Oaklawn Park in Arkansas; he is the vice president and said his grandfather founded it. "I would encourage the committee members to take a look at Oaklawn Park," Batt said, noting that its website touts "all your favorite Vegas-style games," including live blackjack, video poker, high-limits area and poker rooms. So let's just be clear that this is not what we allow in the state of Idaho," Batt said. "So we are just a little bit different than they are in the state of Arkansas."
---
---