Thu., March 26, 2015
Lawmakers listen to Statehouse lunch talk on 'The True Face of Islam'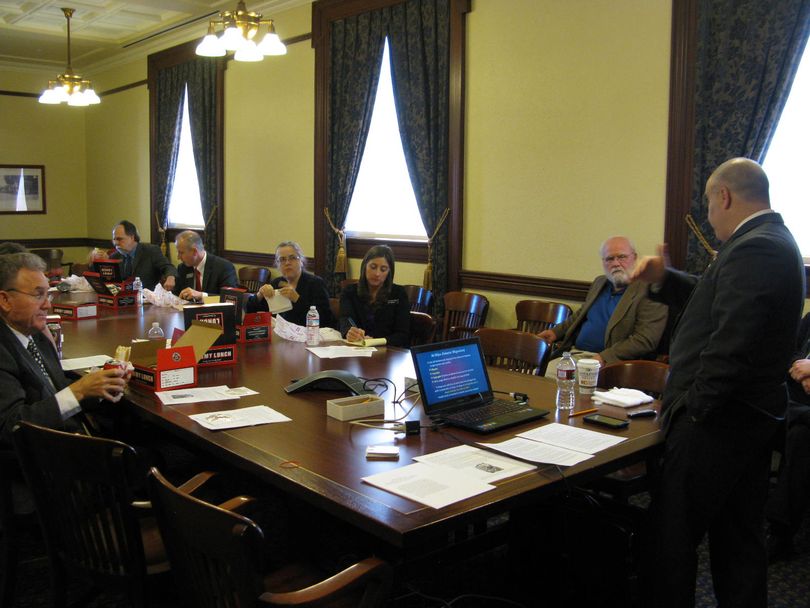 More than a dozen lawmakers attended a lunch in a Statehouse meeting room today organized by Rep. Vito Barbieri, R-Dalton Gardens, on "The True Face of Islam in Idaho." The lunch featured Shahram Hadian, a Christian pastor from Chattaroy, Wash. and former Muslim who heads the "Truth in Love Project," which is dedicated to exposing what it calls "the true goal of Islam and threat of Shari'ah law in America." Hadian told the Idaho lawmakers, "I was asked to come and just share about the advancement of Islam in Idaho … the real face of Islam."
Hadian outlined religious tenets that he said call on Muslims to "migrate, populate, segregate," and said they'll move into conservative areas like Idaho to attempt to change them. "The goal is not just to be left alone, the goal is to change the society," Hadian said. "All that is part of jihad." He said he believes a group is trying to establish an Islamic "enclave" in Kuna. "We also believe there's an enclave they're planning for St. Maries, up north," he told the legislators. Hadian said the numbers of Muslims are increasing in Idaho largely because of refugees. "We must curb and limit Islamic immigration and stop the refugee dumps," he declared. "Spokane is a dumping ground. They're targeting Boise. … They're specifically targeting dumping in conservative areas."
Rep. Shannon McMillan, R-Silverton, asked Hadian, "Do they target the rural areas or the urban areas first?" He responded, "They actually target for enclaves more the urban areas," but also warned of movement into rural areas. "They may have an issue with their allegiance to Sharia vs. our laws," he said.
More than a dozen states have considered or passed laws aimed at banning Sharia, or Islamic religious law, from state courts. Barbieri, who couldn't be reached for comment after Thursday's lunch meeting, told legislative leaders he organized the lunch for lawmakers because he's considering sponsoring legislation in Idaho. Among those attending were three senators who boycotted a Hindu prayer that opened a recent session of the Idaho Senate, Sens. Steve Vick, Lori DenHartog and Sheryl Nuxoll.
Among the handouts distributed at the lunch were one headed, "Islamic Creep - More Than A Crawl, Report from a local Boise citizen," and another headed, "4 Stages of Islamic Conquest."
---
---