Tue., Oct. 6, 2015
Tax panel wraps up after discussion of whether tax system has problems or not…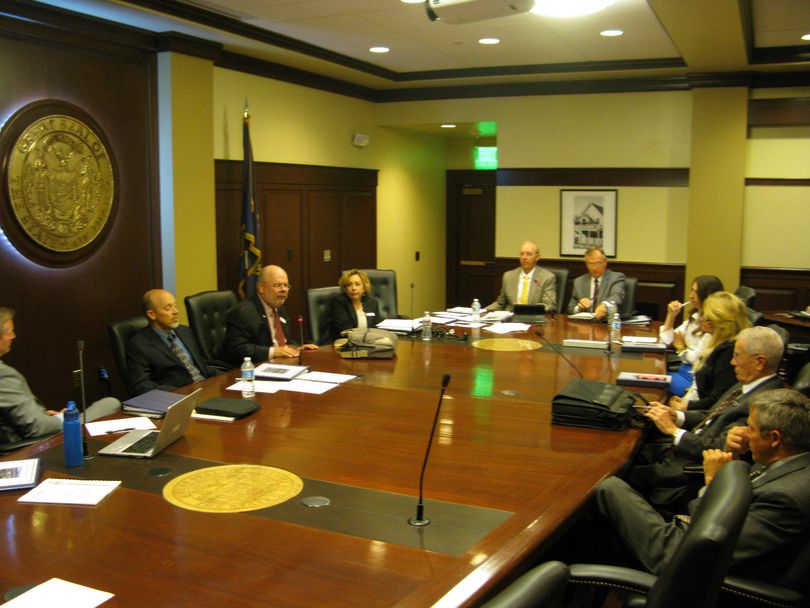 After extensive discussions about what – or if – the problems are with Idaho's tax system, the Tax Working Group has wrapped up today's meeting, and will be back again next week, on the 14th; you can read my full story here at spokesman.com.
Rep. Dell Raybould, R-Rexburg, said, "I guess the question I've had about this group and our meetings and everything, I have one question: What is the problem with our tax structure now? Do we have any specific problems that we need to take a look at and solve? I hate to go out in the shop and start repairing a piece of equipment if there's nothing wrong with it."
Rep. Robert Anderst, R-Nampa, said he asked legislative staffers to research another piece of the puzzle: How Idaho's spending on government services compares with other states. "What I found, when you look at the expenditures of state and local government, Idaho ranks dead last in per capita spending," he said. "So I think that is both something that we can be proud of in the sense that we are a conservative state, we keep spending under control. But I think it also goes to what the commerce director's point today was, was we also need to be cautious about investing in the future."
Anderst said, "So I would just add that as a caveat to the conversation. … I think that we actually have a pretty fair system at this point. If we can get some marginal benefits, whether it's the top marginal rate, or whether it's personal property tax, I'm all for looking at those kinds of things, and maybe even compressing rates to simplify things. But I would really at this point have to be convinced to do a major shift from one of our revenue streams to something else."
Sen. Steve Vick, R-Dalton Gardens, said he'd favor doing away with Idaho's personal income tax if possible, and asked legislative staffers to research how states without income taxes fared through the recession.
Sen. Lori Den Hartog, R-Meridian, said, "Regardless of how we label it, the same people are paying these taxes. So last year we increased our gas tax and we increased registration rates. That is particularly hitting our middle-income folks. So in relation to what we did last year, I personally am not willing to look at just a buydown of our top rate for the benefit of our top ratepayers, knowing that we increase the burden on our middle-income folks to a greater extent."
She said she'd favor modernization of Idaho's sales tax. "We have a different type of economy. We have different types of transactions that are going on," she said.
Sen. Jim Guthrie, R-McCammon, said, "Maybe it isn't broke. ... That's not lost on me. … But I think if we end up and this working group disperses and we say it's not broke let's not fix it, I think we have to be able to show that we applied due diligence to get there. I think it's important that we're here. I think there is a perceived need for us to be here or we wouldn't be here." He noted "some political realities that I think we have to not ignore," including that Idaho's state budget has been rising. "We had a hundred million dollar surplus in an environment where we raised taxes. That's a political reality," he said.
The group came up with five agenda items for its next meeting:
1 ) A homework assignment, asking each member to identify what they think the problems are, if any, in Idaho's tax system.
2) An expanded discussion on existing tax breaks, including more information on the most costly ones.
3) A presentation from the state Tax Commission on internet sales tax, and what would be the necessary steps to enact that in Idaho.
4) Analysis of possible expansion of the current $100,000 exemption from the business personal property tax to $250,000, $500,000 or $1 million.
5) – A detailed presentation on Idaho's tax brackets, and what the impact would be of changes to those.
The group also will get a presentation on the state budget and revenues, but that was set for its following meeting, which will be Nov. 3.
---
---