Tue., Sept. 1, 2015
A magical morning on the water…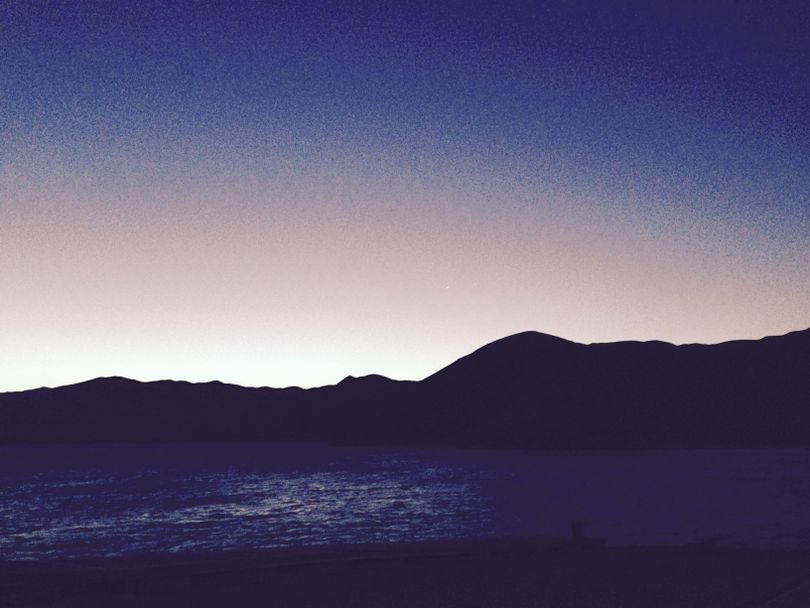 It was a pretty magical morning up at Lucky Peak today; since this was forecast to be the hottest day of the week, I figured I'd better get up there early to sneak in a windsurfing session before work. I was a little surprised, though, when I arrived at 6:30 and found it still dark. The waning moon was shining brightly up high and to the west as I rigged, and the sky was just starting to lighten as I launched.
From out on the water – where the wind was solid and the direction enjoyably consistent – the first rays of light that appeared painted the farthest, highest hills with a warm, pinkish glow. A few gulls soared high overhead; a single duck flew low and straight across the water. Gradually, the light spread to more and more of the hills, turning golden as it went. Then the sun peeked over the mountain, and the lake went shiny, the whitecaps lit up. Four geese flew overhead in a V, headed to the southeast, and disappeared into the sun.
As the sun brightened and warmed the surface of the lake, the wind picked up a notch, making it a little more challenging, a little more fun, and the jumps a little higher. Pretty soon I caught sight of the familiar, arching rainbow that forms in the spray behind my board, chasing me across the water like a faithful companion.
Sure, I love sailing in the big winds and beautiful swells of the Columbia River Gorge, and it's hard to beat windsurfing in the warm waters and trade winds of the tropics. But we've got something special here, in the golden canyon just eight miles outside of Boise, the same one that was described so eloquently in Wallace Stegner's "Angle of Repose" back before the dam spread the river into a lake. I am just so grateful that this is my home. We all have things we love about living here; this is definitely one of mine. Along with: Bogus Basin. The Idaho Shakespeare Festival. The Ridge to Rivers trails. Friends and family, of course. And a whole lot more.
OK, end of reverie, back to work. Happy Tuesday, everyone.
---
---