Tue., April 19, 2016
Court candidates talk of their backgrounds, philosophies…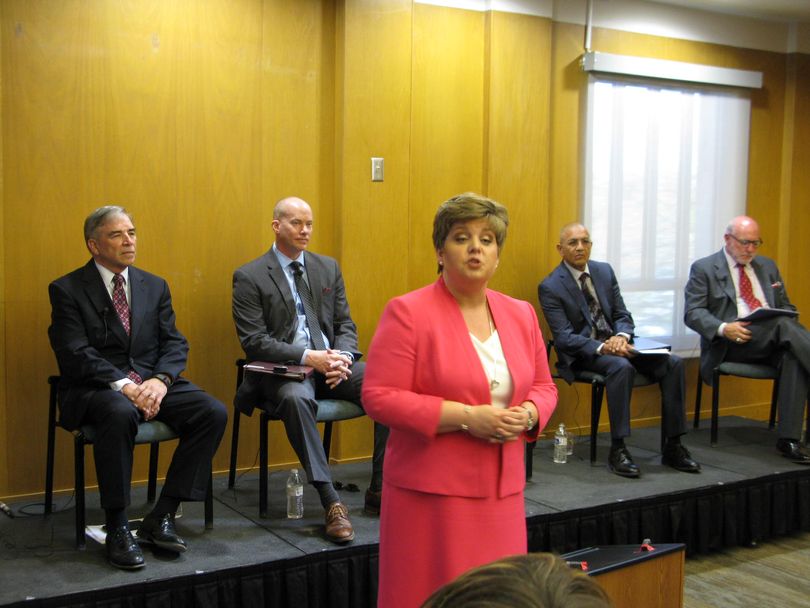 Each of the four candidates for the Idaho Supreme Court is giving a 10-minute opening statement; here's some of what each had to say:
Attorney Robyn Brody of Rupert discussed her background in the law, and said, "The Idaho judiciary is not a legislative body. … That's not the role of the judiciary, and we have to honor that separation. But at the same time, I think it's imperative that when the Idaho Legislature oversteps its bounds, that we recognize that at its core, it's about protection of individual freedoms, and we have to be willing as justices to stand up."
She said, "I have never been afraid to climb in a foxhole with the people of Idaho, whether it's taking on the Department of Transportation or the Department of Insurance … It's about protecting people's freedoms. When we interpret the Constitution, we do it conservatively, with great care, giving life to the enduring principles that are written in the Constitution." She said, "The originalist approach is the right, conservative approach to interpreting the Constitution."
Brody said she has the "rural perspective" that the other candidates lack. "I have what I consider to be a small-town practice with some big-city services," she said, from handling divorces to closing a $3.5 million real estate deal for a FedEx cargo facility at the Twin Falls airport.
Idaho Court of Appeals Judge Sergio Gutierrez said, "I'm experienced not only with the inner workings of the judicial administration, but also with the mechanics of achieving systemwide judicial improvements." He noted that he was first appointed a judge by Gov. Cecil Andrus, a Democrat, and then was appointed to the Court of Appeals by Gov. Dirk Kempthorne, a Republican. "I emphasize the role these men played in my judicial career, because although they may have had different political views about many things, they each understood and valued the importance of an independent and nonpartisan judiciary."
Gutierrez said, "While at the Court of Appeals, I've had the privilege of learning from some of the best judges."
He spoke also of his "personal life experience, that of an illegitimate child born into poverty and dysfunction. An immigrant. … A high school dropout who has known both hunger and homelessness. … A Job Corps graduate and a father and grandfather who understands that the American dream is not so much about achievement as opportunity. I deeply believe this to be true, that those who are called to sit in judgment on Idaho's highest court must be experienced not only in the law, but in the many paths a life can take."
Gutierrez said, "I was and am the only Latino judge in the state. Because of that, some people see me as a symbol of progress, and that is my burden and also my honor. And now I stand for election as an independent, experienced judge, who stands for fairness and also will bring a diverse life experience to the court."
State Sen. Curt McKenzie described operating a solo practice, in which there were "some months when my employees got paid and I didn't." He said, "I think it was an important perspective to have." He detailed his background, from coming to Idaho to attend Northwest Nazarene University to, while in law school at Georgetown University, watching the U.S. Supreme Court in session. McKenzie said he's practiced in an array of different sized firms and in an array of different areas of the law. He also noted he's served seven terms in the state Senate and currently chairs the State Affairs Committee.
"I decided to run for the court because the timing seemed right, with Justice Jones retiring," McKenzie said – even though he'd planned to serve one more term in the Senate. "The dream that I had back in law school was something that if I wanted to make it real, I needed to act," he said. "I'm proud to run, I think we've got great candidates. I think I bring a different background, because of the diversity of experiences that I've had."
Deputy Attorney General Clive Strong said, "My interest in serving on the Supreme Court really goes back to my passion and commitment to public service." Strong said he, too, grew up in poverty, but "learned values of opportunity and integrity and trust from my family." He worked his way through the University of Idaho to earn a degree in forestry. "There was an opportunity to combine my interest in the natural resources with law," he said, integrating law and science. "Science is about trying to prove a hypothesis. Law is about trying to prove an absolute certainty," Strong said. "The two don't necessarily meet, so it's important to understand how the relationship between those two work."
Strong said as the head of natural resources for the Idaho Attorney General's office, "I have had the opportunity to work on some of the most important and some of the most significant issues that have confronted the state of Idaho over the last 30 years." Those included the Swan Falls case, he said, in which "the very essence of Idaho was at stake, the issue of whether the power company or the state would control the waters of the Snake River Basin." That case led to the Snake River adjudication. "I was in the lead role for the state," he said. "I've worked in the trenches, I've worked throughout the state. … I've also had the opportunity to litigate at the highest levels," including two cases that went to the U.S. Supreme Court and involved issues of state sovereignty.
---
---