Tue., April 19, 2016
Land Board members differ on proposed constitutional amendment on Nov. ballot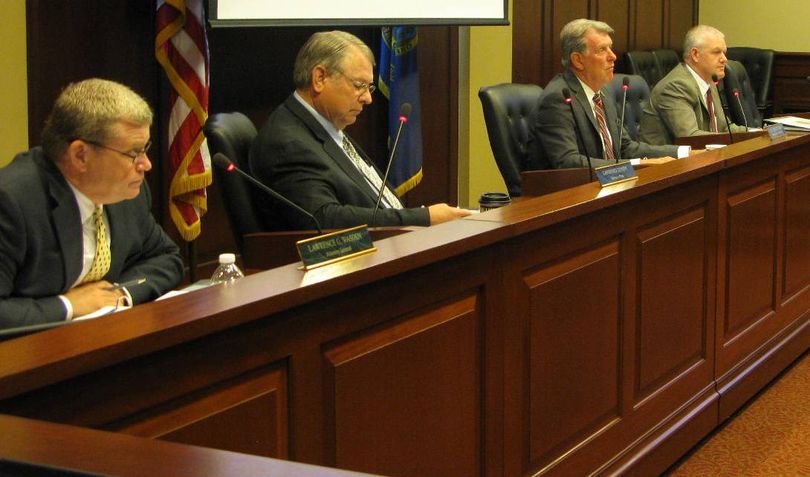 During this morning's state Land Board meeting, board members got into something of a debate over a proposed constitutional amendment lawmakers have approved this year for the November ballot. It would amend Idaho's Constitution to ensure that the Legislature can approve or reject agency rules and regulations, without any veto power for the governor. Gov. Butch Otter said he thought that was a good idea, and asked other Land Board members for their thoughts.
"I think that it's an overreach by the Legislature," said Attorney General Lawrence Wasden. "Our state is unique … in that the Legislature has this power." It got it through an Idaho Supreme Court decision decades ago. Lawmakers are worried that a future court might rule otherwise, so they're proposing to enshrine the rules-review power in the Constitution. But they tried that in 2014, too, and Idaho voters rejected it.
"The Legislature presented this matter two years ago for a constitutional amendment, and it failed. And two years later we're back asking the voters to approve it now?" Wasden said. "I think we should have listened to what the voters said two years ago. It has been provided to the voters, and the voters have rejected this notion that it be embodied in our Constitution."
Idaho Secretary of State Lawerence Denney countered, "I think it's a great idea to put it in the Constitution. And certainly, I don't think that there was any effort the last time around to inform the voters as to the necessity of having that opportunity to review those rules and not having it challenged. … It wasn't advertised at all."
Otter asked, "Anyone going to suggest the Land Board take a position?" State Controller Brandon Woolf said, "I don't know if that's necessary." State schools Superintendent Sherri Ybarra, who also serves on the Land Board, wasn't at today's meeting; she's on her post-legislative session tour, meeting with education officials around the state. The tour is in Lewiston today, and wraps up in Coeur d'Alene tomorrow.
To amend the Idaho Constitution, a measure must pass the House and Senate by two-thirds votes plus receive a majority vote at the next general election. This year's measure, HJR 5, passed the House 62-3 and the Senate 34-1. The 2014 measure, HJR 2, passed both houses unanimously, but voters rejected it by nearly 5,000 votes.
---
---