Mon., April 25, 2016
Column: Constitutional amendment debate, faith healing and a mysterious plaque…
Here's my weekly column from Sunday's Spokesman-Review:
BOISE – Idaho's top state elected officials got into something of a debate over a proposed constitutional amendment lawmakers have approved this year for the November ballot, during last week's state Land Board meeting.
The measure would amend Idaho's Constitution to ensure that the Legislature can approve or reject agency rules and regulations, without any veto power for the governor. Gov. Butch Otter said he thought that was a good idea, and asked other Land Board members for their thoughts.
"I think that it's an overreach by the Legislature," said Attorney General Lawrence Wasden. "Our state is unique … in that the Legislature has this power." It got it through an Idaho Supreme Court decision decades ago. Lawmakers are worried that a future court might rule otherwise, so they're proposing to enshrine the rules-review power in the Constitution. But they tried that in 2014, too, and Idaho voters rejected it.
"The Legislature presented this matter two years ago for a constitutional amendment, and it failed. And two years later we're back asking the voters to approve it now?" Wasden said. "I think we should have listened to what the voters said two years ago."
Idaho Secretary of State Lawerence Denney countered, "I think it's a great idea to put it in the Constitution. And certainly, I don't think that there was any effort the last time around to inform the voters as to the necessity of having that opportunity to review those rules and not having it challenged. … It wasn't advertised at all."
Otter asked, "Anyone going to suggest the Land Board take a position?" State Controller Brandon Woolf said, "I don't know if that's necessary." State schools Superintendent Sherri Ybarra, who also serves on the Land Board, wasn't at the meeting; she was on her post-legislative session tour, meeting with education officials around the state, including stops in Coeur d'Alene and Lewiston.
To amend the Idaho Constitution, a measure must pass the House and Senate by two-thirds votes plus receive a majority vote at the next general election. This year's measure, HJR 5, passed the House 62-3 and the Senate 34-1. The 2014 measure, HJR 2, passed both houses unanimously, but voters rejected it by nearly 5,000 votes.
Faith healing and child deaths
As Idaho's controversial faith healing exemption from prosecution for child deaths or medical neglect gained national attention last week, featured on the "Today" show and elsewhere, Gov. Butch Otter said he hopes legislative leaders will heed his call to form a working group to look into the issue this summer.
"I hope they will, so that we have a clearer path forward," Otter said. "I was sincere in my request. They were sincere in their initial response. I suspect that we will have such an interim group that's going to look into it." Then, he said, "We'll know a lot more next legislative session."
The issue has come up repeatedly in the Idaho Legislature since 2014 but not received a hearing. Rep. John Gannon, D-Boise, proposed legislation this year to change the law in the wake of the deaths of numerous children of members of the Followers of Christ group in southwestern Idaho from treatable conditions, including pneumonia and food poisoning; many children are buried at a cemetery overlooking the Snake River.
In February, Otter released a letter he'd written to legislative leadership asking for attention - including convening a legislative work group - on protection of children in the face of religious exemptions from medical care. At this point, no legislative work group has been formed, but Senate President Pro-Tem Brent Hill said he and House Speaker Scott Bedke will consider that work group plus another, on health care, between now and the June 17 Legislative Council meeting, at which legislative interim committee members will be named.
In his February letter to legislative leaders, Otter noted that he issued an executive order in 2012 forming the Idaho Child Fatality Review Team under his Governor's Task Force on Children at Risk. The team reported its findings last April, he wrote, "including an analysis of two deaths related to refusal of medical care because of religious or personal beliefs. However, interest in the issue has grown in the past few months and further review may be needed."
"I believe we must give this issue a thorough examination," Otter wrote. "I am therefore asking that you consider convening a legislative workgroup to assess the Child Fatality Review Team's report along with other sources of research and testimony regarding this policy issue."
About that plaque…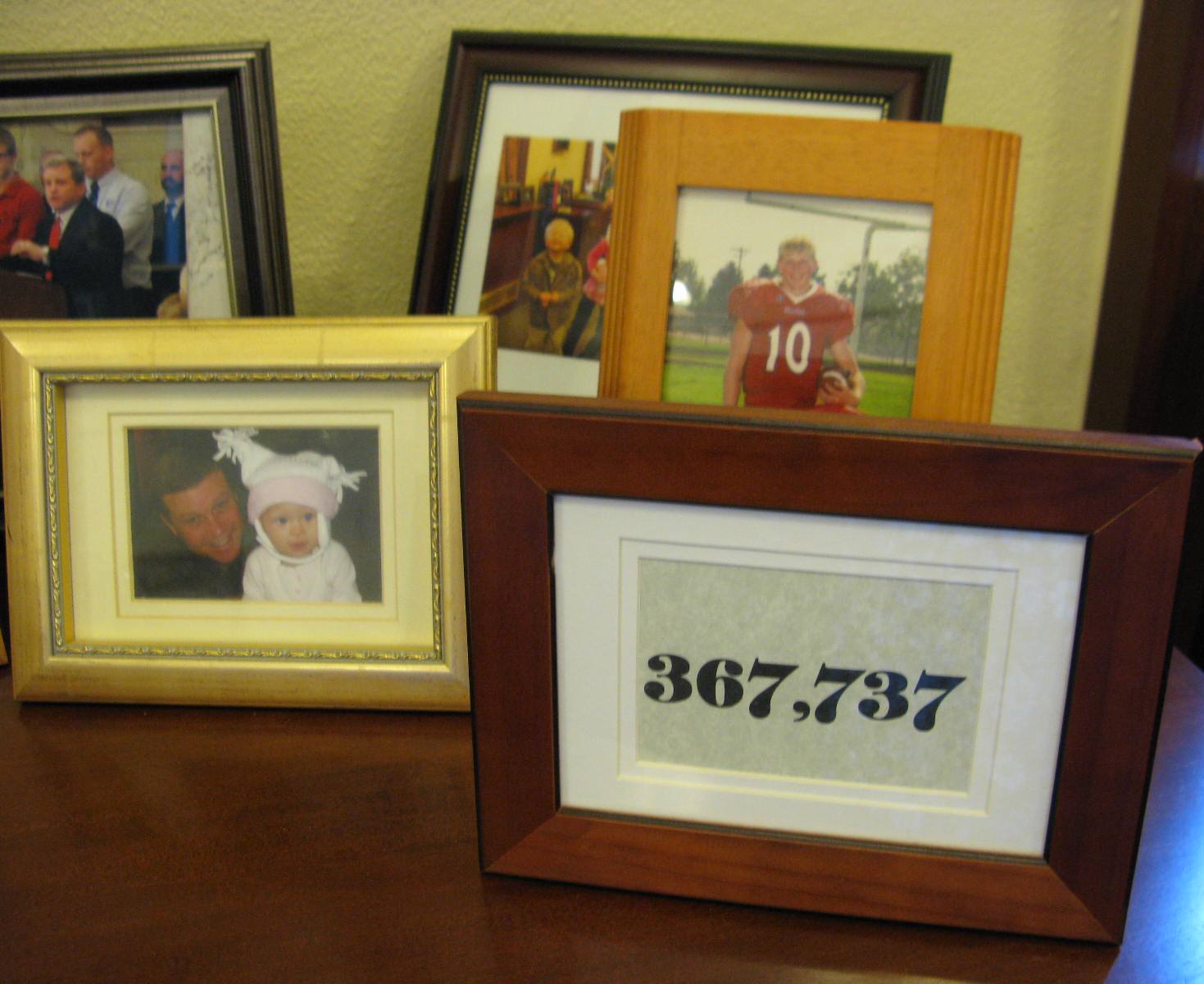 After the state's Constitutional Defense Council met in Idaho Attorney General Lawrence Wasden's office last week and approved payment of $280,000 in attorney fees to the winning side in the state's failed defense of an anti-union law – which Wasden's office had warned lawmakers about when they passed it in 2011 despite his advice – I asked him about the small, framed item, set among various photos behind Wasden's desk, that just shows a number: 367,737.
Wasden said that's the number of votes he received in the 2010 general election – a record for votes received by any candidate for an Idaho state constitutional office that still stands today. He was unopposed in that election, but so were two other state constitutional officers.
"That sits there to remind me that voters actually have approved of what I do," Wasden said with a smile.
---
---