Tue., Feb. 16, 2016
Labrador on criminal reform: 'The purpose should be justice'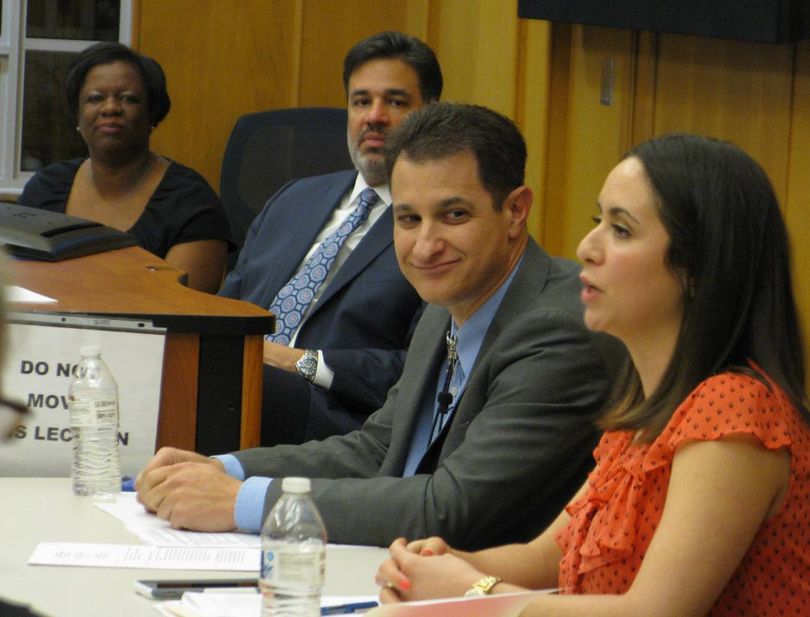 Raul Labrador, 1st District GOP congressman, told a crowd of more than 60 at the Idaho Law & Justice Learning Center tonight, "I believe that our bloated prison system is not benefiting taxpayers, it's not benefiting society and it's not benefiting inmates." In the second row of the audience, Idaho Corrections Director Kevin Kempf was nodding. The crowd also includes lots of law students, current and former public officials, a retired Idaho Court of Appeals judge, some lawmakers, interested citizens and more; Labrador is joining ACLU Public Policy Strategist Kathy Griesmyer and Idaho Freedom Foundation President Wayne Hoffman on a panel on state and federal trends in criminal justice reform, moderated by UI law professor Shaakirah Sanders.
"They go to prison and they learn how to be a better class of criminals, and I don't think that's what our society should be doing," Labrador said. "This may qualify as tough justice, but it's not smart justice."
Said the congressman, "Momentum has been steadily buildingg for reform. This congress alone I have met with President Obama twice – yes I have," to discuss this issue. He noted that Obama highlighted it in his State of the Union address. "It was the only issue I agreed with him on," Labrador said to a murmur of laughter.
Griesmyer said she's encouraged to see "unusual allies coming together on such a critical national issue." She said, "Our system is broken, and it's not truly promising justice to the folks who get caught up in the system."
Labrador said he's co-sponsoring an array of justice reform bills in the House, and similar measures are pending in the Senate. But, he said, "These needed reforms still face an uphill battle. What we have in Washington, D.C. is actually not a partisan divide on this issue, it's actually more of a generational divide on these issues." Older lawmakers who grew up in the 1960s identify with a push to be tough on crime, he said. "It's some of the more younger legislators that have come in that are realizing that we need to make a change to our crowded prisons," Labrador said. "I will continue to fight for these reforms."
Hoffman said, "We've swung the pendulum so far that we're locking people up unnecessarily."
Labrador said he expects his stand to be used against him in future campaigns. But he said the United States is home to 25 percent of the world's prison population, though it has only 5 percent of world's population. "I am not advocating for not being tough on crime," he said. "I'm a very conservative member of Congress." But, he said, "When we make it easier for the state to take away somebody's liberty, I think we're making society weaker."
"We've forgotten the purpose of our legal system, in my opinion," said Labrador, an attorney, "the purpose of sentencing and the purpose of due process. … The purpose should be justice."
---
---