Wed., Feb. 17, 2016
Dems object to state-funded primary election billboards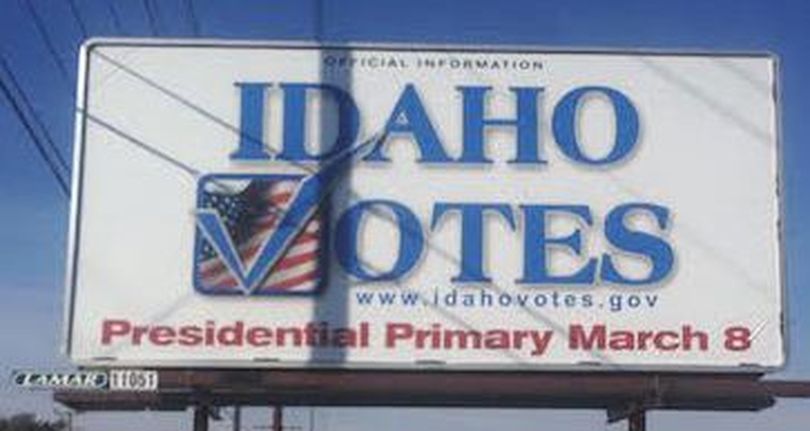 The Idaho Democratic Party is protesting a statewide, 22-billboard voter education campaign launched by the Idaho Secretary of State's office for the upcoming March 8 presidential primary, because the billboards don't indicate that the election is just for the Republican and Constitution parties. Bert Marley, Idaho Democratic Party chairman, called the billboards "misleading and inaccurate," and demanded that Secretary of State Lawerence Denney alter them by Monday.
Denney's office says it's not planning any change in the $20,000 billboard campaign. The billboards say "Official Information" at the top, with a large "Idaho Votes" logo in the center, with the web address www.idahovotes.gov. Across the bottom in large red letters, the billboards say, "Presidential Primary March 8."
"As your office is aware, this election is in fact not a full primary election," Marley wrote to Denney. "Rather, it only has two political parties participating: the Constitution Party and the Republican Party. Therefore, your advertising campaign is misleading and inaccurate and likely to cause much confusion for voters seeking to participate in the primary or those voters who associate with any other parties." Marley noted that Democrats who want to participate in their party's presidential candidate selection must go to county caucuses on March 22.
Tim Hurst, chief deputy secretary of state, said a voter complained about the billboards last week; Hurst responded to the voter, a Democrat from Kootenai County, and sent a copy of his email to Marley; Marley's letter followed. "The purpose of the billboard is to drive them to the Idaho Votes website," Hurst said. "The Idaho Votes website does in fact have the Democratic caucus on it."
Hurst said the office turns to billboards when there's a big change in Idaho elections, to make sure voters know; this year's March 8 presidential preference primary is a first for the state. The office last posted billboards when Idaho started its closed primary. "This is a new election," Hurst said. "We haven't had a presidential primary separate from the regular primary since 1976, so this is to tell people there's an election coming up, go to idahovotes.gov and find out more information."
He said, "The Republican Party and Constitution Party have opted to participate in that, the Democrats have chosen not to." And he added, "When people are driving by at 60 to 80 mph, they don't get much information off a billboard. So the main purpose is to drive them to go to idahovotes.gov for more information."
---
---