Thu., Jan. 28, 2016
Hart home auctioned off on Kootenai courthouse steps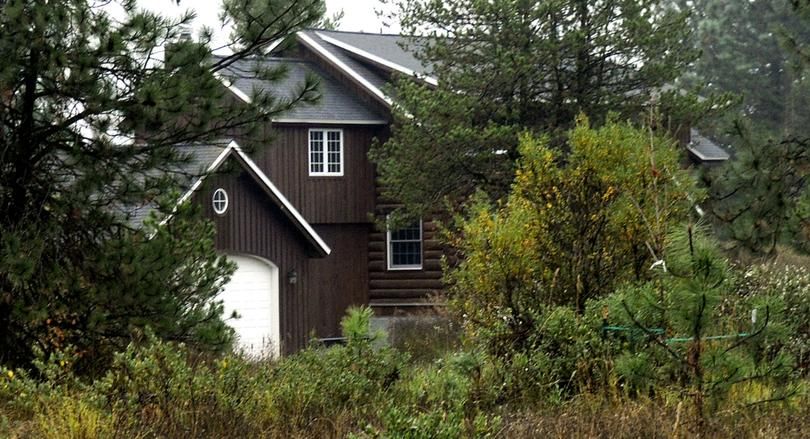 The home of tax-protesting former Idaho state Rep. Phil Hart was auctioned off on the Kootenai County Courthouse steps for back taxes this morning, and sold for $182,000 to a Spokane real estate investor; Hart, who is still living in the log home, attended the auction but didn't bid.
Mahmood Khokhar, the successful bidder, attended the auction with his wife and was one of two bidders; he told a reporter that he goes to lots of auctions and bids on homes as part of his business. He was unaware that the previous owner of the house was a former state lawmaker.
Hart and Khokhar shook hands after the auction and made plans to get together and go over arrangements; you can read our full story here at spokesman.com.
Hart was the successful bidder for the home at an earlier, Oct. 1 auction with a bid of $202,740, but after putting up the required 10 percent deposit, he failed to pay the balance in time and the sale fell through. His forfeited deposit was applied toward his $586,000-plus federal tax debt.
Hart, a tax protester, stopped filing both federal and state income tax returns in 1996 while he unsuccessfully pressed a federal lawsuit challenging the federal income tax as unconstitutional; after the case was rejected, he began filing returns again, but authorities said he never fully paid up. He's also been fighting an order to pay more than $53,000 in back state income taxes, interest and penalties; he's lost numerous appeals in that case, including one to the Idaho Supreme Court.
Hart settled his federal tax case in January of 2015 and agreed to allow the auction of his home. When the IRS first went after the home, Hart claimed he didn't own it, though he built it and lived there. Federal authorities, in court filings, called Hart's attempted transfer of the home to a trust in his daughter's name a "fraudulent transaction" with a "sham entity."
It's the same home for which Hart illegally cut trees from state school endowment land in 1996, maintaining that as a citizen, he had a right to take the logs for free; after repeated, unsuccessful appeals, he never fully satisfied a $22,827 court judgment over the timber theft. An expired statute of limitations prevented the state from pressing collection efforts.
The IRS set the minimum bid for today's sale at $110,000, and described the property, a three-bedroom, three-bath, 2,888-square-foot home on 10 acres in Athol, as a "Great Log Home" that "Needs some TLC!"
Hart was defeated in his bid for a fifth term in the Idaho House in the 2012 GOP primary, but he's remained active in state GOP politics. He currently is the Idaho Republican Party's Legislative District 2 chairman, and is vice president of the Republican Liberty Caucus.
---
---