Wed., July 20, 2016
Legislative panel on health coverage gap opens first meeting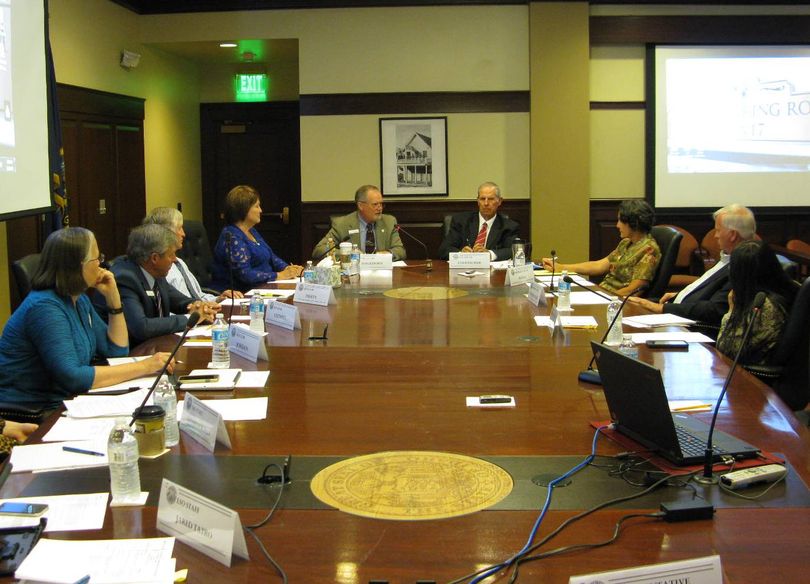 The Legislature's joint working group on Idaho's health coverage gap has convened its first meeting this morning. Co-Chairman Rep. Tom Loertscher, R-Iona, talked about "the resistance that we're having among members" in the House. "I think mistakenly or otherwise, we thought that we were talking about a pure Medicaid expansion. And the director can speak for himself, but that is not what has ever been intended in Idaho," he said. "We want to change the way we deliver all of Medicaid, and fit that with working in this population."
State Health & Welfare Director Dick Armstrong will address the panel later this morning.
Loertscher said, "Several attempts have been made in the House to try to get members there up to speed. And one of the things that has been very apparent to me is the lack of understanding about Medicaid, throughout the membership of the Legislature in general. They don't understand the ramifications, how the programs work, so it's been a difficult thing trying to get folks educated about how this stuff works and what might work better if we're to do some of the fixes that the director has had in mind for us."
So, he said, the House passed two bills: HB 644, which Reps. John VanderWoude, R-Nampa, and Rep. Lynn Luker, R-Boise, crafted to grant $5 million a year for two years to community health centers to provide some services to the gap population; and HCR 63, to launch a legislative study committee to examine what the state should include in a waiver proposal to the U.S. Department of Health & Human Services, while forbidding any actual request for a waiver until the Legislature first grants approval.
The idea is to request a waiver that would allow Idaho to accept federal Medicaid expansion funds, but use them for an Idaho-crafted program to serve the gap population, rather than simply expand Medicaid.
HB 644 was amended by the Senate and then the amended version died in the House. HCR 63 passed the House but died in the Senate.
Sen. Marv Hagedorn, R-Meridian, the Senate co-chair of the working group - who referred to the Senate's amended version of HB 644 as a "hail mary radiator cap" - said today's meeting won't include any public testimony. "The objective for today is to get everybody to the same baseline of understanding of what we've gone through to date, the understanding of what the population and the gap is, who those people are, how many of them are there, what their situations are, and those types of things, so we can all have that same baseline."
Hagedorn said at the panel's next meeting, "That's when I would expect we'll start talking about different ideas and coming up maybe with some solutions. The Legislative Council has tasked us with coming up with some solutions to present to the body when we reconvene. So we've got to have at least a couple of solutions … so that's the goal."
The committee has a packet (online here) containing all the legislation introduced last session on the question, including both House measures; the governor's Primary Care Access Program proposal, HB 484; and two proposed by Sen. Dan Schmidt, D-Moscow, to follow recommendations from Gov. Butch Otter's two study groups regarding accepting federal Medicaid expansion funds to cover the gap population.
Loertscher said, "Idaho's unique. We have a program in place that doesn't exist in any other state as far as I've been able to determine. We have our county medical indigency program and the catastrophic fund. And those two things don't exist in other states. Other states have done other things – they've done systems of health clinics, they've done what used to be called the medically needy program in Medicaid, which does not cover all the folks that our current program does. So our challenge has been to try to get everybody up to speed on where we were going."
Idaho's medical indigency and catastrophic fund program is funded entirely with county property taxes and state general funds; it pays the catastrophic medical bills of people who have no way to pay, but then files liens against everything they own, including their estate after they die, to try to get some of the money back, though only a small amount gets recovered. If Idaho were to expand Medicaid or otherwise accept the federal expansion funds and provide coverage to the gap population, both those programs would largely be eliminated.
The panel also is discussing a bill that never was introduced in the House last session, which Loertscher deemed a "tragedy" – the funding bill for the governor's PCAP program. It sought to tap tobacco settlement funds and direct them toward health care for the gap population.
The meeting is being audio-streamed live online here.
---
---