Tue., June 21, 2016
Idaho federal judge nominee gets positive reception at Senate confirmation hearing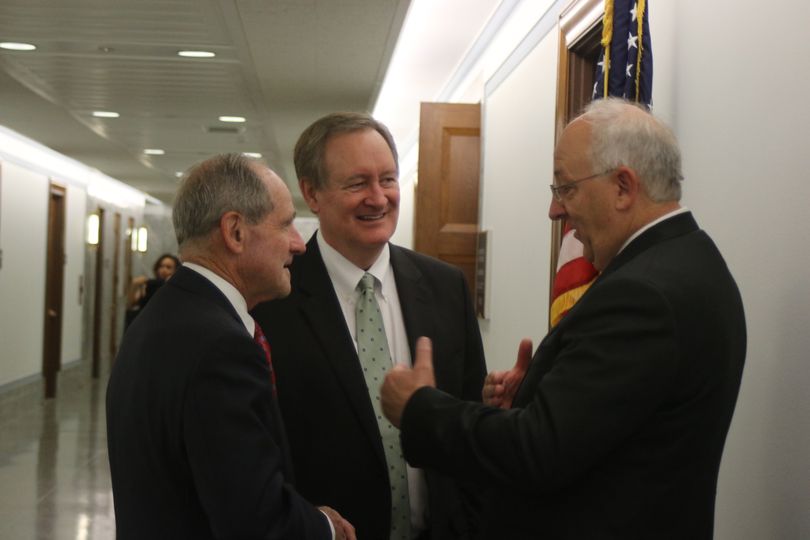 Here's my full story from spokesman.com:
By Betsy Z. Russell
Idaho Judge David C. Nye had his hearing before the U.S. Senate Judiciary Committee today as the nominee to be Idaho's next federal district judge, and drew only positive comments.
"Mr. Nye, you represent something I have never seen before," said Sen. Lindsay Graham, R-S.C., who chaired the hearing, "a person that can get Crapo, Risch and Obama on the same sheet of music. How did you do that?" Amid laughter, Nye responded, "It was not easy."
"OK, that's the most honest answer I could find," Graham responded.
Idaho Sens. Mike Crapo and Jim Risch introduced Nye to the committee, highlighted his credentials and unanimous well-qualified rating from the American Bar Association, and urged the panel not only to swiftly approve his nomination, but also to consider their legislation to give Idaho a third federal district judgeship.
"It's been a while since Idaho senators have appeared before this committee," Crapo said, "as Idaho is one of only three states having just two authorized district court judgeships. The nonpartisan Judicial Conference of the United States has declared a judicial emergency for Idaho and has recommended in every one of its reports to Congress since 2003 that Idaho be authorized for a third district court judgeship. Unfortunately, the last time Congress authorized any new judgeships, district judgeships, for any state was in 2002. So we just missed out."
"The result is that we have a three-judge caseload state being handled by two judges," Crapo told the committee. "And since last July, when Judge (Edward) Lodge took senior status, creating the vacancy we are seeking to address today, we have been a three caseload state being handled by only one active judge."
"What's even more challenging," Crapo said, "is that our one remaining active judge, (Judge B. Lynn Winmill,) is eligible to take senior status this coming March. I look forward to working with the committee to pass the legislation that Sen. Risch and I have introduced, to authorize a third district court judgeship for Idaho, to prevent any such emergency from happening in the future. But first, I strongly encourage this committee to approve Judge Nye's nomination as soon as possible, so that the people of Idaho can continue to be assured that they will be served by well-qualified judges."
Risch seconded that. "I know that things around here don't move quickly, and I also know that they are governed by longstanding traditions, but Sen. Crapo and I have worked diligently to fill this seat," he said. "As we all know, Idaho is a conservative state, and we have an administration that is not so much, and so the challenge was great. But I would say this: I would commend the White House for the way this was handled. We worked incredibly well with President Obama's staff in the give-and-take that's necessary to fill the spot. And we went through dozens and dozens of applicants to finally arrive at Judge Nye. And where we are right now is we have enthusiastic support from Sen. Crapo and myself and also from President Obama."
Nye was among three district judge nominees who received hearings together in the committee today; the other two were Donald Coggins Jr. of South Carolina, and Kathleen Marie Sweet of the Western District of New York.
Graham was the only committee member who posed questions to the nominees, quizzing them about their concepts of the rule of law. Nye told him, "I agree completely with everything Mr. Coggins has said. I will also note that I believe that it is the rule of law, as you were stating, that makes our civilization, our country, so great – the willingness to follow the law as written by the Legislature, and then the precedential value that comes from the case law from the courts."
Graham pressed Sweet over a letter she'd written as a county bar association chair regarding guns after the Newtown shootings; she defended the letter, and agreed with Graham on what the Supreme Court has ruled about gun rights.
Graham then told all three nominees, "You're about to embark on a new phase of your life. You seem well prepared for the job. … I just think all three of you should be proud of your accomplishments."
"I'll do everything I can to move you through the process quickly," he said, "because we need more judges, but more importantly, we need good judges. I think you will fit that bill."
He said the committee will hold its record open for comments for a week before proceeding.
Carl Tobias, a law professor with the University of Richmond School of Law and an expert on judicial selection, said the hearing went well for Nye. "I think very critical was the avid support voiced by the Idaho senators," Tobias said. Nye seemed to answer what few questions he received "to the senators' satisfaction," Tobias said, indicating likely support from the committee for the nomination.
"But the floor is unclear," he said. "There are 19 judges awaiting final votes on the (Senate) floor," and Senate Republicans have confirmed only a tiny number since they took the majority this year, he said. "I am cautiously optimistic that the GOP will pick up the pace. However, the July 4 recess begins soon and the summer recess will start in mid-July, while the Senate will only return for several weeks in September."
Idaho has been down to just one federal district judge since Lodge took senior status on July 3, 2015.
---
---