Fri., May 6, 2016
Four Idaho Supreme Court candidates debate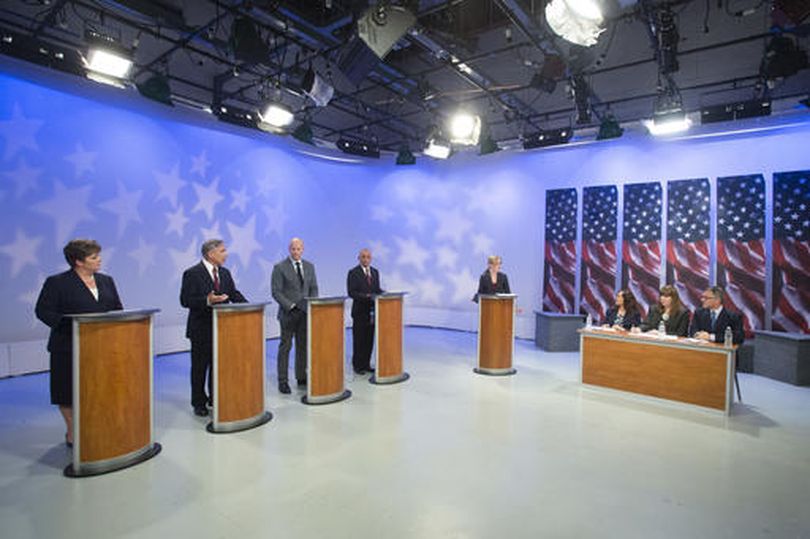 Here's a report from the Associated Press on tonight's Idaho Supreme Court debate, in which four candidates for the state's highest court debated judicial philosophy, endorsements, ethics and the role of the court. The debate was televised statewide on Idaho Public TV; it can be viewed online here.
Four Idaho Supreme Court candidates debate
By KIMBERLEE KRUESI, Associated Press
BOISE, Idaho (AP) — Idaho's state Supreme Court candidates went after each other's political independence Friday evening during their only scheduled major debate.
"When you stand on the courthouse steps with the Legislature, I'm not sure if you're sending the right messages to the people of Idaho that there's a clear division of judiciary and legislative branch," said candidate Robyn Brody, an attorney from Rupert.
Brody was calling out fellow candidates Clive Strong, a longtime deputy attorney general, and Curt McKenzie, a seven-term Republican state senator — who have both held press conferences at courthouses announcing endorsements from partisan lawmakers.
Idaho Court of Appeals Judge Sergio Gutierrez also echoed Brody's concerns of seeking high-profile endorsements, adding that he's not running to be a politician but a justice.
However, Strong countered that his 33-year career inside the attorney general's office has often required him to stand up to the Idaho Legislature and McKenzie argued that he strayed from his fellow GOP members during the Legislature by voting no on the so-called ag-gag bill, which was later ruled illegal in federal court.
The first round of campaign contribution reports aren't due until May 10, making endorsements that much more open to scrutiny for signs of possible bias.
Furthermore, Supreme Court candidates are banned from talking about their past or current political party affiliations — even though political party registrations are public records — as well as giving their opinions on how they would vote on previous or pending state supreme court decisions.
Court Chief Justice Jim Jones announced in March that he would not run for a third six-year term on the state's highest court. Jones previously served two terms as Idaho attorney general.
The battle over the state Supreme Court seat is now the top statewide competitive race in the upcoming May 17 primary — particularly because the court has a heavy hand in reshaping the state for years. However, while the little-known post is important, it has historically not been a major attraction to get voters to the polls.
In the 60-minute debate, in which candidates fielded questions from a panel of reporters, they all vowed to be models of integrity if elected, emphasized the need to address the pending wave of retiring judges with diverse candidates and denied that public opinion and political pressure would play any role in their judiciary decisions.
All four candidates vowed to work agreeably with other members on the five-member bench if elected.
Candidates also promoted their backgrounds, particularly when asked to address the lack of diversity on bench. Idaho is currently just one of two states with no Supreme Court justices who are female or people of color.
Strong said that he was proud to have employed and mentored strong female attorneys, while McKenzie focused on his legal background working in several different law firms.
"I believe (diversity) adds authenticity to the court, which is justice for all," said Gutierrez, who was Idaho's first Latino judge.
Candidates will need to secure a majority of the vote in the May election. If not, then the top two candidates will compete in a runoff election in November. The last time a Supreme Court justice race required a runoff was in 1998.
---
---