Wed., Nov. 2, 2016
Labrador digs deep to help out GOP state legislative hopefuls; full story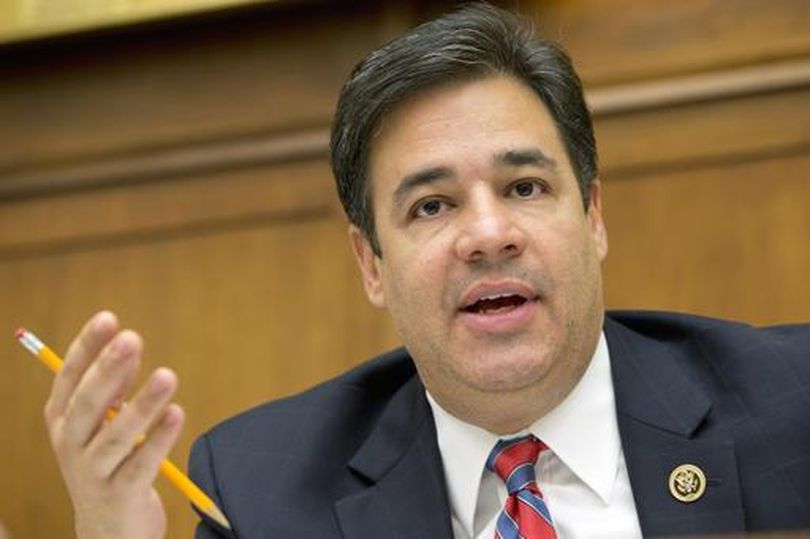 Why would GOP Rep. Raul Labrador have given campaign contributions to 40 GOP candidates for the Idaho Legislature over a two-day stretch in late October? Labrador's campaign spokeswoman says he's "always made it a priority to strengthen and build up the Republican Party in Idaho." Jasper LiCalzi, a political scientist at the College of Idaho, says, "If I didn't know any better, I'd figure he was running for the speaker of the state House of Representatives there. Usually somebody who does that is interested in a leadership position in the Statehouse or something."
LiCalzi said contemplation of a future run for governor may not be the only reason for Labrador to make such donations, but, he said, "It's another chip on that side of the scale that he does that."
Here's my full story from spokesman.com on Labrador's spreading of his campaign money:
By Betsy Z. Russell
Over a two-day stretch in late October, Idaho GOP Congressman Raul Labrador sent campaign contributions of either $250 or $500 to 40 GOP candidates for the Idaho Legislature, plus $10,000 to the Idaho Republican Party.
The giving to state legislative candidates came as Labrador has been openly mulling whether to run for governor in 2018; two other GOP candidates, Lt. Gov. Brad Little and former state Sen. Russ Fulcher, already have announced they're in the race. Currently, Labrador is seeking re-election to a fourth term in the U.S. House.
"Raul Labrador has always made it a priority to strengthen and build up the Republican Party in Idaho," China Gum, senior advisor to Labrador's campaign, said in a statement Wednesday. "Whether it was through a financial contribution, an endorsement, or encouraging candidates in their race, he's always done whatever he could to elect Republicans at all levels of government. His recent contributions are just that, helping Republicans in tough races and supporting the state Republican Party with their 'get out the vote' efforts."
Jasper LiCalzi, a professor of political economy at the College of Idaho, said, "If I didn't know any better, I'd figure he was running for the speaker of the state House of Representatives there. Usually somebody who does that is interested in a leadership position in the Statehouse or something."
LiCalzi said a future run for governor may not be the only reason for Labrador to make such donations, but, he said, "It's another chip on that side of the scale that he does that."
Labrador's contributions to GOP legislative hopefuls included 23 to sitting senators or representatives who face Democratic challengers in the Nov. 8 election; three to Republican candidates who face only third-party challengers; and one to a representative who's unopposed, Rep. James Holtzclaw, R-Meridian.
In addition to those contributions, state campaign finance reports show Labrador sent another $1,000 each to Rep. Heather Scott, R-Blanchard, and Sen. Mary Souza, R-Coeur d'Alene, on Oct. 27, though those donations weren't reflected on Labrador's latest federal report.
Labrador also gave to eight GOP candidates running in contested races against Democratic challengers for open seats, and to four GOP challengers who are running against sitting Democratic state lawmakers. Those targeted Democratic incumbents are Sen. Dan Schmidt, D-Moscow; Rep. Paulette Jordan, D-Plummer; Rep. John McCrostie, D-Boise; and Rep. Sue Chew, D-Boise.
Schmidt said he's not surprised by the move, saying his state Senate colleagues also have donated to his opponent. "I'm used to Republicans not supporting Democrats," Schmidt said. "I learned that lesson pretty early here. Even though we try to work together in the Statehouse, when you're running for office it's kind of like the old Beach Boys song, 'Be True to Your School.'"
Schmidt added that he thought Labrador might be trying to unify Idaho Republicans by spreading his campaign money so widely, and noted that Labrador worked to unify the party two years ago when he chaired a state party convention that ended in disarray. If that what he's trying to do, Schmidt said, "I commend him."
The three GOP candidates who got campaign contributions from Labrador despite facing only third-party incumbents on the ballot next week were Rep. Joe Palmer, R-Meridian; Sen. Steven Thayn, R-Emmett; and Dorothy Moon, who defeated Rep. Merrill Beyeler, R-Leadore, in the May GOP primary.
The 23 GOP incumbents who face Democratic challengers and got donations from Labrador included just four from North Idaho other than Scott and Souza: Sen. Shawn Keough, R-Sandpoint; and Reps. Sage Dixon, R-Ponderay; Eric Redman, R-Athol; and Caroline Troy, R-Genesee.
Labrador's donations were disclosed on his pre-general election report filed with the Federal Election Commission, which covers the time period from Oct. 1 to Oct. 19. In his previous report, which covered the quarter from July 1 to Sept. 30, he showed several more donations made in September: $500 to Rep. Lynn Luker, R-Boise, who received another $500 in the latest round; $500 to former state GOP Rep. Thyra Stevenson, who's running for her former seat in District 6; and $500 to GOP candidate Mike Kingsley, who's challenging House Minority Leader John Rusche, D-Lewiston.
During that reporting period, Labrador also donated to six GOP congressional campaigns in other states.
Labrador's donation to the Idaho Republican Party came as the party is gearing up its campaign in support of HJR 5, a proposed constitutional amendment to guarantee that no future Idaho Supreme Court overturns the current system in which the Idaho Legislature reviews, and can reject, agency administrative rules, without the governor having any veto power over the rejections.
Idaho Attorney General Lawrence Wasden and Gov. Butch Otter, both Republicans, have come out strongly against the amendment, saying it would unduly expand the power of the legislative branch at the expense of the state's executive and judicial branches of government. Otter also pointed out a legal concern about the wording of the amendment that he says could be interpreted as vastly expanding the current legislative power, rather than just enshrining the current power into the state Constitution.
The Idaho Republican Party has filed reports with the Idaho Secretary of State's office disclosing last-minute big contributions of $56,194 from Citizens for HJR 5 on Oct. 25; $15,000 from House Speaker Scott Bedke's New Horizons PAC the same day (the same group also contributed $25,000 on Oct. 14); $1,000 from Anderst for Idaho on Oct. 26; $3,000 from RAI Services Company, the parent company of R.J. Reynolds Tobacco, also on Oct. 26; and the $10,000 from Labrador, reported as received on Oct. 28.
A week earlier, on Oct. 21, the party reported receiving $41,701 from Melaleuca Inc., the Idaho Falls company owned by wealthy GOP activist Frank VanderSloot.
On Halloween day, the party reported receiving six more donations, $1,000 each from four more GOP lawmakers' campaign committees and from FEAPAC, the political action committee representing Farmers Insurance employees and agents; and $4,500 from the Twin Falls County Republican Central Committee.
It's unclear how much of the last-minute fundraising is for the HJR 5 campaign and how much is for the party's get-out-the-vote efforts; party officials didn't immediately respond to requests for comment. The party reported spending $56,194 on Oct. 25 for an independent campaign expenditure in support of HJR 5, paying Arena Communications of Salt Lake City the money for literature. A postcard backing the amendment, saying, "It's simple. It's clear. It protects Idaho families" and declaring that the measure "holds the politicians and the bureaucrats accountable!" went out to Idaho voters; it also stated, "Paid for by Idaho Republican Party, Chris Harriman, treasurer."
The party also reported spending just over $17,000 apiece for literature purchases from the same vendor for independent expenditures since Oct. 24 designed to boost GOP legislative candidates in legislative Districts 5, 6, 15 and 26; and additional expenditures for $4,000 in broadcast advertising in favor of the same candidates and $3,000 against House Minority Leader John Rusche in District 6. All four districts are those the party has targeted with extra field staffers in advance of next Tuesday's election.
---
---