Fri., Oct. 7, 2016
The stuff of art and life: UI students dig for artifacts at the home of renowned artist James Castle
By Betsy Z. Russell
BOISE – Inside the tiny bunkhouse where unconventional artist James Castle once lived and worked, it didn't take long to begin turning up tiny bits and pieces of stuff that could be artifacts related to Castle's life and work.
"Stuff says something about people," said University of Idaho Professor Mark Warner, chair of the U of I's Department of Sociology and Anthropology. "People's stuff tells you a lot about how people lived."
Castle, in particular, turned the stuff of his daily life into his art. The deaf, speechless artist, born in Idaho in 1899, created troves of unique drawings, books and creations, drawn with ink he made himself from saliva and soot from the wood-burning stove, on media that included cast-off matchbooks, milk cartons, newspapers, cloth and envelopes – whatever he found around him. He depicted the people, animals, buildings and landscapes around him, often squirreling away troves of his work behind walls, in attics, and in other hidden spots.
His work is now celebrated around the world. Last year, the city of Boise acquired the late artist's northwest Boise home, and is in the process of turning it into a cultural center that will house artists in residence, a working studio, exhibits and cultural events.
In advance of the renovation work, a crew of University of Idaho graduate students, recent grads, staffers and volunteers gathered at the Castle home this week to begin an archaeological dig that will reach beneath the surface of the home and yard to find traces that Castle left behind.
"People drop things, people forget, and the trash of everyday life tells you a lot about how people lived," Warner said.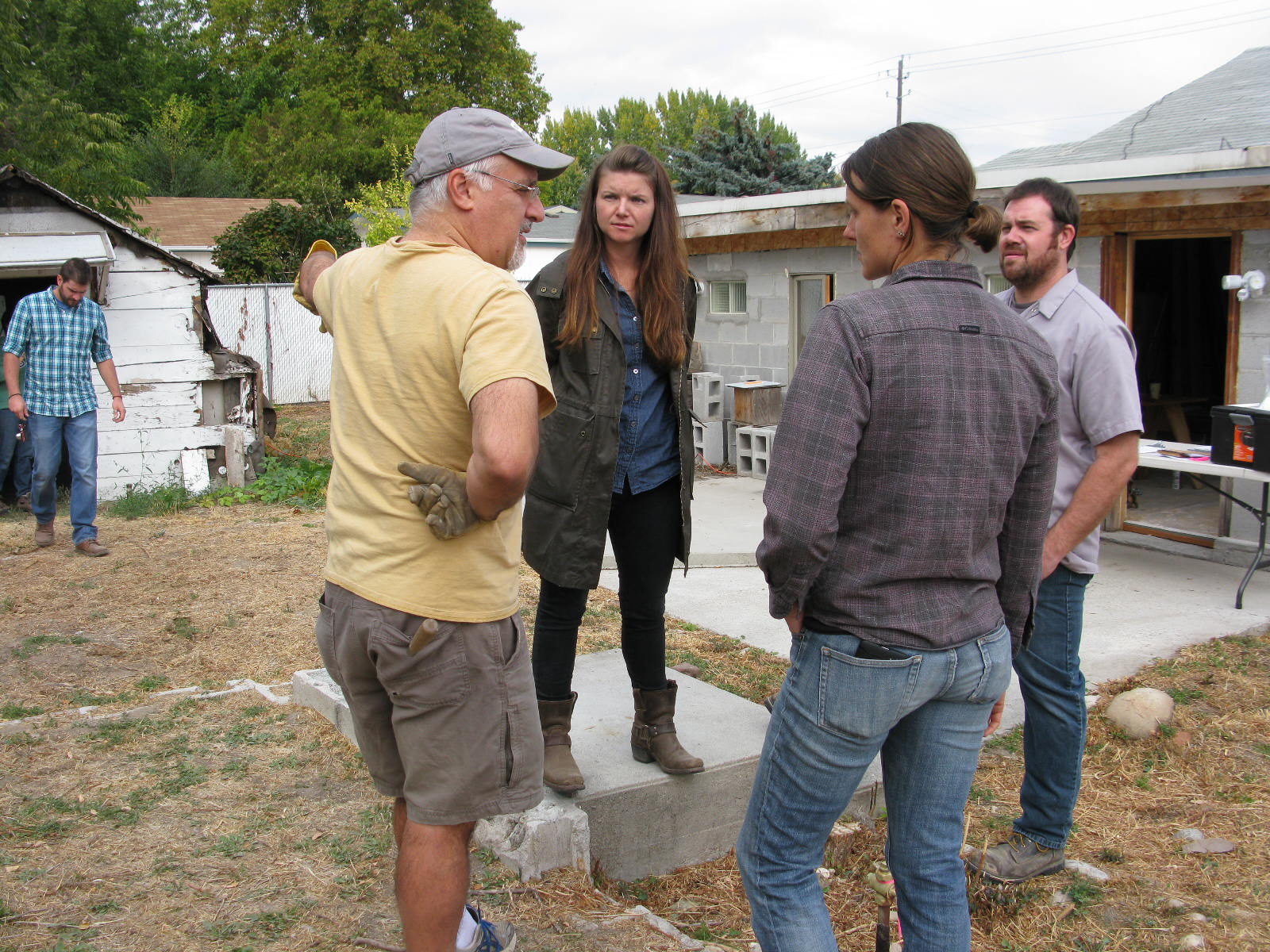 Renae Campbell, a third-year master's student in historical archaeology, and second-year master's student Caroline Herritt, as they set up for the start of the dig, said they'd likely be limited to those artifacts that can survive for a long time in the elements, like bits of glass, nails and screws, tin cans, and perhaps parts from the woodstove. They figured the main media Castle used in his art, like cloth, string and paper, likely would be long-gone.
But with the first examination of the detritus on the floor of the wooden shed where Castle for years lived and worked, metal detectors hummed and beeped, and Warner turned up a fragment of newspaper, about an inch square. "We've got stuff," he said excitedly. "Let's get a bucket in here." What at first looked to be piles of dirt were carefully removed for sorting.
"It's just so exciting to see all this come together," said Rachel Reichert, James Castle House manager and community relations manager for the city of Boise. "It'll be an important cultural facility for the city."
Castle died in 1977. He achieved little renown for most of his lifetime, but after a nephew showed some of his work to his art school teachers in Portland, Ore. in the 1950s, some of Castle's pieces were displayed in galleries, and many sold in the 1960s and 1970s. As a result, he was able to move out of the tiny bunkhouse next to his family's home, where had long preferred to live and work, and into a trailer, where he continued his prodigious artistic output.
The trailer is currently being restored for exhibition at the site. The bunkhouse was the first target for the archaeological dig. "We know this is James Castle's space," Warner said.
The tiny wooden shed still has its original cabinetry, and the sailboat-decked wallpaper that decorated its walls when Castle lived and worked there, by the heat of a long-gone woodstove.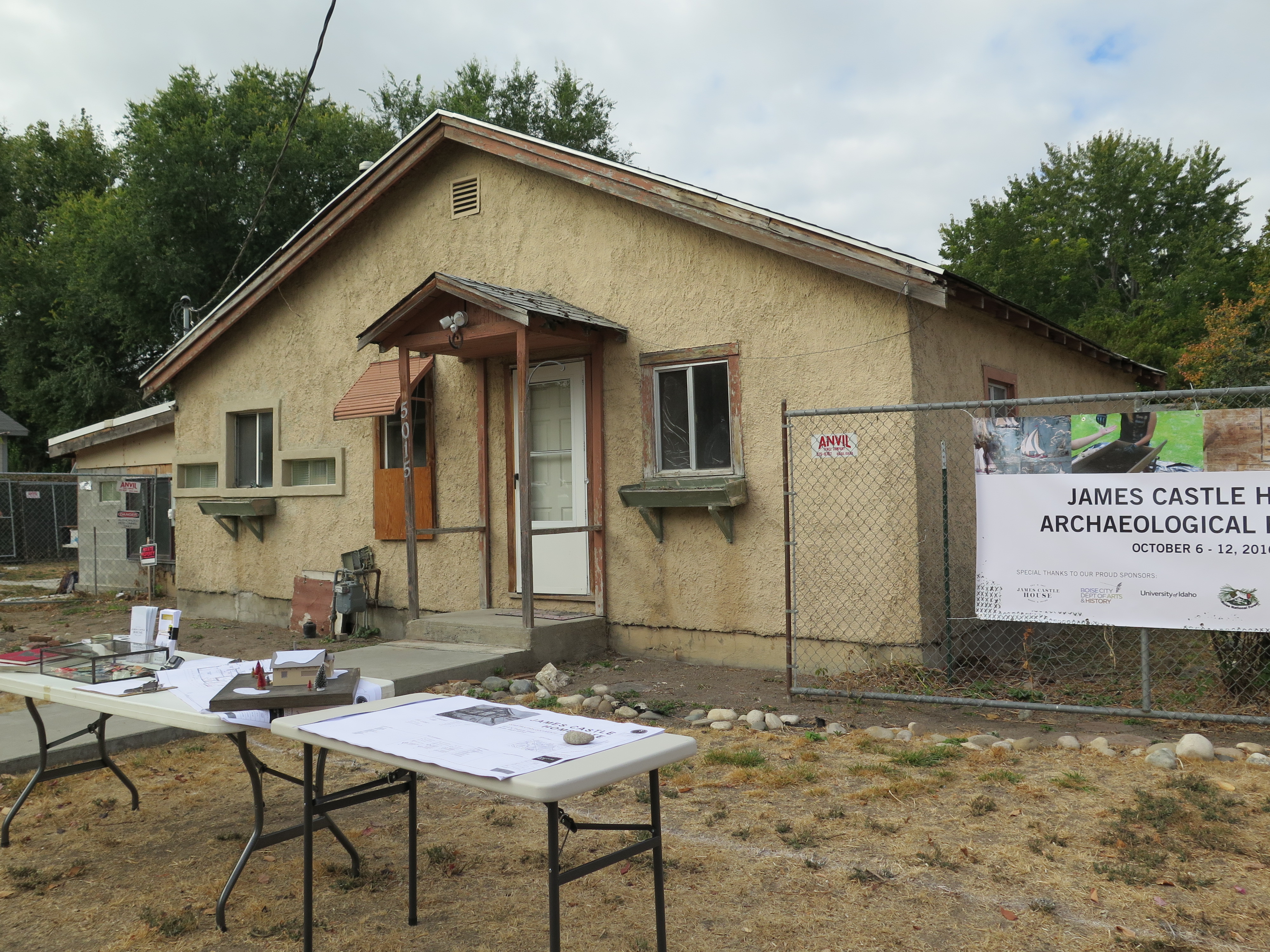 The home itself, which has been much added-onto and remade since it was first built in 1923, is unremarkable. Byron Folwell, the architect for the project, said, "All the value on this site is certainly cultural and not structural." He added, "That's what we've heard from all the subcontractors and surveyors who have come out to the site: 'Why are we keeping this?'"
For Campbell and Herritt, it's an ideal real-world classroom for their field, which focuses on archaeology of recent history – not ancient ruins, but the history of societies that left behind written and historical records. It's a specialty of the University of Idaho.
Campbell, who's from Oregon, said, "In terms of specifically historically-focused programs, there are not many, and the U of I is one of the better-known ones."
Warner has led his students to Boise for archaeological surveys like this one nearly half a dozen times in recent years; each dig is open to the public, so people can see the process of digging up history.
"I think we're lucky to have this opportunity to do this archaeology here, thanks to the city," Campbell said. "We'll see what we find."
---
---