Tue., Sept. 13, 2016
RNC co-chair in Boise: 'This is like Republican heaven'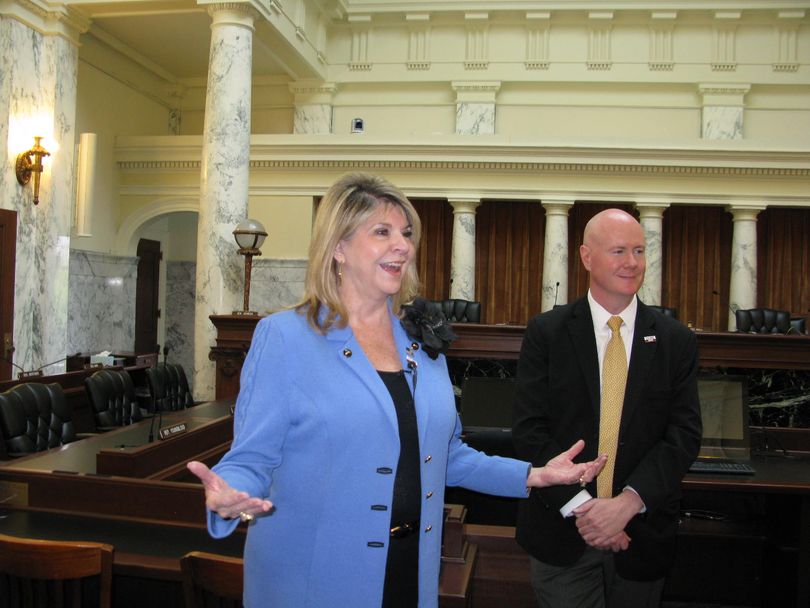 Sharon Day, co-chair of the Republican National Committee, is in Boise today to speak at this afternoon's Ada County Republican Roundup at Gov. Butch Otter's ranch, a longstanding annual party event, and she spoke with reporters at the state Capitol this morning. "This is like Republican heaven," said Day, who hails from Broward County, Fla., the Sunshine State's biggest Democratic county.
Day is making a series of stops around the country – she'll be in Nevada tomorrow, and North Dakota next week – to promote Donald Trump for president. She said the national media is wrong about divisions within the GOP. "We're united as a party to make sure that Mr. Trump is the next president," she said. "We're very pleased with where we are with the campaign – his numbers keep going up, her numbers are going down. I think we're going to be very pleased on Election Day with the outcome."
Idaho Republicans didn't back Trump in the state's GOP presidential primary; he polled just 28.1 percent, coming in second to Ted Cruz, who took 45.4 percent. And even Day acknowledges she hasn't agreed with everything Trump's said. "I would have said some things different and used different terms, me personally, that's the reality," she said. But she said the party's committed to Trump. "There is a tremendous amount of passion and energy for this candidate – there truly is," Day said. "Anybody that says different hasn't been out there."
Asked about prominent national Republicans who've come out against Trump, Day said, "If someone doesn't want to support him, aren't we glad we live in a country where they can." But, she said, "I think they should stand with our candidate."
The Democratic nominee, Hillary Clinton, also didn't carry Idaho in the state's Democratic caucuses this spring, which instead went overwhelmingly to rival Bernie Sanders.
When Day was asked why she's in Idaho – where the state's four electoral votes are essentially a given for the Republican ticket, having not gone to a Democrat since 1964 – Day said, "I'm not just here to get votes for Trump." Instead, she said, it's "also to be respectful and show support for our fellow Republicans." Party members in states like Idaho do the hard work that supports the party nationwide, she said, including helping with campaigns in neighboring states like Nevada. Said Day, "I'm here to honor those Republicans that do the heavy lifting."
The Ada GOP Roundup at Otter's ranch in Star costs $25 per person in advance or $35 at the door; for more information, email Megan Reichle. Between 300 and 400 people are expected to attend.
---
---