Wed., Sept. 21, 2016
High school students protest over removal of 'Black Lives Matter' mural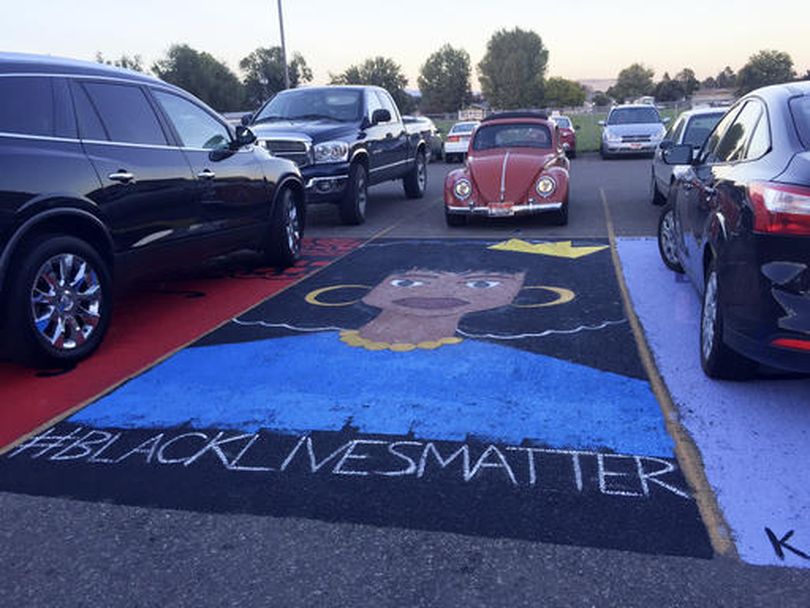 Here's a news item from the Associated Press: MOUNTAIN HOME, Idaho (AP) — Students who want a Black Lives Matter movement mural to remain where it was painted on a high school parking space protested Wednesday against a superintendent's decision to remove it, while others who support the decision staged a counter-protest and waved Confederate flags.
The protests came after Moutain Home School District Superintendent James Gilbert said the mural's message is acceptable but that the high school principal made a mistake in approving murals painted on parking spaces.
"The issue has absolutely nothing to do with the content in the student murals," Gilbert said Monday. "The district does not allow students to paint parking lots with murals, just as we wouldn't allow students to paint lockers or desks."
Gilbert did not say when the mural portrait of a black woman with a #BlackLivesMatter caption would be removed and did not immediately respond Wednesday to a telephone message seeking comment.
The mural is one of about a dozen that were painted in the parking lot for a homecoming fundraiser. Students paid $45 each to paint murals on the parking lot spaces that were approved by school officials.
The protests for and against the murals started earlier this week and have drawn as many as 100 students.
Clark Williams, whose daughter created the mural, told KBOI-TV (http://bit.ly/2d98W1X) that the protest initially focused on freedom of expression until it took became a subject of controversy on social media.
"It took something that should have been art — a work of art, or a student expressing themselves — and they've made this big political agenda out of it," Clark Williams said.
Gilbert said in his statement that the school district is not opposed to the protests.
"The students have done absolutely nothing wrong and I support their right to protest and take civic responsibility regarding social issues that impact their lives," he said.
---
---