Wed., Aug. 2, 2017
Rivals for Idaho lieutenant governor post amass campaign funds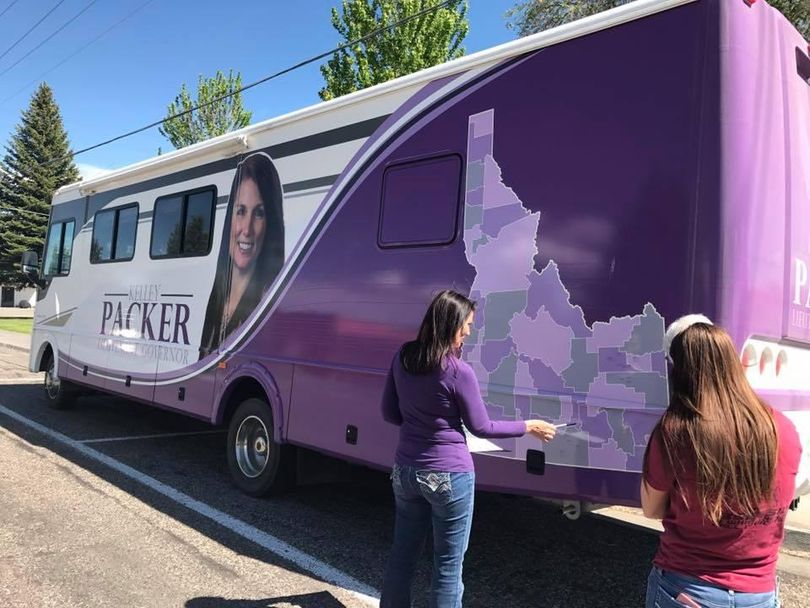 Here's my full story from spokesman.com:
By Betsy Z. Russell
BOISE – Idaho's lieutenant governor is a relatively low-profile position, considered part-time and paying less than the state's other top jobs. But five Republican candidates already are campaigning for the post in 2018, and the latest campaign finance reports show they're amassing campaign funds from a variety of sources – including their own pockets, along with individuals and businesses in Idaho and around the country.
State Rep. Kelley Packer, R-McCammon, has been traveling the state in an RV that's wrapped with campaign logos, her picture and a signable map of the state. But her campaign warchest is the second-smallest of the group at this point, second only to former Constitution Party gubernatorial candidate Steve Pankey of Twin Falls, who, running this time as a Republican, has reported only a $1,500 donation from himself, which he spent on broadcast advertising.
"I haven't had any fundraisers yet or sent any email requests out yet," Packer said, but she said both are coming soon.
Packer has received $10,275 in contributions, including a $2,500 transfer from her legislative campaign, and spent $8,480, mostly on the RV wrap, leaving her with $1,794 in the bank at the close of the last reporting period. Her biggest donors were the Pocatello Firefighters PAC, $2,000; Randy Armstrong of Inkom, $1,000; and state Sen. Jim Guthrie, R-McCammon, $1,000.
Former Idaho Republican Party Chairman Steve Yates, by contrast, has amassed $102,473 in contributions, just $1,000 of that his own money; he raised $48,250 from Idaho individuals or businesses, and $51,145 from out-of-state individuals or businesses, most of them in New York, New Jersey, or Texas. His largest donors were the Larsen family of Idaho Falls, farm and hay terminal owners who gave a combined $15,000; and LaMont and Vicki Keen of Boise, who gave $10,000; the Keens also were among the largest donors to Raul Labrador's gubernatorial campaign.
State Sen. Marv Hagedorn, R-Meridian, has pulled in $40,108 in campaign funds, but more than half of it came from his state legislative campaign or loans from himself; Hagedorn had $36,000 in the bank and $11,177 in debt at the close of the reporting period. His biggest donors were John Howell of Fairfax, Va., a longtime friend, business associate and fellow military veteran who gave $5,000; Joseph B. Scott, the Albertson's grocery heir, $2,500; and Winning for Idaho, a PAC that represents the Greyhound Park in Post Falls, $1,000.
Former state Rep. Janice McGeachin, R-Idaho Falls, has piled up $75,986 in campaign funds, but $50,000 was a loan she made to her campaign and $5,000 a transfer from her former legislative campaign committee. She reported $64,965 in the bank and $50,000 in debt. McGeachin received 33 donations ranging from $50 to $5,000, most of them from Idaho individuals or businesses; her biggest giver was Rule Steel Tanks in Caldwell, $5,000; and Syringa Networks LLC, its CEO, Greg Lowe, and its lobbyist, Jeremy Chou, who gave a combined $4,000.
Packer said when she saw her rivals' reports, "At first I panicked." But, she said, "Steve Yates, over half of his is from China and Taiwan, and more than half of Janice's is a loan to herself. … Obviously Idaho contributors are going to be the ones voting. So what was initially a little bit of panic on my part turned into still a lot of comfort and hope with the situation."
Yates bristled at the "China and Taiwan" comment. He received numerous donations from out-of-state individuals with Chinese names, "all, of course, being legally American citizens – I wouldn't break the law," he said.
Yates, who is fluent in Mandarin Chinese and has worked on issues relating to the United States and East Asia since he first served a religious mission in Taiwan as a young man, said, "I speak their language. It also happens to be the language of two of Idaho's top four trade partners – Idaho's top trade partners are Canada, Mexico, Taiwan and China."
He said throughout his career, he's spoken to audiences across the nation about Taiwan and related issues, "so they've come to know me over the years." He added, "Who does she think buys Idaho's agricultural and technological products? … How can you know the ag business in Idaho and think that close understanding of and relations dealing with China and Taiwan wouldn't be relevant to state leadership?"
Yates, whose resume includes stints at the White House and the Heritage Foundation, moved to Idaho Falls in 2011 and served three years as the state GOP chairman, helping reorganize a badly fractured state party. He left the post to explore running for office himself.
"Anyone who looks at my report is going to see that the donations to me from Idaho donors total up to more than all contributions to all other lieutenant governor candidates in the race," Yates declared; that's if the candidates' own personal funds aren't counted.
Yates reported numerous donations, though he was the last of the group to enter the race. He also received a $5,000 contribution from Milford Terrell, who is the campaign treasurer for Labrador's gubernatorial race, and $5,000 from Erlebach Properties in Nampa, which also donated to rival Tommy Ahlquist's gubernatorial campaign.
Yates said his top donors are people he got to know through his work for the state party, who also have been strong supporters of the Idaho GOP.
Hagedorn, a career Navy veteran who then worked in high-tech and international trade and now heads a foundation supporting wounded veterans along with serving in the state Senate, said, "My focus has not been on fundraising. … We're actually doing pretty well." He said, "Everyone has their own methodology and priorities."
McGeachin couldn't be reached for comment, but her campaign treasurer, Lowe, said he first encountered her as a state representative and he was impressed with her stand on the Idaho Education Network debacle. That was a project in which the state sought to create a statewide broadband network linking Idaho high schools, but courts threw out the $60 million contract as illegally issued; Lowe is the CEO of Syringa Networks, the bidder who challenged the contract award.
McGeachin served five terms in the state House and chaired the House Health and Welfare Committee. A Trump delegate to the 2016 GOP national convention, she and her husband own a transmission business and an Irish restaurant and pub in Idaho Falls.
"She's just a great candidate," Lowe said. "Finally in the state of Idaho we have a lot of great candidates running for a lot of open seats." He noted that Syringa Networks also has donated to Labrador and to Russ Fulcher's campaign for Congress. "Syringa is a conservative company, fiscally conservative," he said. "We're putting our money where our mouth is."
Packer, a former city councilor and three-term state lawmaker, also is a business owner; she describes herself as "pro-life, pro-gun, pro-small government, pro-limited spending."
Packer said she's traveled in her campaign RV to 101 stops around the state so far; they've ranged from Bonners Ferry to Aberdeen. "It has been phenomenal – I have met so many neat people, seen so many great places in our state, and received a lot of support," she said.
Hagedorn said, "I believe the reason that you see so many people campaigning is because we've got some gubernatorial candidates that have to work on their name recognition, and it's kind of forcing everyone to be out there a little bit earlier than normal."
No Democrat has yet filed for the post. Idaho's primary election is May 15, 2018, with the general election following on Nov. 6.
---
---