Wed., Dec. 6, 2017
Labrador to ATI: 'Government needs to be slashed'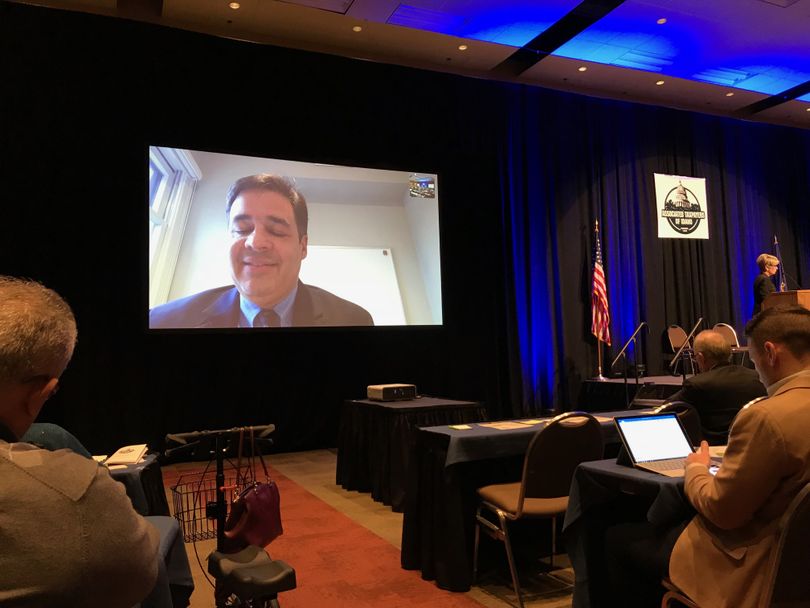 At this afternoon's "Gubernatorial Forum on Taxation" at the Associated Taxpayers of Idaho conference, two of the GOP candidates for governor – Lt. Gov. Brad Little and Boise physician and developer Tommy Ahlquist – are appearing in person, but 1st District Rep. Raul Labrador appeared briefly on video at the start of the session only, saying he would soon have to leave to vote on a gun-rights bill.
"As you know, Idahoans are really proud of our great state and there's a lot to be optimistic about in Idaho," Labrador declared. But he said even though Idaho's economy is improving, it still ranks poorly in income and gross domestic product. "We need to make sure that all our kids have meaningful opportunities after high school, whether that's college, technical training or just good jobs that are available to these people," he said.
Labrador declared that Idaho has "the highest tax rates" among its neighbors and said, "The new jobs in Idaho pay a lot less than those created in our surrounding states," coming in industries like food service.
"It's a very important issue and my plan is to strengthen Idaho's economy," Labrador said, to allow "Idahoans to just keep more money in their pockets." He said, "I think government needs to be slashed and government growth should never outpace … the growth of our economy."
Labrador touted his "5-5-5" plan, calling for cutting sales tax, personal income tax and corporate income tax all to 5 percent, while also eliminating the sales tax on groceries. Labrador said Idaho has billions in existing tax breaks and exemptions, and "we have over $100 million that the state has surplus right now. There's some areas that we can change, we can cut, we can reform. What I want to do is I want to broaden the base, I want to lower the tax rate so that every individual in Idaho feels they're getting break from the government."
He added, "As I travel around the state, I find this huge hunger in the state for change. … I 'm really excited of the opportunity that I have to lead this state. … I think that the state needs a leader who aims high."
In response to a question from moderator Dee Sarton of KTVB-TV, Labrador said, "You see some reports that say that our tax rates are low because our tax collections are low. Well the reasons that our tax collections are low is because we have the lowest GDP of many of our neighbors. ... We have the lowest paying jobs," and more minimum-wage workers. "What we need to do is we need to broaden the base, lower the rate."
"And my tax plan, just to be clear, it's going to take some years," Labrador said. But he said he'd get down to 5 percent for sales, personal income and corporate income taxes within four years.
---
---