Wed., Dec. 13, 2017
Discussing Russia probe Labrador suggests Dems, press have undermined American democracy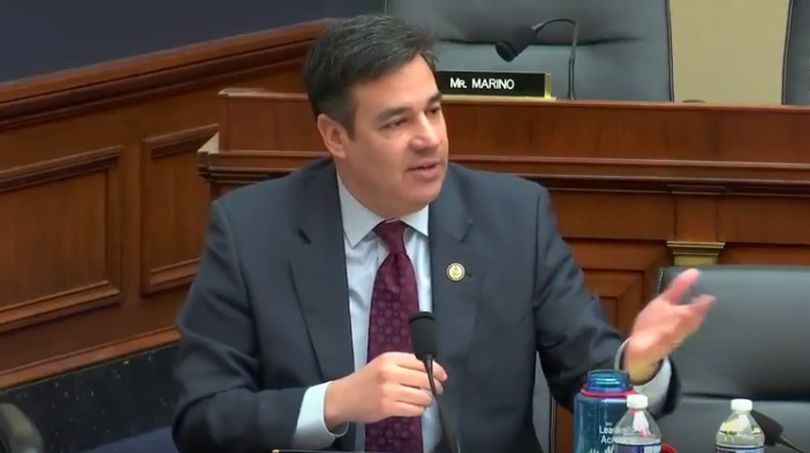 Idaho Rep. Raul Labrador today sharply questioned Deputy Attorney General Rod Rosenstein, who oversees the investigation into whether President Donald Trump's team assisted Russian meddling in last year's campaign, joining other GOP members of the House Judiciary Committee in suggesting the probe is driven by partisan bias. You can see the full video here of Labrador's questioning.
Labrador asked Rosenstein, "So, what was the role of the Russians when they tried to interfere with the elections in the United States?" Rosenstein said, "Undermine American confidence in democracy."
Labrador responded, "I believe that no one in the United States has done more to undermine the belief in the United States democratic process than the Democrats and the press, in some cases, when they continue to report on false allegation after allegation after allegation. In fact, what you see from the Democrats is that they move from one allegation, that allegation is proven to be false, and they move to the next one, and they move to the next one, and they move to the next one. Because they're unhappy with the result of the election."
Labrador then went on to say special counsel Robert Mueller's charge is "overly broad," and to question its results. "There's been two prosecutions, or at least two charges brought so far by the independent counsel, is that correct?" he asked Rosenstein.
"Four individuals charged, two pleaded guilty, and two will stand trial," Rosenstein responded.
Labrador said, "Have any of them been charged with any links and/or coordination between the Russian government and individuals associated with the campaign for president?" Rosenstein said, "Congressman, the charges speak for themselves. I'm not going to comment beyond what's in the charging documents." Labrador persisted, "But is there anything within those charging documents that there was a coordination between the Trump Administration and the Russians?"
"Congressman, I'm not going to comment beyond what's in the charging documents," Rosenstein responded. "I think you can draw your own conclusion."
Labrador then suggested that the investigation itself might have been started to influence the outcome of the election in favor of Democrats. "We have to find out who started this investigation, we need to find out what the purpose was," he said. "If you have an individual who actually had a desire to have an outcome in a political race, and they decided to use the Department of Justice to investigate their political opponents, I think that is one of the worst crimes that has occurred in the history of the United States when it comes to politics, do you agree with that?" he asked Rosenstein.
Rosenstein responded, "If that were what happened, congressman, it would certainly be of grave concern."
"Well I hope that you are truly investigating this," Labrador said, "and that we get to the bottom of this."
The Los Angeles Times has a full report here on today's committee questioning of Rosenstein. The paper reports that Rosenstein told the heated committee hearing, "The special counsel's investigation is not a witch hunt," specifically rejecting the phrase that President Trump has used to denounce the case. He said Mueller has managed the case "appropriately."
Rosenstein also said he would not fire Mueller unless the former FBI director had violated Justice Department guidelines or the law. "If there were good cause, I would act," he said. "If there were no good cause, I would not."
---
---