Wed., Feb. 22, 2017
Pre-K hearing: 'The evidence is compelling'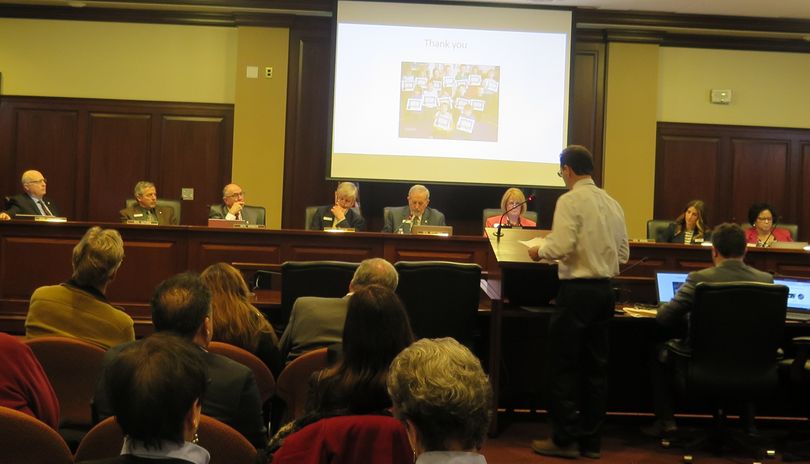 From a longtime judge to a kindergarten teacher from Kuna to the state's lieutenant governor, from a school superintendent from Idaho City to a bank chairman from Pocatello, an array of presenters told the Senate Education Committee this afternoon that the best thing Idaho could do for its kids, its workforce and its economy is to invest in early childhood education.
The "informational hearing" – there's no bill – was a repeat of this morning's similar one in the House Education Committee, but Senate Chairman Dean Mortimer, R-Idaho Falls, limited the group to just 20 minutes, and repeatedly tried to hurry things along as questions from the senators stretched it out to close to an hour.
John McFarlane, superintendent of the Basin School District in Idaho City, said his local school district launched a preschool program 18 years ago, first with a grant from the Albertson Foundation, then with grants from Head Start and Parents as Teachers, and most recently with funding from voter-approved supplemental levies and an Idaho Community Foundation grant; parents also pay $150 a month in tuition, though half of the families receive scholarships. Before the program started, only 30 percent of the district's incoming kindergartners scored at grade level on the Idaho Reading Indicator; now nearly all do.
The district also has kept track of the kids as they've gone on through their schooling. Fifty-four percent of its high school graduates who attended preschool are now attending college or earned a degree, compared to 30 percent who started at Basin in kindergarten or first grade and didn't attend the preschool. "It's a huge equalizer," McFarlane told the senators. "It helps them build the vocabulary and social skills they can take with them through their education."
He added, "In many ways, preschool is what kindergarten was not too long ago, in terms of curriculum and challenging those students."
Alyssa Townsend, a kindergarten teacher from Kuna, said students are arriving in her classes without being able to recognize letters and numbers and without age-appropriate fine and gross motor schools. "Those students with no familiarity with learning environments take more time learning," she said.
Park Price, board chairman of Bank of Idaho in Pocatello and a member of Idaho Business for Education, said in the fall of 2016, 49 percent of Idaho's incoming kindergartners were not able to correctly identify letters, numbers or colors. "It doesn't have to be this way," he said. "The highest return on our education dollars comes from investing in early education. … Every student deserves the opportunity to be successful at the start of their educational journey."
Idaho is one of just six states that puts no state money into early-childhood education. The state didn't even fund kindergarten until 1975; it's still not mandatory.
Retired 3rd District Judge Gregory Culet told the senators that in 31 years as a judge, he was struck by the patterns that emerged among the criminal offenders he saw. "What shocked me was that a substantial percentage of the individuals that I sentenced for felony crimes shared one overriding common denominator: That they were not ready or prepared to learn when they started school," he said. "Children who are not ready to learn are at higher risk to engage in substance abuse, gang involvement, dropping out of school, they all have less optimistic employment prospects, and this all helps channel them toward criminal behavior where they came in contact with me."
Culet said he started keeping statistics, and over 10 years, discovered that 80 percent of the adults he sentenced on felony offenses had dropped out of school. Their extensive pre-sentence investigation reports, which he reviewed in each case, "showed that the vast majority of them were not ready and prepared to learn when they started school. So in a nutshell, the earlier we address this problem, the easier it is to turn this around."
Two BYU-Idaho professors shared research on the scientific evidence of the benefits of early education; a mother of six from Pocatello who is the National Head Start Parent of the Year shared how Head Start helped her and her family be successful in school and in life.
Lt. Gov. Brad Little told the senators, "What you've heard today, the evidence is compelling. … It's a no-brainer that with a robust pre-K program, we're going to have more kids prepared for kindergarten, and that reading proficiency at the end of 3rd grade is going to go up. … Lifetime outcomes all hinge to this issue." Little said states approach the issue in differing ways, with Utah spending about $800 per student on pre-K and Washington spending about $15,000 per student. "So you've got a pretty good smorgasbord," he said, urging lawmakers to consider all options and decide what's right for Idaho, from boosting Head Start to using programs like Parents as Teachers. "Currently in Idaho, only 25 percent of kids that qualify for Head Start get into Head Start," Little said. "The decision is yours, but the goal is uniform about what we need to do with these kids that are falling through the safety net."
Sen. Bob Nonini, R-Coeur d'Alene, asked about Parents as Teachers, noting that the program was launched by executive order by one Idaho governor, repealed by executive order by another Idaho governor, and legislation he cosponsored when he was a state representative to re-establish the program in state law was vetoed. Beth Oppenheimer of the Idaho Association for Education of Young Children said the program is still around, but is "not funded the way that it used to be funded," continuing only on a limited basis through grants and partnerships.
Mortimer said, "We're welcome to have this discussion at a later date in a more in-depth fashion, but we've already taken almost an hour today, so our time is well past, and we've got another part of the agenda."
Afterward, Oppenheimer said, "It's the chairman's call. I don't think he's a big fan of the issue. I'm very thankful he gave us the time."
---
---