Tue., Jan. 3, 2017
Jewell on 'fire borrowing': Maybe with GOP in control, Congress will finally stop it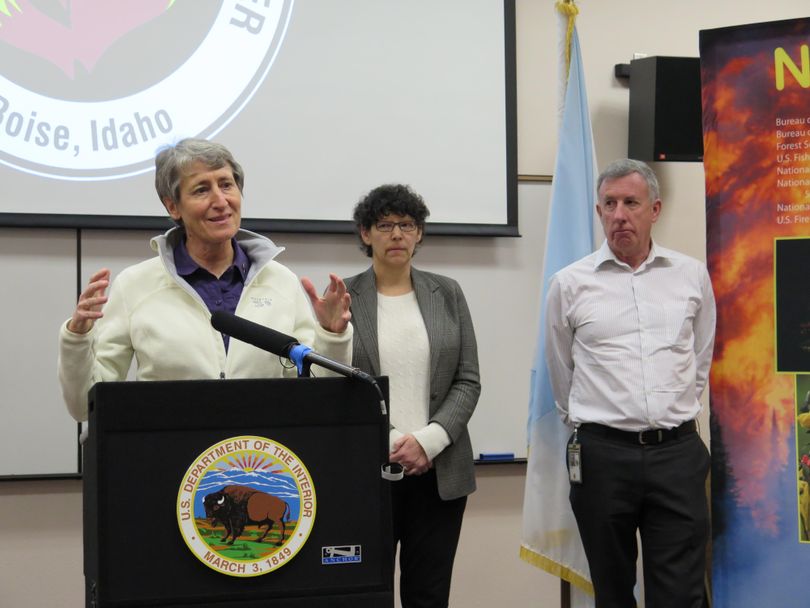 Interior Secretary Sally Jewell, who made her final official visit to the National Interagency Fire Center in Boise today, said it's "very frustrating" that after years of pressure and bipartisan agreement, Congress still hasn't approved changes in how wildland firefighting is funded, to avoid robbing prevention budgets every time there's a bad fire season.
"I will remain optimistic that when we have full control by one party, that there's no one to blame for themselves for not moving forward on this issue," Jewell told reporters. She noted that it's an issue "that has been bipartisan, but very much impacts people in the West – and the Republican Party is well represented in the West, so perhaps we'll see some movement." You can read my full story here at spokesman.com.
Idaho GOP Sens. Mike Crapo and Jim Risch and Oregon Democratic Sen. Ron Wyden have been among the leading voices to change the funding system, and instead fund the biggest and costliest wildfires in the same manner that other natural disasters are funded.
This year, the Senate included the change in its budget bill for the Department of Interior, Jewell said, "saying that we're going to take the most devastating wildfires and fund them as the disasters that they are." But the House version didn't include the change. And then in the end, no budget passed.
"We don't have a budget for 2017. We have a continuing resolution, which is the 2016 budget going forward," Jewell said. "So we can do what we do every year, which is pray that the fire season won't be so bad and that we'll be able to continue our work on prevention, which of course stops this spiral from escalating."
"Or we can have bad luck, which means that we might have a bad fire season, and we may end up with having to borrow from our prevention programs and our burned area rehabilitation programs to put into fire suppression. It's very frustrating," she said.
---
---