Mon., Jan. 16, 2017
Bedke: No action on 5 lawmakers' request to drop their committees, 'We have the people's business to conduct'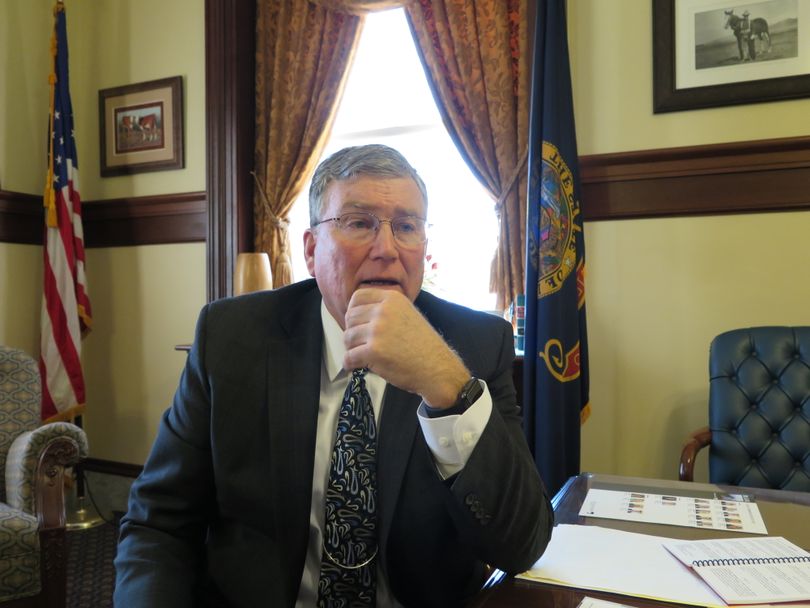 House Republicans wrapped up a brief closed-door caucus today, without addressing five GOP lawmakers' requests to be removed from their committee assignments in solidarity with Rep. Heather Scott, R-Blanchard, who lost hers in a disciplinary sanction. "I don't think I'll be acting on those requests soon," Bedke said afterward.
He said the caucus took up just one piece of business: Completing the steps necessary to establish the House Ethics Committee, which House rules require to be completed by the 12th day of the legislative session. Today is the 8th day. "We didn't take up any other business today," Bedke said.
Asked what would happen if the five House members, Reps. Nate, Moon, Hanks, Giddings and Zito, decided to stop attending to their committee assignments on their own, Bedke said, "That's certainly their prerogative. I have no commentary on whether that's a good idea or a bad idea."
Bedke said as speaker, he's obligated to maintain "basic civility and decorum." "I'm in charge of keeping a minimum of that, and I will," he said.
He stripped Scott of her committee assignments after she accused other female House members of getting ahead only by "spreading their legs." A defiant Scott went on talk radio on Friday evening and reiterated her comments, and pointed to wrongdoing by others, from Gov. Butch Otter's 1993 DUI to a state representative who had an extramarital affair with a state senator. She also made reference to two state legislators who married in December; both were divorced. "We have all these documented lawbreakers," Scott said on the radio show. "Why was I chosen because I said something? That's my freedom of speech. I didn't break any laws. … Why were my committees stripped without any judge, jury, just stripped like that? There's something else going on here."
Bedke said he hopes lawmakers can get past the Scott brouhaha and get back to work. "We have got important business to conduct here," he said, "not least of which is the issues surrounding the public schools and the career ladder and getting that up." Plus, he said, the state is in the process of rewriting the public school funding formula, which is "fraught with issues." Lawmakers have constitutional obligations they have to meet with regard to providing for public schools, he noted. "That's going to take our best efforts."
Plus, he said, "There's tax policy – there are a lot of important issues there, including whether or not we keep the sun up on the surplus eliminator. It looks like we're going to have a surplus, so that's going to bring in the transportation issues. … Obviously the governor's not in love with that idea, so we've got to work through that."
On top of that, Bedke said, there are serious health and welfare issues that lawmakers must address.
"Each of those committees has important issues that the citizens want resolved this session, and that's what we need to get to," he said. The speaker said he's hoping to bring the House back "on an even keel."
"You'll find me working overtime to get us there," he said."We have the people's business to conduct here, and that's what we should be doing."
---
---