Fri., Jan. 27, 2017
Megaload settlement: Some oversize trucks OK, but no more megaloads on scenic Highway 12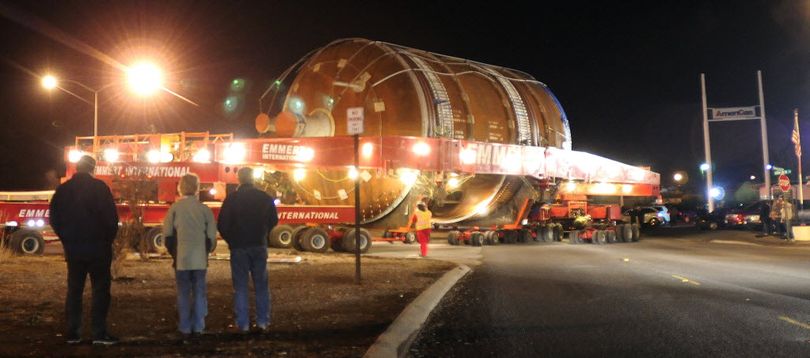 Years of litigation over giant megaloads of industrial equipment that had been proposed to travel on scenic Highway 12 through north-central Idaho, along the Clearwater and Lochsa river corridors, has ended today with a settlement that bans future megaloads, but continues to allow, on a limited basis, oversized truckloads like that historically have occasionally traversed the winding road.
"This is great news for industries like farming, logging and day-to-day trucking that have depended on Highway 12 for decades," said Kevin Lewis, executive director of Idaho Rivers United, which filed the lawsuit along with the Nez Perce Tribe. "It's also great news for two of Idaho's crown jewels, the Lochsa and Middle Fork Clearwater Wild and Scenic Rivers, which deserve protections from new threats like megaloads in the future."
Leanne Marten, regional forester for the U.S. Forest Service's Region One, wrote in a letter to the Idaho Transportation Department that results of its corridor study and consultation with the Nez Perce Tribe determined that past levels of oversize trucking on the route, prior to 1999, were "consistent with scenic and aesthetic values of the corridor as well as tribal values," but frequent megaload shipments were not. The proposals general involved multiple, giant loads of oil-related equipment that was shipped from overseas, into the Port of Lewiston, and then trucked across the scenic corridor into Montana and up to the Canadian oil sands.
A federal court order halted such shipments in September of 2013, a month after the entire leadership of the Nez Perce Tribe was arrested at a public protest of one of the shipments, which was so large that it took up the full width of the two-lane route, blocking all other traffic. After an appeal to the 9th Circuit U.S. Court of Appeals, the case went into mediation, resulting in today's settlement.
The new rules for oversized roads on the route, as identified by the Forest Service in its letter to ITD, call for limiting loads that exceed 16 feet in width, 150 feet in length or 150,000 pounds to a year average of two per month, and in summer months when the route sees heavy recreational use, just one per month. Megaloads, designed as any load that exceeds two of those three criteria, wouldn't be allowed at all.

Marten wrote, "We believe such restrictions are a reasonable compromise which allows Highway 12 to continue to be used for commercial purposes including oversize shipments, consistent with its historic use for that purpose, while addressing the concern that expanded use of Highway 12 for the shipment of such loads will impact visitor experience in the Wild and Scenic River corridor."
You can read the Forest Service letter to ITD here, and a statement from Idaho Rivers United here. Here's a link to a full report from AP reporter Rebecca Boone.
---
---