Mon., July 31, 2017
Idaho governor hopefuls raise more than $1.8M combined, as race for open seat heats up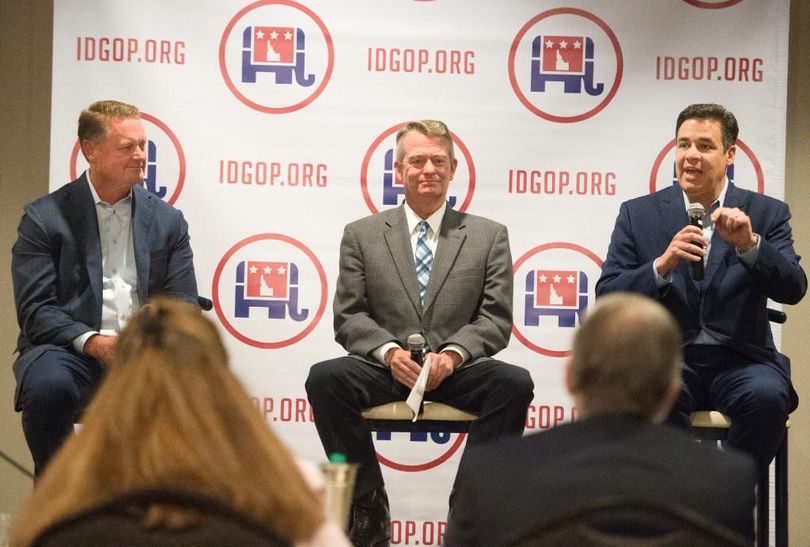 Here's my full story from spokesman.com:
By Betsy Z. Russell
BOISE – It may be 10 months until the 2018 primary in the race for an open Idaho governor's seat and 16 months before the general election, but the three leading GOP contenders for the post already have raised more than $1.8 million combined for their campaigns.
The reports – the first filed since the contest shaped up into a competitive battle between the three big GOP names on the ticket – provide the first glimpse into both how hard the three are campaigning, and who's supporting them.
Boise physician and developer Tommy Ahlquist has raised the most, according to campaign finance reports filed with the Idaho Secretary of State's office late Monday – $952,531, including $378,271 of his own money. But he's also spent the most, shelling out $796,360 through the close of the reporting period June 30 – $615,905 of that for broadcast advertising alone, and $59,681 for polling. Ahlquist has been running statewide TV ads for months. He closed the reporting period with $156,171 in the bank and $5,576 in debt.
Ahlquist proudly touted his fundraising, noting that it all came in between March 1 and June 30, and more than half of his donations were for less than $100. But the bulk of his fundraising came from 65 individuals, couples or businesses who gave $5,000 or more apiece; a quarter of those donors were from Utah, and three-quarters were from Idaho. Fourteen couples – including four from Utah and 10 from Idaho – gave $10,000 each.
1st District GOP Rep. Raul Labrador quietly raised $309,046 for his campaign during the six-month period, even while focusing most of his attention on serving in Congress in a contentious year. More than $17,500 of Labrador's funds came from out-of-state political action committees, or PACs; another $40,000-plus in donations came from the campaigns of other members of Congress in states including Oklahoma, Ohio, Texas and Michigan.
Labrador spent just $21,224, leaving him with $287,822 in the bank at the close of the reporting period. He had 21 individuals or couples give $5,000 or more each; 15 were from Idaho, and six from out of state.
Lt. Gov. Brad Little raised $229,501 during the reporting period, in addition to the $334,052 he already had in the bank – among the three, Little has been in the race the longest, having announced just over a year ago. He spent $114,295, and reported no debt and a cash balance at the close of the reporting period of $449,258 – the highest among the three candidates.
Little's biggest donor during the period was Winning for Idaho, an Idaho state PAC that represents Coeur d'Alene Racing, operators of the Greyhound Park in Post Falls; it donated $10,000, $5,000 each for the primary and general elections. But Little also received $1,500 from the Coeur d'Alene Tribe, which has strongly differed with Coeur d'Alene Racing over gambling issues in recent years. Other notable donors to Little included two former Idaho governors – Phil Batt and Dirk Kempthorne – and former U.S. Sen. Larry Craig.
Little received $5,000 or more from five Idaho individuals and four from out of state, but his report listed hundreds of smaller donations, stretching on for a whopping 67 pages, compared to Ahlquist's 39 and Labrador's 19. All three candidates listed individual donations as small as $10; the state only requires donations of $50 or more to be itemized.
Little said since he first filed to run for governor, he's had more than 1,900 contributions averaging $322. "As lifelong Idahoans, Teresa and I want this campaign to be an Idaho-grown campaign, and having historic financial support from Idahoans shows we are right on track," he said.
Ahlquist's campaign also described his fundraising as historic. "Tommy is a political outsider with no established fundraising or political network, which makes this level of support even more impressive," said his campaign senior advisor, Travis Hawkes. "Competing with well-known career politicians requires significant resources and significant investment, and thanks to the historic support of Idahoans and Tommy's dedication and contributions, we will ensure Tommy's fresh approach and new ideas are being heard by Idaho voters."
Labrador said he piled up his $309,046 in fundraising in "a little more than one month."
"The highest level of support I've received in such a short period of time is humbling," he said. "The people of Idaho are excited for new leadership, and our first campaign finance report shows that."
Labrador's report also reflected something that his campaign recently acknowledged – he's stopped paying his wife, Becca, a salary from his campaign to manage the campaign books. However, the report shows he did pay his son, Michael Labrador, $1,440 in wages on June 15. Michael Labrador, a graduate student in healthcare administration, has skills including web development, data analysis and computer support.
Another tidbit from the latest reports: One couple from Eagle, Mark and Cathy Peterson, each donated the maximum amount for the primary – $5,000 apiece – to both Labrador and Ahlquist. Their $10,000 in donations to Ahlquist came in on March 31; to Labrador, on June 16.
Labrador's biggest donors were LaMont and Vicki Keen of Boise; Gaylon and Maryann Ball of Boise; Carl and Pamela Nicolaysen of Nampa; Ed and Shauna Smith of Las Vegas; and Timothy and Paula Barney of Salt Lake City. Each couple gave a total of $20,000 – $5,000 each for the primary and for the general.
Ahlquist's biggest donors, other than himself, were the 14 couples giving $5,000 each for a total of $10,000. In addition, his campaign treasurer, Orville Thompson, and his wife Heidi each donated $5,000, plus their business, Scentsy, gave another $5,000, for a total of $15,000.
Little's biggest donors aside from Winning for Idaho included, at $5,000 each, Idaho Power; Clear Springs Foods; state Sen. Jeff Siddoway, R-Terreton; Larry Case of Buhl; and James and Laurey Thomson of Emmett.
---
---