Mon., June 19, 2017
New legislative working group on ethics, campaign finance reform hailed as 'great start toward changing how we do business'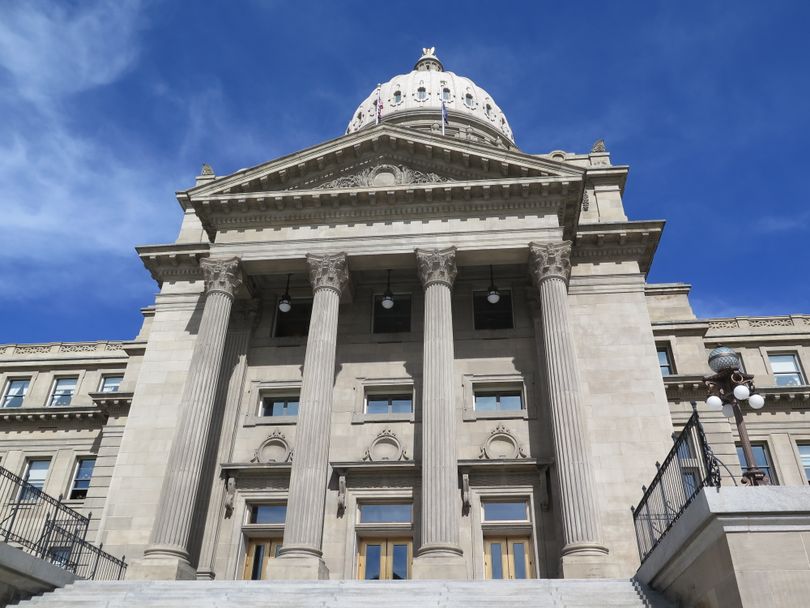 When the Legislative Council, the governing group of Idaho's legislature outside of legislative sessions, met on Friday, it agreed to the formation of a 10-member interim working group to study ethics and campaign finance laws in Idaho and recommend changes to next year's Legislature, as proposed by Senate President Pro-Tem Brent Hill, R-Rexburg, and House Speaker Scott Bedke, R-Oakley. "Quite frankly, this is an issue we've been talking about for years," Hill said. "It fell through the cracks this session. But we feel like a more coordinated effort will be more successful than having individual lawmakers bring a bunch of different proposals."
Here's the formal charge that the Hill and Bedke laid out for the working group:
2017 Interim Campaign Finance Reform Work Group Scope Statement

The Campaign Finance Reform Work Group will review the campaign finance and disclosure laws, with an initial focus on increasing transparency in the timing and reporting of contributions and expenditures by candidates, political action committees, lobbyists, and other entities. The work group may also consider additional topics such as the penalties for violations of the campaign reporting laws, reviewing current contribution limits, lobbyist financial disclosures, applicability of reporting laws to recall campaigns, special elections, revolving door policies, and personal financial disclosures.

The work group is authorized to receive input, advice and assistance from interested and affected parties who are not members of the Legislature. The work group will report its findings and recommendations to the Second Regular Session of the Sixty-fourth Idaho Legislature. Those findings and recommendations may include proposed legislation. The work group will conclude its work before the first day of the 2018 legislative session.
The group will hold its first meeting July 12 at the Capitol; it's set for 9 a.m. in Room EW 42. The panel is co-chaired by Sen. Patti Anne Lodge, R-Huston; and Rep. Fred Wood, R-Burley. Its members are Sens. Todd Lakey, R-Nampa; Marv Hagedorn, R-Meridian; Mark Harris, R-Soda Springs; and Michelle Stennett, D-Ketchum, the Senate minority leader; and Reps. Tom Loertscher, R-Iona; John VanderWoude, R-Nampa; Sage Dixon, R-Ponderay; and Mat Erpelding, D-Boise, the House minority leader.
In a statement issued Friday, House and Senate Democrats welcomed the move. "Obviously we are encouraged the majority is finally willing to take this first step," Stennett said. "We are eager to work with them to propose meaningful reform. I've lost count of how many campaign finance and ethics bills we've sponsored over the years that never got out of committee. This is a great start toward changing how we do business here in Idaho."
Here's a full report from the AP on Friday's creation of the new group:
Idaho leaders assign lawmakers to address campaign laws
By Kimberlee Kruesi, Associated Press
BOISE, Idaho (AP) — Idaho's top legislative leaders have formed a working group to study possible changes to the state's campaign finance laws.
House Speaker Scott Bedke and Senate President Pro Tem Brent Hill announced Friday they want the group to find ways to increase transparency in the timing and reporting of campaign activity surrounding candidates, political action committees and lobbyists.
Bedke and Hill have also instructed the 10-member group to look at requiring personal financial disclosures for state lawmakers — Idaho is just one of three states with no such requirement — and implementing laws that prevent elected officials from immediately moving into similar roles in the private sector, also known as "revolving-door" policies.
Hill said the leaders have supported tightening the state's campaign finance laws but ran out of time during this year's legislative session.
"Quite frankly, this is an issue we've been talking about for years," Hill said. "It fell through the cracks this session. But we feel like a more coordinated effort will be more successful than having individual lawmakers bring a bunch of different proposals."
Idaho has long been criticized for its loose campaign disclosure laws.
In 2016, ethics and campaign disclosure advocates attempted to get a voter initiative on the November ballot that would have drastically changed candidate donations limits, increased penalties for campaign violations and ban certain gifts from lobbyists to lawmakers. The initiative failed to get enough signatures, but Secretary of State Lawerence Denney has since come out in favor of many of the reforms proposed and has urged the Idaho Legislature to take up the cause.
"We owe it to our citizens to make sure the entire election process is fair, transparent and above board," said House Minority Leader Mat Erpelding of Boise, who was one of the two Democrats appointed to the group. "They have a right to know if 'dark money' is influencing our elections and our elected officials."
The group's first meeting is July 12.
---
---