Mon., June 19, 2017
Um, so who is governor today?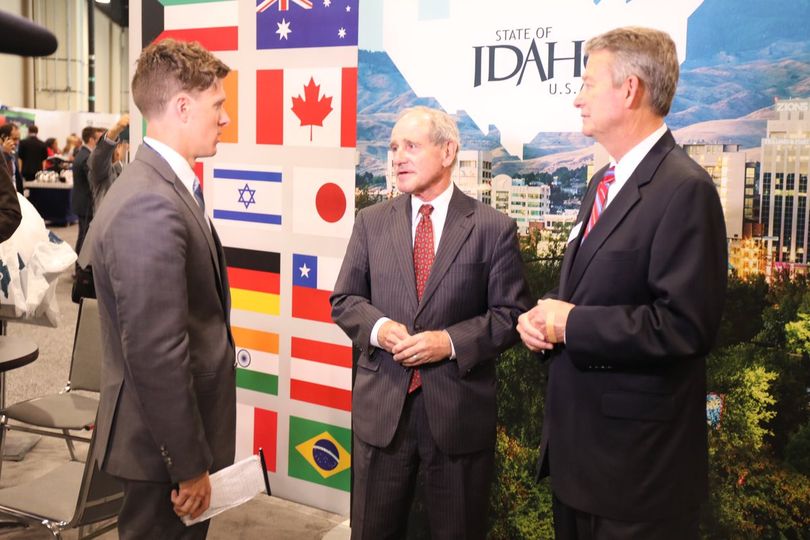 When the governor is out of state, the lieutenant governor fills in as acting governor. And when both the governor and lieutenant governor are out of state, that duty falls to the president pro-tem of the state Senate. And if the pro-tem also is out of state, it's the speaker of the House who becomes acting governor.
So who's acting governor today? Gov. Butch Otter is at the Paris Air Show, where he's leading a trade mission; he left mid-day last Thursdsay and returns to the state late Friday night. Lt. Gov. Brad Little, along with Sen. Jim Risch, is helping man the Idaho booth at the SelectUSA Summit in Washington, D.C., which runs June 18-20 and provides a venue for states to court international investors with the goal of increasing foreign direct investment into their states; Idaho sent 27 economic development leaders to the summit and has a large and prominent booth there. Little left Saturday afternoon and is due back mid-day tomorrow.
The photo above, tweeted out today by Risch's office, shows Risch and Little at the D.C. summit.
So I called the governor's office to inquire who is acting governor today. When I didn't get an immediate response, I called both Senate President Pro-Tem Brent Hill and House Speaker Scott Bedke; Bedke picked up, and said it wasn't him, so he figured it must be Hill. "I know I'm fourth" in line, Bedke said. "It's only happened one or two times in my five years – I think it happened one time."
He added, "They don't leave it up to guessing – they let you know you're going to be it, and then they give you the time. … They make sure you're going to be there." You can read my full story here at spokesman.com.
I also checked in with Secretary of State Lawerence Denney, who said he's never served as acting governor. "I think it's the lieutenant governor, then the pro-tem, then the speaker, and then the secretary," Denney said.
Otter's press secretary, Jon Hanian, is out today; calls for him are being directed to Communications Director and Senior Special Assistant Mark Warbis, who wasn't available by phone, but said by email that Hill is out of state today, so Bedke is the acting governor.
"I can't speak for whom was or not notified," Warbis wrote. "I know that both the Governor and Lieutenant Governor speak with legislative leadership frequently. This office remains fully staffed, as does the Lieutenant Governor's, to handle any immediate needs that might arise."
Then, two hours later, I heard back from Hill, and he's not out of state. Hill said he's been acting governor since Saturday afternoon. "I have a letter from the lieutenant governor saying I'm going to be the acting governor 'til tomorrow at noon," Hill said. He even changed his weekend plans, canceling a trip to Utah to see grandkids for Father's Day. "I said, 'nope, we're on duty right now, so we're going to stay in the state.'"
He added that he and the governor's chief of staff, David Hensley, have been texting each other. "It's really quite a formal process. I get a signed letter from the lieutenant governor telling me exactly when it begins and when it ends. It's very formal and we honor it very carefully."
When I spoke with Bedke, he was in Burley, picking up supplies for a project at his ranch in which he's building a fire ring at which his grandkids can roast hot dogs and marshmallows. "Nobody has talked to me," Bedke said. "I can do it if they need me – right here from Burley, Idaho."
Bedke has 10 grandkids; the oldest is 8.
When I called back to let him know that Warbis said it's actually him, Bedke's voice-mail picked up; there's spotty cell phone reception en route to his Oakley ranch. I left him a voice-mail with what must have been surprising news from Warbis; then followed up with a never-mind voice-mail after talking with Hill.
---
---