Wed., March 8, 2017
Anti-motorcycle profiling bill clears Senate panel, heads to full Senate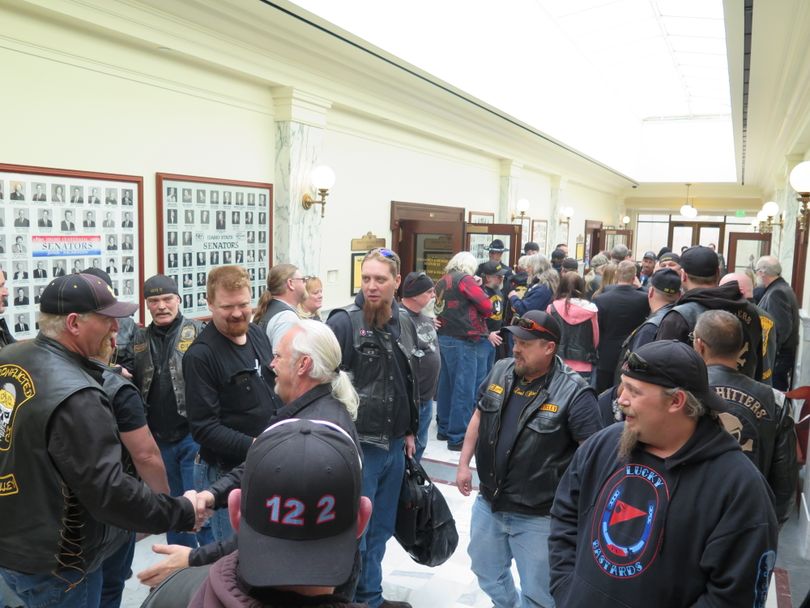 Anti-motorcycle profiling legislation has cleared the Senate Judiciary Committee on a voice vote, after motions to kill the bill or amend it both died for lack of a second. The House-passed bill, HB 123, now goes to the full Senate, and if it passes there, to the governor's desk.
Committee Chair Sen. Patti Anne Lodge, R-Huston, told the crowd, which was packed with motorcycle enthusiasts wearing their insignia-decorated leather jackets and vests, "Remember that with a right there is a lot of responsibility, so we expect you to do your part."
Sen. Dan Foreman, R-Moscow, who spoke out against the bill and said he didn't think it was needed, made the unsuccessful motion to kill it. Sen. Grant Burgoyne, D-Boise, made the motion to amend it. "My concern is: If I vote for this, what am I saying to people that believe that there is racial profiling?" he asked, or profiling based on refugee status, or lack of English skills? "I've always felt that there was a fairly easy way to write this so that it applies to everybody," Burgoyne said. "This standard should have been applicable to everyone."
The bill bans motorcycle profiling by state or local law enforcement, which it defines as "the arbitrary use of the fact that a person rides a motorcycle or wears motorcycle-related paraphernalia as a factor in deciding to stop and question, take enforcement action, arrest or search a person or vehicle."
Sen. Abby Lee, R-Fruitland, made the motion to send the bill to the full Senate with a recommendation that it "do pass," and Sen. Jeff Agenbroad, R-Nampa, seconded the motion. He said, "It may surprise some in this room, including this committee, that I also ride a Harley and wear leathers."
Agenbroad, a freshman senator, said he doesn't wear some of the patches those in the room were sporting because he hasn't earned them. "I've witnessed this, me and a group of friends," he said. "We enjoy getting out on the roads and spending time at some of the larger rallies around the United States, and I have witnessed the profiling."
Agenbroad said he hasn't been profiled himself, but he's seen it happen. "I've seen the profiling, and therefore I'm going to support this bill," he said.
The measure was brought by Rep. Robert Anderst, R-Nampa, who also is an avid motorcyclist. It earlier passed the House unanimously, 69-0. Washington has had anti-motorcycle profiling on its books since 2011; motorcycle groups there report that profiling complaints have dropped precipitously there since it passed.
---
---