Wed., March 8, 2017
Idaho House stalls again amid lawmaker infighting, conflicts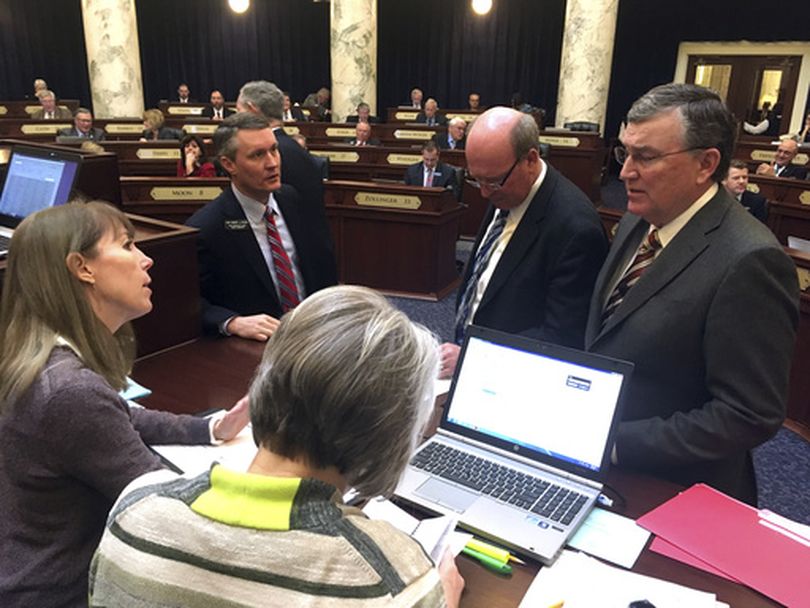 After this morning's tense fight in the House over Rep. Ron Nate's bid to pull a bill out of the House Ways & Means Committee, Ways & Means Chairman Robert Anderst, R-Nampa, said, "He got the opportunity to make his case, and he got 13 votes."
House Speaker Scott Bedke said, "I think we need to set some of the record straight. It is certainly allowable under Rule 45, after a certain date, to call bills from committee. It is also certainly proper under the rules" for a motion to be made to excuse the committee from a call, he said. "They made their case to the body, and the body rejected the proposal."
Here's a full report on today's House fracas:
By Kimberlee Kruesi, Associated Press
BOISE, Idaho (AP) — The Idaho House came to a grinding halt on Wednesday for the second time this week after members attempted to force the body to vote on a previously blocked bill.
The nearly hour-long fight marked yet another chapter in the simmering insurrection that has plagued the session.
A small group of conservative freshmen and sophomore GOP lawmakers have repeatedly challenged legislative leadership, refusing to be deterred even though they have been all but shut out by the top lawmakers.
"If you guys want total anarchy, we'll go down this road," said House Majority Leader Mike Moyle, R-Star, visibly upset during the floor debate.
The comment sparked an objection from sophomore Rep. Heather Scott, R-Blanchard, a vocal critic of legislative leaders. She immediately stood up to say her supporters were using the proper legislative rules to conduct the debate.
"I believe what we are doing here is silencing the voice of citizens," Scott said.
The tension began when Rep. Ron Nate, R-Rexburg, asked House Speaker Scott Bedke, R-Oakley, to pull a bill from the House Ways and Means Committee onto the House floor for a full vote even though the proposal had not yet been vetted by the panel.
Such a request is allowed under House rules if the motion gets a majority vote, but the action breaks from the traditional process of funneling legislation to a committee to be voted on before the floor can review it.
Nate's request sparked a heated debate over the proper role of a committee chairman and the correct legislative process. Democrats and far-right Republicans have long complained that legislative leaders routinely block bills they don't agree with politically.
In this case, Nate requested a Democrat-backed bill be pulled onto the House floor, but only two Democratic members voted to have it heard.
The legislation — introduced by Rep. Ilana Rubel, D-Boise — would have required an automatic legislative hearing on all bills if the sponsor had the support of five Democrats and five Republicans.
House Minority Leader Mat Erpelding argued that he would not upheave the legislative process even though he supported Rubel's bill.
"I believe our caucus has been successful this year because we stand on our own two feet and we get our bills through because of the relationships we have built," Erpelding said. "Quite frankly, what they're talking about doing, we are a pawn in their game and we will not be a part of it."
Just two days before, the House was delayed for more than an hour after far-right lawmakers took aim at a bill aimed at bringing the state's notary public procedures in line with other states.
Bedke said he didn't know if Wednesday's action signaled how the rest of the session would play out. The target date for adjournment remains March 24.
---
---