Mon., March 27, 2017
Testimony: 'This is going to help consumers, small businesses'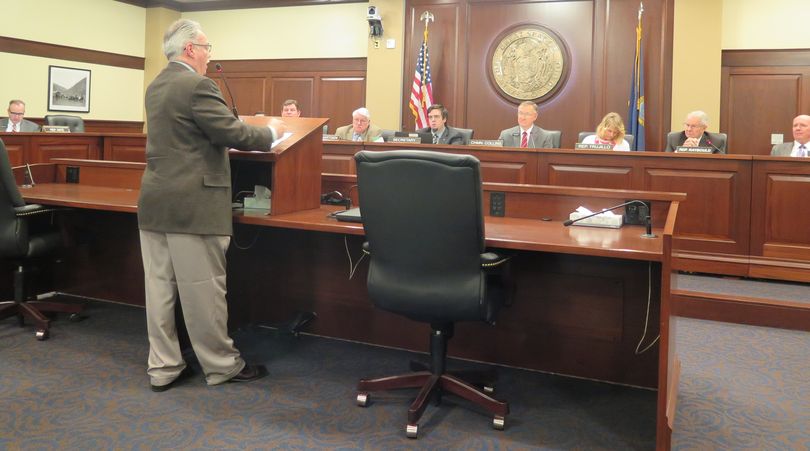 Among those testifying at this afternoon's hearing on the proposal to repeal Idaho's 6 percent sales tax on groceries:
Fred Birnbaum of the Idaho Freedom Foundation said he believes the estimates of the cost of the repeal are "high end," and he believes it actually would cost the state's general fund less. "When this was put on the calendar to allow public testimony, I called some people who wanted to come, but given the short notice they couldn't, because they're doing their jobs or taking care of their children," he said. "These are the people that would benefit from this tax cut, and I hope you all support it.
Steve Ackerman, an economics instructor at the College of Western Idaho who said he was speaking for himself, said the grocery tax repeal would benefit Idahoans more than an income tax cut. "It is a larger savings per month and it is realized much earlier, if you compare that to the income tax cut," he said. "That's going to help consumers. The second point is it's going to help small businesses. ... It's very simple economics." When shoppers are in stores, he said, "They know that they're going to have a lower cost on their food bill. They will tend to buy more." Plus, he said, "This would have a bigger impact on low-income Idahoans. … This is going to help consumers, it's going to help small businesses. … And it's a nice way to show a little bipartisanship, because we had plenty of Democrats as well as Republicans on the Senate side that voted in favor of eliminating it."
Darcy James of the Idaho Interfaith Roundtable Against Hunger said, "We are here to concur in the legislation as it has been returned from the Senate with the amendments." She said, "It has been in the mind of the Legislature for years that grocery taxes are not the best way to finance your state government." That was the thinking behind enacting the grocery tax credit, she said. Now that that credit has reached its maximum amount, she said, taxpayers will only lose more as food prices go up and the credit doesn't. "Now is the time to make the change," she said. "The state should not be financed by taxes on food," as it's one the necessities in a family's budget.
---
---