Thu., May 11, 2017
David Leroy announces candidacy for 1st District congressional seat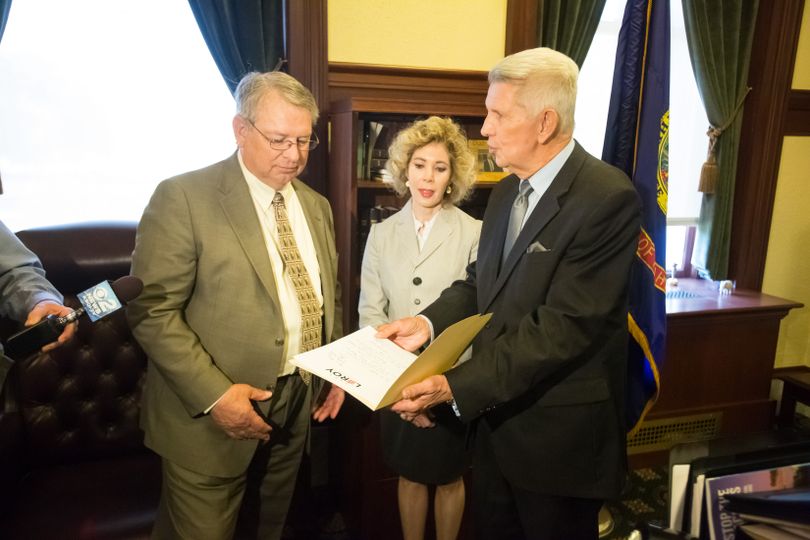 Former Idaho lieutenant governor and attorney general David Leroy announced today that he'll run for the open 1st District congressional seat Rep. Raul Labrador will vacate in 2018 as Labrador runs for governor of Idaho instead; you can see my full story here at spokesman.com. "I have been out of elective and appointive politics for two decades," Leroy said in a statement. "Since 1994, I have pursued business, civic and family life. I come back to politics as an outsider for one reason: Now is the time to restore the republic and revitalize the American dream!"
Leroy, who described himself as a "constitutional conservative," said in his view, "The most important political job in America during the next six years will be member of Congress." That's because, with Republicans in control of the presidency and both the House and Senate, he sees "a singular opportunity to address and resolve the political gridlock which has paralyzed this country's legislative and policy making processes. As we have seen on the issues of budget balancing and health care, solutions are not easy to achieve. Key, divisive issues must be addressed and resolved."
Leroy said he believes "as the Reagan years were transformative, so can be the Trump Administration, with the leadership, support and initiative of a conservative, collaborative legislative branch." He also said he hopes to form and be a part of a new "small state caucus" in Congress, joining with other states with populations of 2 million or less. "Those 15 states can initiate much progress, if acting jointly," he said.
Leroy, 69, is a prominent attorney and an Abraham Lincoln buff who donated his extensive collection of items related to Lincoln and Idaho, including books, documents, art and memorabilia, to the state, which created the Lincoln Legacy Collection and Exhibition at the Idaho State Archives. The gallery opened to the public in 2013.
He served as Idaho's attorney general from 1979 to 1983; lieutenant governor from 1983 to 1987; was appointed United States nuclear waste negotiator by President H.W. Bush and served from 1990 to 1993; and served two terms as Ada County's elected prosecutor in the 1970s. Leroy holds bachelor's and law degrees from the University of Idaho, and a master's in trial practice and procedure from New York University School of Law.
He was the Republican nominee for governor of Idaho in 1986, losing narrowly to Cecil Andrus.
Leroy said, "We have 12 months to the next Idaho Republican primary and a year and a half until the 2018 general. We have just come through an exhausting, emotional election season. I will not abuse my neighbors by campaigning too much or too soon. However, I will be engaging daily with the great people of Idaho, to listen, learn and refine a plan of action to make the 1st District stronger and more vital."
---
---