Tue., May 30, 2017, 5:23 p.m.
Labrador kicks off campaign for governor, touts record in Congress
Here's my full story from spokesman.com:
By Betsy Z. Russell
BOISE – Raul Labrador launched his campaign for governor of Idaho on Tuesday, declaring that he's proven in his four terms in Congress that "I could be a leader for conservative change."
"Idahoans don't care what your title is, or they don't care how many terms you have served in office, what committees you are on or how many earmarks you've secured," the fourth-term GOP congressman declared. "What Idahoans want more than anything is to preserve the blessings of liberty to all."
Asked how he's proven that leadership, Labrador said, "Every time there's a piece of legislation, I work hard to make it more conservative. … I think I've accomplished a lot of things. The main thing we've done is we've been able to bring conservative leadership to the House."
Labrador is the fourth major GOP candidate to enter the race for an open Idaho governor's seat in 2018. His competition so far includes Lt. Gov. Brad Little, physician and developer Tommy Ahlquist and former state Sen. Russ Fulcher. No major Democratic candidate has yet announced.
"I have a disadvantage that other people don't have, because I have a full-time job," Labrador told reporters after his Boise announcement; his term in Congress isn't up until the end of 2018, well after the election but before Idaho's next governor takes office. "I'll be in D.C. most of the time, and that's OK," he said. "We feel pretty confident that the people of Idaho have been behind us for eight years. Our poll numbers are good."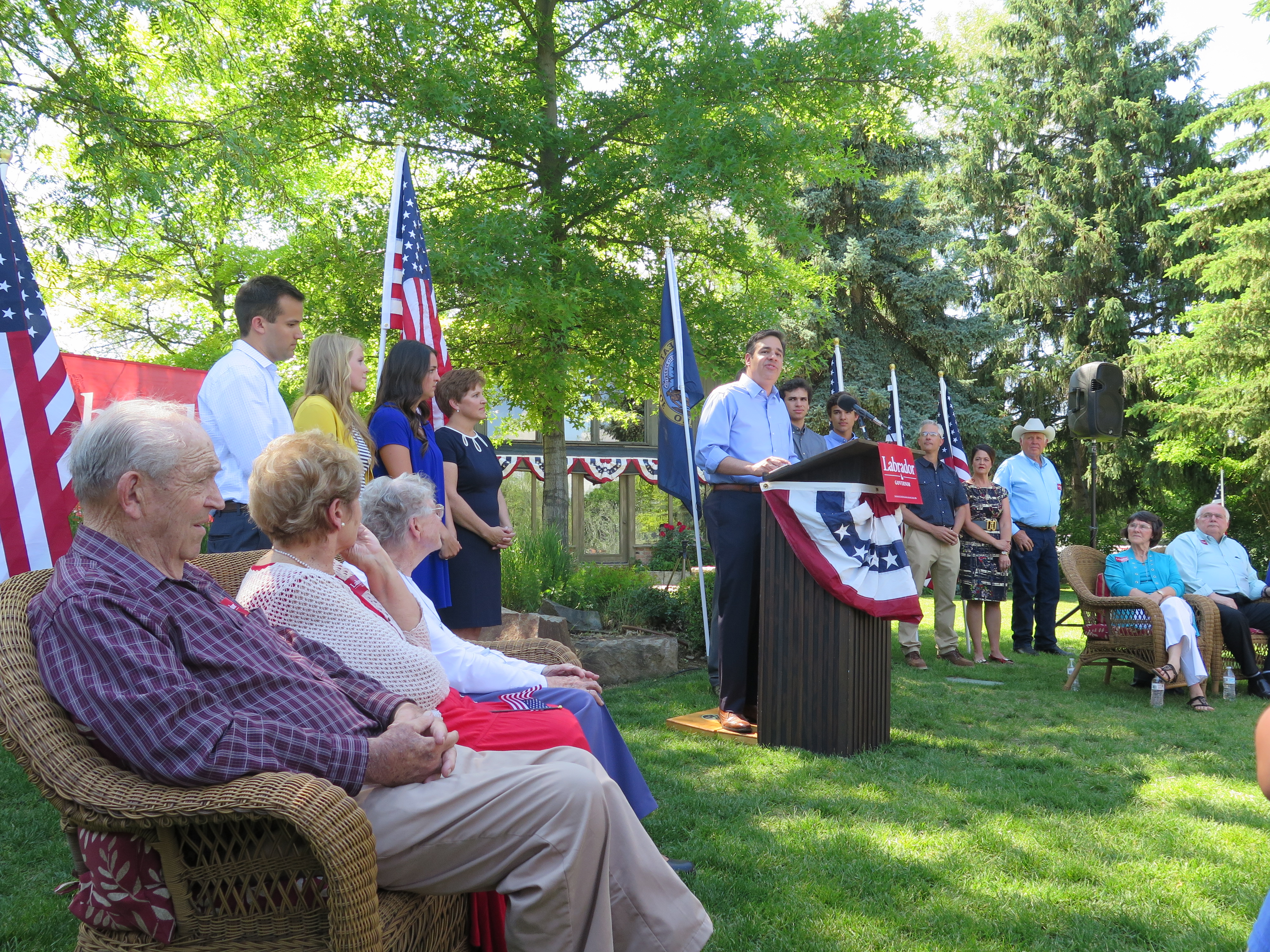 Labrador drew a crowd of more than 80 people – many of them family members, and close to a third of them children – to his official announcement, held in the spacious backyard of wife Becca's childhood home, where her parents, Ted and Jan Johnson, still live and where they raised their 11 children. When they bought their 20-acre farm half a century ago, there were no other houses around; since then, they've developed the entire area and it's now filled with subdivisions, though their place still has room for a pool, expansive lawns, and a pond complete with a waterfall and canoe.
Becca Labrador told the crowd that 26 years ago, when the couple married, they had their wedding reception in the same back yard.
Labrador is planning announcements in Post Falls on Wednesday, at the American Legion Hall at 2 p.m.; and in Idaho Falls on Thursday, at Melaleuca, the giant personal-care products company owned by big GOP funder Frank VanderSloot. When Labrador first announced the Idaho Falls venue, it gave rise to some speculation that he'd landed VanderSloot's endorsement, but he hasn't.
Company spokesman Toni Lima said in an emailed statement, "We rent the facility to groups that need it. Community events at Melaleuca should not be interpreted to be an endorsement by Melaleuca or any of its officers including Mr. VanderSloot. Neither Melaleuca nor Mr. VanderSloot have made a public endorsement of any of the candidates that will be participating in the 2018 Idaho governor's race."
Labrador said, "Melaleuca's a big company – people know the location, and it's easy to get to."
Labrador, 49, was an immigration attorney and served two terms in the Idaho House before he was elected to Congress in 2010. A native of Puerto Rico, he and Becca met while attending Brigham Young University; they have five children.
In the U.S. House, he co-founded the Freedom Caucus, railed against his own party's leaders, and helped topple then-GOP Speaker John Boehner.
"As you all know, too many members of Congress refuse to rock the boat," Labrador told the backyard crowd in Boise on Tuesday. "But going along to get along has never been my way."
He said as governor, he'd work to reform and cut taxes, improve education by expanding school choice, and cut regulations and bureaucracy.
"We have a once in a generation opportunity to propel this state forward – a once in a generation opportunity to lead and to achieve the result that can only be reached through the application of conservative principles," he declared.
All four GOP rivals are touting themselves as conservatives. Little's campaign website calls him "A Conservative Defending Traditional Values." Fulcher's calls him "an unwavering advocate for conservative principles." Ahlquist's campaign slogan is that he has "a conservative blueprint for building an even better Idaho."
Three weeks ago, Labrador drew national ridicule and was skewered on late-night TV for saying at a town hall meeting in Lewiston that "nobody dies because they don't have access to health care."
Labrador said Tuesday that he wishes the focus hadn't just been on that portion of his comments, but he hasn't changed his views. "My position is pretty clear: Health care is not a right, it's a responsibility that every Idahoan has," he said. "Our job in government is to make sure that it's accessible to everyone."
---
---