Thu., Nov. 16, 2017
Idaho businesses, industry, agencies, groups come together at 'Climate Summit'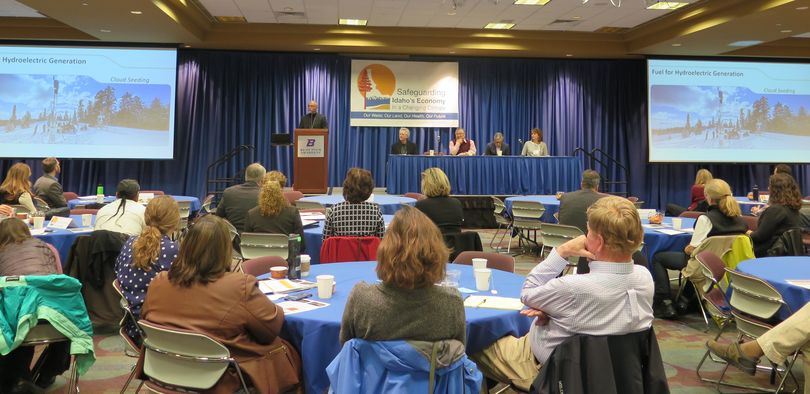 Idaho's economy already is being seriously impacted by climate change, participants in a statewide, two-day "climate summit" said this morning, from increased agricultural pests and disease, to longer, smokier wildfire seasons, to spreading invasive species. And regardless of the causes, presenters said, it's time for businesses, agencies, universities, tribes and more to come together to identify solutions.
"This is Idaho – we know how to work together and we know how to solve problems," said Heather Kimmel of the American Lung Association. "We can identify solutions that will protect Idaho's economy, Idaho's water, Idaho's land, Idaho's health, and Idaho's future for generations to come."
The climate summit, entitled "Safeguarding Idaho's Economy in a Changing Climate," runs today and tomorrow at four locations around the state: Boise State University in Boise; the University of Idaho in Moscow; Idaho State University in Pocatello; and the Henry's Fork Watershed Council offices in Ashton. It's also being streamed live online. The more than 50 sponsors range from Idaho Power and Monsanto Corp. to the Society of American Foresters, the Nature Conservancy, the Idaho National Laboratory and the Nez Perce Tribe.
Asked to identify the impacts they've personally seen and dealt with so far, several participants spoke out. Juliet Marshall, a U of I professor in Aberdeen, said she works in production agriculture. "When I first came here 25 years ago, we really didn't have to worry a lot about diseases," she said. "Over time, we've seen a complete shift in the disease pressure and the insect pressure in commercial agriculture. We're looking at increases of two to three times in pesticide applications."
Gregg Servheen of the Idaho Department of Fish and Game said warmer temperatures have led to better over-winter survival for some game species, "which our sportsmen very much like, so that's a good thing." But it's also led to more depredation problems with game herds impacting farmers and ranchers, and increased wildfires have increasingly started to shut hunters out of the areas where they'd go to hunt that game.
"Wildfire, climate and precipitation are connected," presenter Bryant Kuechle of the Langdon Group told the gathering, which has drawn 250 participants at the Boise location, in addition to 70 in Moscow, 50 in Pocatello, 20 in Ashton and more online. "The western U.S. wildfire season increased from five months in the 1970s to seven months today."
Western states are seeing four times as many major wildfires today as they did in 1970, he said, and six times as much forest burned. The number of acres burned doubled from 1984 to 2015.
Idaho also is seeing declines in spring runoff, with the largest declines below 3,000 feet elevation, and stream gauges show a 15 percent drop in cumulative annual streamflows over the last half-century. That impacts fisheries, recreation, agriculture and more.
"To us, very much, climate change is real," said John Bernardo of Idaho Power. The big southern Idaho utility is addressing it with efforts including cloud seeding to increase precipitation; vegetation management around remote power poles to keep them from burning up in wildfires; and pollution-reduction programs aimed at lowering the rising temperatures in the Snake River.
Mark Solomon, associate director of the Idaho Water Resources Research Institute at the University of Idaho, said, "We can be the frog in the frying pan, where we get out before we get fried."
Kate Gordon, keynote speaker, senior advisor at the Paulson Institute and founding executive director of the Risky Business Project, which addresses risks from climate change, said, "This is a profoundly local issue."
Idaho has opportunities, she said, but, "It does take operational change within the private sector, it does take policy change in the public sector, and it does take upfront investment."
The world is moving toward "de-carbonization," she said, offering examples including China's pledge to manufacture only electric vehicles after 2019. Shifting to renewable energy sources can substitute capital for fuel, she said. "You build the plant to tap into the thing, and then you never pay for fuel again. Which means that your fuel savings eclipse your capital."
"It's a moving market that we either take advantage of, or we risk not taking advantage of," said Gordon, who noted that her background isn't in science – it's in economic development. "Let's not wait 'til tomorrow, let's do this."
---
---