Sun., Oct. 15, 2017
Idaho candidates talk transparency in buildup to 2018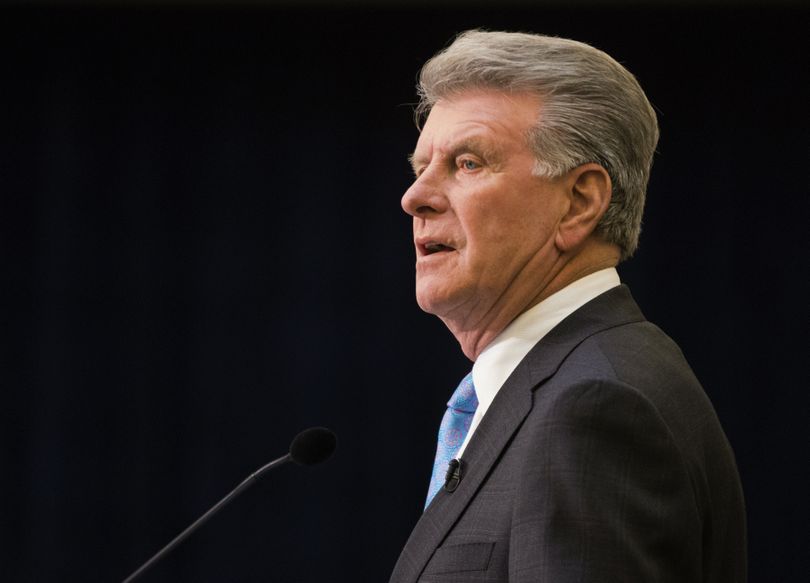 By Kimberlee Kruesi, Associated Press
BOISE, Idaho (AP) — As the buildup to the 2018 election begins to accelerate, Idaho's 30-year-old ethics laws are facing scrutiny as top candidates wrestle with how much of their finances they should disclose to voters.
Idaho is one of just two states that don't require elected officeholders to disclose any of their personal financial information. This means the state's elected officials can weigh in on public matters without sharing whether their wallets might benefit from them.
Overhauling the system has become just as elevated as other traditional talking points - such as health care, education and job creation - in the race for governor. With Gov. C.L. "Butch" Otter announcing he won't seek a fourth term, the race is expected to be Idaho's most competitive of 2018.
Political newcomer and GOP gubernatorial candidate Tommy Ahlquist recently released his economic assets to fulfill a campaign promise that he would disclose any potential conflicts of interests. The release wasn't as detailed as federal economic disclosure requirements, but the move was still considered significant because Ahlquist is the first Idaho candidate in recent history to voluntarily hand over financial information.
Ahlquist has vowed Idaho's lack of disclosure requirements will come to an end if he's elected.
Opponent U.S. Rep. Raul Labrador has been quick to point out Ahlquist failed to mention possible liabilities - which is required for congressional members. Labrador has been required to submit a much more vigorous personal-asset disclosure since being elected to the House in 2010.
Meanwhile, Lt. Gov. Brad Little's campaign team confirmed Thursday Little plans to release his economic assets in the coming weeks.
Little and Labrador have voiced support for more transparency in government, but neither has specifically championed changing Idaho's personal disclosure laws.
"It makes sense to put a focus on transparency as an outside candidate," said Jaclyn Kettler, a Boise State University political scientist. "And while it puts some pressure on the other candidates, I think it's important to look at the presidential election and see that voters still elected Donald Trump even though he didn't hand over his tax returns."
Unlike Idaho, most state legislatures have passed laws requiring elected officeholders to file some type of financial disclosure. Michigan is the only other state that lacks such rules after Vermont Gov. Phil Scott signed an ethics reform bill earlier this year.
Disclosure requirements typically involve revealing income sources, business associations and property holdings. The minimum amounts on what must be disclosed vary from state to state.
For example, Ahlquist's campaign has pointed to Utah as its model of what Idaho's disclosure laws should look like. Utah requires lawmakers to reveal employer information and job title, income sources of $5,000 or more annually, as well as investments worth $5,000 or more.
Idaho passed its Ethics in Government Act in 1990. The law directs lawmakers to declare a conflict of interest, but it does not ban them from voting on an issue that may personally benefit them. Failure to disclose a conflict is a civil offense that carries a fine of up to $500.
Separate from the political races, the Idaho Legislature has tasked a bipartisan panel with submitting recommendations on possible changes for lawmakers to consider during the 2018 session. The panel has focused on campaign finance reforms, but Republican Rep. Tom Loertscher of Iona has suggested legislation that would mimic Utah's personal financial disclosure requirements.
The panel meets later this month to consider Loertscher's proposal. But even if the Idaho Legislature advances a proposal in 2018, the law wouldn't take effect until July - after the May GOP primary, the more competitive election in Republican-dominant Idaho.
What We Know: Idaho's gubernatorial candidates' assets
The race for Idaho's open gubernatorial seat has turned a focus on each candidate's financial ties despite the state's lack of disclosure requirements.
Idaho is one of just two states to not require elected officeholders to disclose their income, employer, property holdings and board memberships. Yet the three top Republican candidates running for governor have touted their promises to be transparent if elected.
No major Democratic candidate has filed to run for the top seat. Gov. C.L. "Butch" Otter says he's not running for a fourth term.
Here's a look at what's known so far about each candidate:
TOMMY AHLQUIST
First time political candidate Tommy Ahlquist was the first statewide candidate to voluntarily release his economic assets. According to documents provided by Ahlquist's campaign, the Boise businessman owns 25 businesses worth $5,000 or more and has 27 investments worth $5,000 or more.
An additional 11 businesses are also connected to Ahlquist, according to the business entity database on the secretary of state's website. However, campaign staffers say those LLCs are either no longer active businesses or Ahlquist does not have ownership in them.
This includes an LLC named Gardner Ahlquist Property Management that was hit with a federal tax lien in 2012 for failing to pay more than $14,000 in federal taxes. Ahlquist's campaign, however, said that LLC is no longer active and the tax lien occurred because of an accounting error. The lien was resolved in 2013.
Ahlquist's salary comes from Gardner Company — a Boise-based development company where he serves as chief operating officer. His wife, Shanna, is listed as a homemaker.
Most of the businesses are various Gardner Company holdings but he also has an ownership in Twin Ambulatory Surgical Center, Meridian Medical Plaza and a Boise defibrillator company he co-founded. He listed the same 25 businesses as sources of income of $5,000 or more.
RAUL LABRADOR
U.S. Rep. Raul Labrador's campaign says the Republican congressman has been required to disclose both his assets and liabilities as a House representative since 2010.
As of 2016, Labrador was ranked as the sixth-poorest member of Congress with a negative average net worth, based on his federal financial disclosures, owing $216,000. According to those reports, Labrador has an IRA and bank account, a mortgage on his home, a line of credit from Zions Bank between $100,000 and $250,000 and up to $15,000 in student loans.
BRAD LITTLE
Lt. Gov. Brad Little has never disclosed his personal assets in his 16 years serving as an elected official in Idaho but he is the grandson of the "sheep king of Idaho," Andy Little, who came to Emmett in 1884 and built an empire with 100,000 sheep.
Campaign manager Zach Hauge said Little would release his financial interests when contacted by the AP on Thursday — a week after Ahlquist released his assets — promising Little's economic disclosure would be available in the coming weeks.
---
---