Mon., Oct. 23, 2017
Frank Church Conference: World seeing surge in civilian casualties of war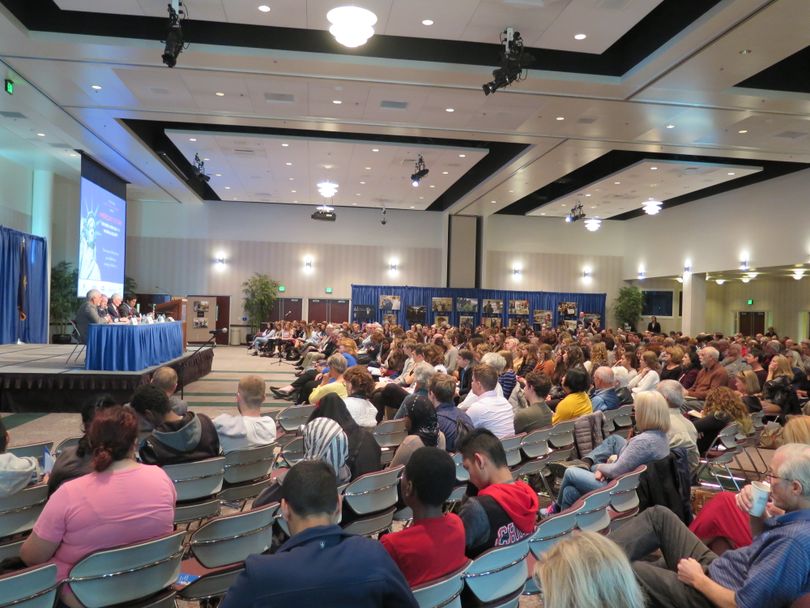 The world is seeing a surge in civilian casualties of war, from deaths and injuries to tens of millions of displaced civilians, Steven Feldstein, Frank and Bethine Church Chair of Public Affairs at BSU and a former deputy assistant secretary of state, told the opening session of the annual Frank Church Conference this morning; this year's conference is entitled, "America's Future: Refugees, Migration and National Security."
The United National High Commissioner for Refugees reported this year that some 65.6 million people have been displaced worldwide – the greatest population displacement since World War II. That includes 22.5 million people who were refugees at the end of 2016; 40.3 million internally displaced people; and 2.8 million asylum seekers. Last year, 10 million people were newly displaced by conflict or persecution; half were children.
In Yemen alone, Feldstein said, where rebels deposed the government in 2014 and two years of fighting – including air strikes on rebel-held areas by a Saudi-led coalition backed by the U.S. and UK – have devastated the country since it escalated in 2015, there is a "humanitarian crisis," with 3 million citizens displaced, 2 million children acutely malnourished, one of the largest cholera outbreaks in the world in the last 50 years, and the country on the brink of famine. Hospitals and other civilian facilities have been bombed.
"I think the indicators are ominous," Feldstein said. He said the Trump Administration announced a $110 billion arms package for Saudi Arabia in June, despite its actions in Yemen. Worldwide norms about the conduct of war, he said, "are diminishing. … Civilian fatalities remain near record levels."
Given that, he said, "Raising the refugee cap above the Obama-era of 100,000 seems like the right thing to do." But instead, the Trump Administration is proposing lowering the cap on refugee admissions to the U.S. to 45,000, the lowest since the modern U.S. refugee system was established in 1980. That's a move that's been lauded by Idaho Rep. Raul Labrador, who is running for governor.
Feldstein told the conference, which includes hundreds of students and others, "The U.S. has a significant responsibility for the global humanitarian crisis. … Fighting wars abroad has real consequences."
Today's conference includes a luncheon keynote address by Anne C. Richard, former assistant secretary of state for population, refugees and migration; panel discussions featuring experts and government officials involved in refugee issues; and more. Among the hundreds of attendees are a half-dozen who came to the United States as refugees, including some high school students.
---
---