Mon., Oct. 23, 2017
Nonini: 'I'm more conservative than Janice'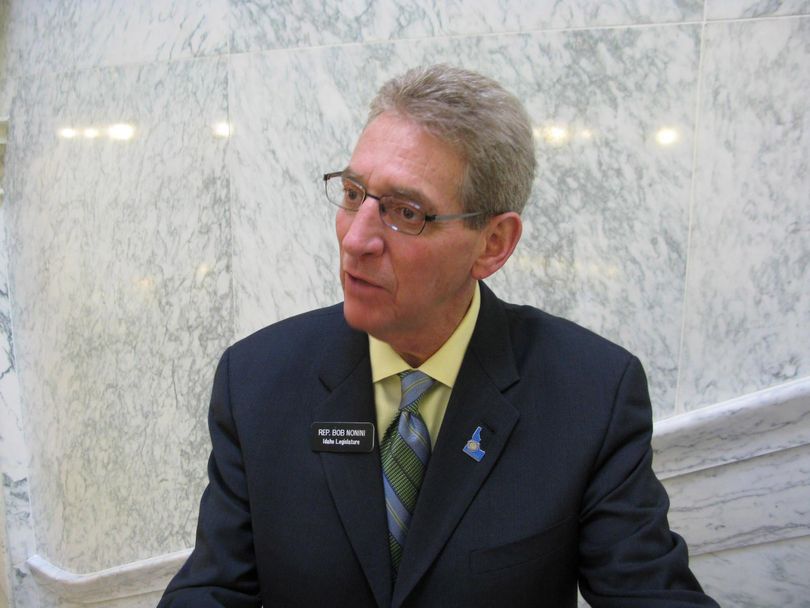 Here's my full column from Sunday's Spokesman-Review:
By Betsy Z. Russell
North Idaho Sen. Bob Nonini, asked why he decided to join the now five-way race for lieutenant governor in 2018, went directly after one of the four Republicans already in the race.
"I look at the candidates that are in the race, and there are no real strong conservatives, although Janice says she is," Nonini said, referring to rival and former state Rep. Janice McGeachin, R-Idaho Falls. "I served with her for eight years in the House and I know her voting record and I know my voting record. I knew her effectiveness and my effectiveness. I just think I can do a better job – I'm much more conservative than Janice."
McGeachin disagreed. "My record speaks for itself – that's the best answer I could give," she said. "Everybody, people that I represented from my district and those that I worked with knew that I was a conservative legislator and I was effective as well."
When she chaired the House Health and Welfare Committee, "I was most effective by preventing the implementation of Obamacare in our state as chairman of the committee by refusing to allow any legislation through my committee, and from a conservative perspective, at least, that is as conservative as you can get," she said.
The legislation to establish Idaho's state health insurance exchange didn't pass until the year after McGeachin left the Legislature.
There are three other Republicans already vying for the open lieutenant governor position in 2018, as current Lt. Gov. Brad Little runs for governor: Sen. Marv Hagedorn, R-Meridian; Rep. Kelley Packer, R-McCammon; and former Idaho Republican Party Chairman Steve Yates of Idaho Falls. No Democrats have yet announced. All the Republicans have portrayed themselves as conservative.
"There are no true Idahoans that I believe are conservative like me, born and raised in Wallace, lived here my whole life," Nonini said.
He said there's "an out-of-stater in the race and raising all the money," referring to Yates, a former aide to former Vice President Dick Cheney who moved to Idaho Falls in 2011 and served three years as the state GOP chairman, before leaving the unpaid post to explore running for office himself. When the first campaign finance reports in the race were filed in July, Yates had raised the most at just over $100,000.
Hagedorn is a career Navy veteran who then worked in high-tech and international trade and now heads a foundation supporting wounded veterans along with serving in the state Senate. He's in his third Senate term and previously served three terms in the Idaho House. He's also a longtime Republican Party activist whose campaign website says he "has always been involved in local and state conservative issues."
Packer is a third-term state representative, a former city councilwoman and a business owner who describes herself as "pro-life, pro-gun, pro-small government, pro-limited spending." She's been traveling the state in a campaign-logo RV to campaign.
Nonini, 63, said his campaign platform will focus on education, economic development and "affordable quality health care." An insurance and financial consultant, he's the former chairman of the House Education Committee. "My insurance colleague I work with out of Colorado is picking up the slack there because he knows for the next two and a half months I am going to be traveling Idaho," Nonini said. "I've been researching this. I can win this thing. I'm passionate, I campaign hard, and my intentions are to be Idaho's next lieutenant governor."
Labrador welcomes newcomers who 'keep it conservative'
Idaho 1st District GOP Rep. Raul Labrador, who is running for governor in 2018, held a town hall-style meeting last week at Candlelight Christian Fellowship in Coeur d'Alene, where he encouraged Christians to get involved in politics and, asked about Californians coming to Idaho, declared, "I welcome all people that want to come to Idaho that want to keep it conservative, that want to keep it a great state and make it stronger for future generations."
Labrador, whose campaign set up the meeting, broadcast it live on Facebook and billed it as a "Traditional Christian Values Discussion."
During the session, Labrador called for state management of federal public lands, called for standing up against "international communities and the federal government" trying to dictate state policy, and touted his relationship with President Donald Trump, for whom he campaigned around the country.
Asked about the government's role in taking care of the most vulnerable, Labrador said, "I believe that we should take care of the vulnerable, those people who can't work who maybe have a handicap or something like that. But we need to be very careful. When you're an able-bodied individual, the government shouldn't be taking care of you, you should be taking care of yourself."
Fulcher loans money to his campaign
The latest campaign finance reports in the 1st District congressional race, filed last week, show a race that's shaping up, with an open seat up for grabs in 2018. Former state Sen. Russ Fulcher loaned his campaign $35,000 on Sept. 30, the final day of the reporting period, to pump his fundraising numbers up from $65,421 to $100,421 for the period from July 1 to Sept. 30, higher than those of GOP rival Luke Malek, who raised $82,814 in the same time period, but didn't start until two months ago, receiving his first contribution on Aug. 10.
Fulcher has raised $119,145 since he entered the race in June, in addition to the $35,000 loan; that puts his total receipts at $154,145. He's spent $52,030, and at the end of the filing period had $102,115 in cash on hand and $35,000 in debt.
Malek has raised $82,814, spent $7,328, and had $75,487 on hand at the close of the reporting period and no debt.
Meanwhile, David Leroy, the third big-name Republican seeking the congressional seat, reported raising $31,036 in the most recent quarter, on top of the $114,004 he raised the previous quarter, including $53,813 of his own money. Leroy's total receipts come to $145,040 year-to-date; he's spent $75,215 and had $69,825 cash on hand at the close of the reporting period.
First-time Republican political candidate Michael Snyder raised $37,892, the Associated Press reported, with $4,000 coming from a personal loan. The majority of Snyder's contributions came from donors outside Idaho. That's because while Snyder is not well-known in Idaho politics, he has developed a far-right religious following as an end-times author and guest speaker.
In addition, Nicholas Henderson, of Post Falls, has filed for the seat as a Republican, and Michael William Smith, of Post Falls, and Donald Miller, of Meridian, have filed as Democrats, but haven't reported any campaign fundraising.
---
---