Tue., Sept. 19, 2017
Idaho fire season wrapup: 'Everybody is breathing a little easier now;' costs covered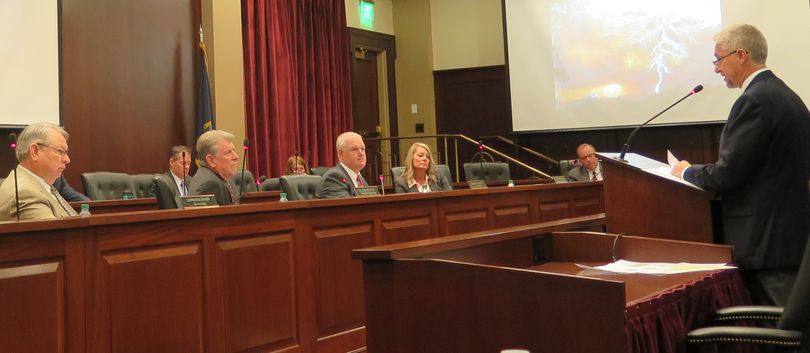 Although the fire season seemed downright awful, with heavy smoke choking much of the state, Idaho is coming out of it without any pressing bills. That's because the state Legislature pre-funded its wildland firefighting costs two years ago with a $60 million appropriation. This year's firefighting expenditures, on lands for which the state is responsible for fire protection, came to just over $21 million, with $5 million reimbursable from other agencies or owners; that's a net obligation, as of now, of $16.3 million.
Going into the fire season, Idaho had a $48.4 million cash balance from the legislative appropriation two years ago. Now, combining the $16.3 million in this year's costs with additional outstanding bills from previous years, the state's net obligation is about $34 million. So after all those bills are paid, Idaho still will have $14 million in its firefighting account.
State Forester David Groeschl shared that news with the state Land Board this morning, and offered a wrapup of this year's fire season. The number of fires on state-protected land was 62 percent of the 20-year average, but the number of acres burned was 440 percent of the 20-year average. That was largely because of the big Craig Mountain Complex south of Lewiston, which burned almost 50,000 – accounting for most of the 52,700 acres that burned.
Statewide, on all lands, 576,433 acres have burned to date during this year's fire season. Of that, 275,238 was U.S. Forest Service land; 137,783 was U.S. Bureau of Land Management; 85,912 was other federal agency ownership; 32,638 was private land; 32,951 was Idaho Department of Fish & Game land; 8,772 was state land managed by the Idaho Department of Lands; 2,977 was Idaho Department of Parks & Recreation land; and 162 acres were lands owned by other state agencies.
"Stage 1 and 2 fire restrictions have been lifted across most of the state, thankfully, with this recent rain and moisture," Groeschl said. "We had extreme and very high fire danger conditions up until this moisture moved in."
"I am not going to say that it's over, but we're getting toward the end of the season and it's looking good," he said. "I think everybody is breathing a little easier now with the moisture."
---
---