Mon., Sept. 25, 2017
Idaho breathing easier now on fire bills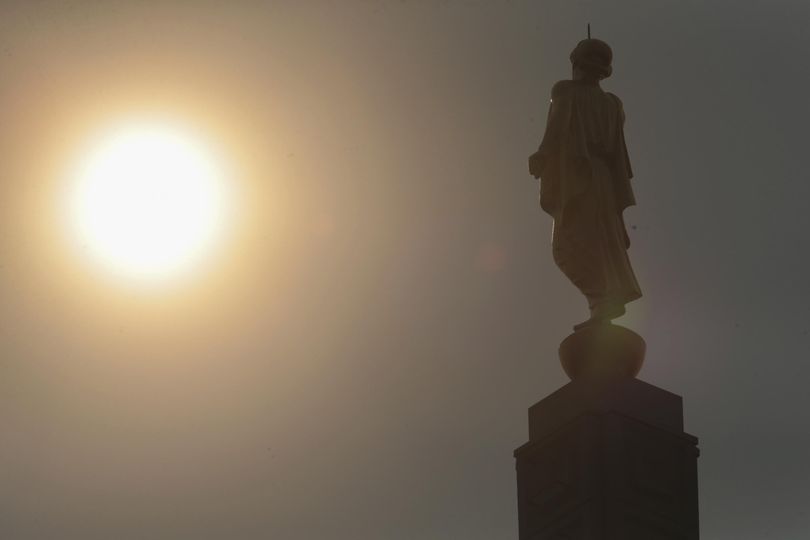 Here's my full column from Sunday's Spokesman-Review:
By Betsy Z. Russell
Although the fire season seemed downright awful, with heavy smoke choking much of the state, Idaho is coming out of it without any pressing bills.
That's because the state Legislature pre-funded its wildland firefighting costs two years ago with a $60 million appropriation. This year's firefighting expenditures, on lands for which the state is responsible for fire protection, came to just over $21 million, with $5 million reimbursable from other agencies or owners; that's a net obligation, as of now, of $16.3 million.
Going into the fire season, Idaho had a $48.4 million cash balance from the legislative appropriation two years ago. Now, combining the $16.3 million in this year's costs with additional outstanding bills from previous years, the state's net obligation is about $34 million. So after all those bills are paid, Idaho will still have $14 million in its firefighting account.
State Forester David Groeschl shared that news with the state Land Board last week, and offered a wrapup of this year's fire season. The number of fires on state-protected land was 62 percent of the 20-year average, but the number of acres burned was 440 percent of the 20-year average. That was largely because of the big Craig Mountain Complex south of Lewiston, which burned almost 50,000 – accounting for most of the 52,700 acres that burned.
Statewide, on all lands, 576,433 acres have burned to date during this year's fire season. Of those, 275,238 were U.S. Forest Service land; 137,783 were U.S. Bureau of Land Management; 85,912 were other federal agency ownership; 32,638 were private land; 32,951 were Idaho Department of Fish and Game land; 8,772 were state land managed by the Idaho Department of Lands; 2,977 were Idaho Department of Parks and Recreation land; and 162 acres were lands owned by other state agencies.
"Stage 1 and 2 fire restrictions have been lifted across most of the state, thankfully, with this recent rain and moisture," Groeschl said. "We had extreme and very high fire danger conditions up until this moisture moved in."
"I am not going to say that it's over, but we're getting toward the end of the season and it's looking good," he said. "I think everybody is breathing a little easier now with the moisture."
Ahlquist goes on tour
GOP gubernatorial hopeful Tommy Ahlquist has launched a 44-day tour of Idaho's 44 counties, to wrap up Nov. 4 in Cascade.
Ahlquist's campaign says every stop will include a town-hall-style event, open to the public and news media, at which the Boise developer and physician will share more details about his plans for the state and take questions from the public.
North Idaho stops will include Kootenai, Benewah, Shoshone and Latah counties, all on Oct. 6; and Boundary County on Oct. 7; the tourkicked off last week in Meridian, Payette and Emmett.
Ahlquist also recently announced 107 county campaign chairs, a group to be coordinated by Tyler Hurst, former Idaho Young Republicans chair and current Idaho GOP second-vice chair, who's been named grass-roots chairman for the Ahlquist campaign. Among the names on the list are eight mayors from around the state.
Ahlquist is facing Lt. Gov. Brad Little and 1st District Rep. Raul Labrador in the race to become the GOP nominee for governor in 2018; all three have been actively campaigning around the state, and Little had several North Idaho campaign stops last week.
No major Democratic candidate has yet announced, but a total of 10 candidates have filed initial paperwork to run for the seat, not counting two who filed as independents but then withdrew. They include eight Republicans, one Democrat and one independent. Among the Republicans, three were recruited to run by perennial candidate Lisa Marie; Marie also is running as a Republican.
Group decries health bill
The Close the Gap Idaho coalition is strongly opposing the GOP health care bill that's pending in the U.S. Senate, saying it contains catastrophic cuts for Idahoans with disabilities who rely on the state's current Medicaid program, along with eliminating the subsidies that currently allow 74,000 Idahoans to purchase insurance plans through the state's Your Health Idaho insurance exchange.
Jim Baugh, executive director of Disability Rights Idaho, said, "Idahoans with disabilities rely on Medicaid services to get into and out of bed, to bathe, eat and conduct other activities of daily life. The Cassidy-Graham proposal would create an unsustainable cost-shift to state budgets that could produce unforeseen and catastrophic consequences for Idahoans with disabilities."
The group said the Graham-Cassidy bill is a "repeal without replace" bill that would remove coverage from 32 million or more people across the nation.
Susie Pouliot, CEO of the Idaho Medical Association, said it would "derail" the state's successful insurance exchange. And Brian Whitlock, president of the Idaho Hospital Association, said, "Two of the three major provisions of this bill are absolutely horrible. Loosening regulations is a good thing, but cutting health care funding and depriving thousands of hard-working Idahoans of necessary coverage are not reforms that will improve the access and affordability of health care."
Close the Gap Idaho is a broad coalition of health care stakeholders in Idaho, including representatives of providers, consumers, advocates, clergy, charities and more. The group began by advocating to close Idaho's health coverage gap, which leaves roughly 78,000 without affordable care options because the state hasn't expanded its Medicaid program under the Affordable Care Act; it has continued to study and advocate for ways to improve health care in Idaho.
---
---