Mon., Sept. 25, 2017
Legislative battle taking shape again over how best to protect Idaho crime victims' rights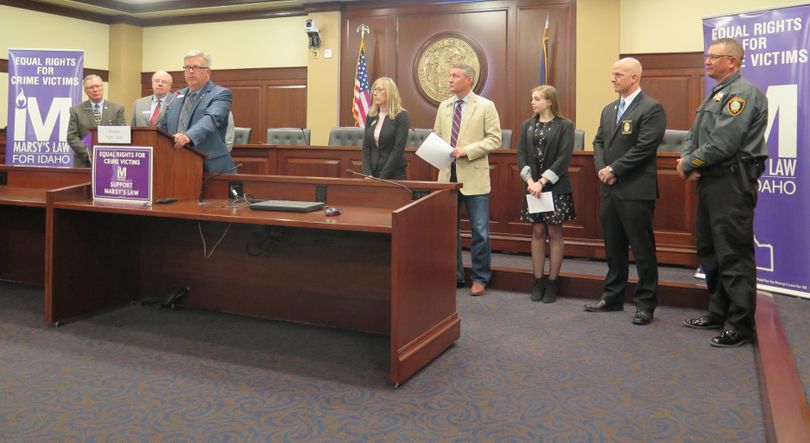 Here's my full story from spokesman.com:
By Betsy Z. Russell
BOISE – Tissue in hand, the young crime victim recounted her experience with Idaho's criminal justice system after being raped by an 18-year-old at the age of 14.
"I was often overlooked in the court proceedings," she said, "at times not even made aware of certain hearings. … I was often forced to find different accommodations, such as traveling over an hour to have a rape kit performed, and waiting in vacant offices in the back of the courtroom so I wouldn't have to face my rapist's family, who sat in a comfortable waiting area."
At one parole hearing, she sat in the same area as the rapist's family. At another, she waited "in a prison cafeteria, as there were no other accommodations."
"Being a victim of a sexual assault/rape is the worst thing I have ever experienced," the young woman, now 18, told a gathering of victim's rights advocates, legislators, law enforcement, lobbyists and reporters on Monday. "Being left out of opportunities to testify, having no-contact orders violated with no repercussions, not having forewarning of upcoming hearings, being paraded in front of my rapist's family and being forced to sit in cafeterias only made it worse. It re-victimizes a person all over again."
Her comments came as backers kicked off their campaign this year for a new Idaho constitutional amendment updating the state's guarantees of victim's rights. The measure, dubbed Marsy's Law for Idaho, passed the Idaho Senate unanimously last year, but died in a House committee with bipartisan opposition after three days of hearings.
Sen. Todd Lakey, R-Nampa, said a similar measure will be proposed in the coming year. "Idaho has historically been a leader in protecting victim's rights," he said, noting that the state's current victim rights amendment was enacted by Idaho voters in 1994. "We've learned a lot over 23 years," he said. "Other states and the federal system are now ahead of us. … Our victim's rights legislation should be updated based on our experience. … There are gaps that need to be covered."
The American Civil Liberties Union of Idaho opposed last year's measure, as did Idaho defense attorneys. Among their concerns were costs; lengthening of criminal proceedings; broadening of the definition of crime victim to include businesses; and impacts on criminal defense. Kathy Griesmyer, ACLU spokeswoman, said the group remains opposed. "It could really backlog our criminal justice system," she said.
The Idaho Coalition Against Sexual and Domestic Violence also opposed the 2017 bill. "Certainly there's a lot within the bill that we'd say, absolutely, that sounds amazing," said Kelly Miller, the coalition's executive director. But with the broadening of the definition of a victim, she said, "Our sense is it would place a significant burden on the criminal justice system," to the detriment of actual victims.
Miller said the group also has other concerns about the proposal; they're planning to meet with the backers of the measure to discuss them.
Marsy's Law is the name for a California constitutional amendment enacted in 2008, named for a woman who was stalked and killed by her ex-boyfriend in 1983. A week later, the victim's brother and mother, after visiting her grave, were confronted by the accused murderer in a grocery store; they hadn't been notified that he'd been released on bail. That prompted the brother, Henry Nicholas, to form a foundation for victims rights and push for Marsy's Law and similar provisions in other states. Illinois, Montana, North Dakota and South Dakota have since adopted similar amendments.
Idaho's current constitutional provision, Article I, Section 22, declares that victims of crime in Idaho have a series of rights, from the right "to be treated with fairness, respect, dignity and privacy throughout the criminal justice process" to rights to prior notification of criminal proceedings, to be present at and heard upon request at sentencing or release hearings, to refuse contact with the defendant or the defendant's agent unless authorized by law, and to read pre-sentence reports.
The proposed amendment would expand that to require "reasonable and timely" notification to victims of all proceedings and of news that the offender has escaped or absconded; an opportunity both to be present and to be heard upon request at all proceedings; expanded restitution guarantees; expanded protection from contact with victims or their agents, even when otherwise legally required; and a guarantee of "reasonable and timely" access to pre-sentence reports. It also allows victims to assert their rights in court, and requires courts to respond "promptly."
Lakey said the current prior-notice requirement for victims has no timeline. "Technically it could be a minute before the proceeding," he said.
The measure also would expand the definition of a crime victim to include "any person or entity directly and proximately harmed" by the crime.
Owyhee County Sheriff Perry Grant said, "It sets forth more of a process to allow the victims to have a lot more of a say than they have now."
To amend the Idaho Constitution, the measure would need two-thirds support in both houses of the Legislature, plus majority approval from voters at the next general election.
House Assistant Majority Leader Brent Crane, R-Nampa, said from the young woman's heartfelt story, "You can see why it is important that Idaho update its victim's rights law. … I will be working very hard to encourage my colleagues to support this important piece of legislation."
Lakey said backers of the bill have commissioned a study of its potential costs; he expects the results within a few weeks.
---
---